KNAC.COM's own Junkman has checked in with the following announcement:

"Next week, I will, as I have every year since 2002, be the host and MC for "Metal Jam", a benefit for autism awareness, taking place at the Gaslamp in Long Beach, CA nex Saturday, March 24th. All proceeds benefit "The Center For Autism & Neurodevelpmental Disorders" in Orange County. "Jammers" have signed up on a list, play a selected group of metal songs, and some of the area's best metal tribute bands will perform. It's sold out every year and everyone has a blast for a great cause. The center does incredible things for people afflicted with Autism and their families. It's an honor to be asked to host."

WHAT IS METAL JAM?

Are you READY 2 ROCK for a worthy cause? METAL JAM is an annual Los Angeles area Jam-for-Charity event, where everyone's a star! Proceeds from Metal Jam 2018 will once again go to benefit THE CENTER FOR AUTISM & NEURODEVELOPMENTAL DISORDERS - an organization of parents, clinicians and leading scientists committed to accelerating the pace of biomedical research in autism through raising money for research projects, education and outreach.

Please take a moment to check out their website and learn more about Autism and what you can do to help. THE CENTER FOR AUTISM & NEURODEVELOPMENTAL DISORDERS is doing great things to provide help and hope for individuals and families living with autism spectrum disorder and other neurodevelopmental disorders. To make an online donation directly to THE CENTER FOR AUTISM & NEURODEVELOPMENTAL DISORDERS, PLEASE CLICK HERE.

HOW IT WORKS

Metal Jam is an annual event where musicians of all levels get together to play their favorite metal music on stage for charity. Once again, we are proud to be supporting the THE CENTER FOR AUTISM & NEURODEVELOPMENTAL DISORDERS.

Shortly after the song list is determined, sign-ups are taken through a form on their official website. We then take the submissions and create a roster based on a participant's primary and alternate selections. The roster, once complete, is posted on the site.

From that point it is up to the various musicians to learn their parts prior to the event.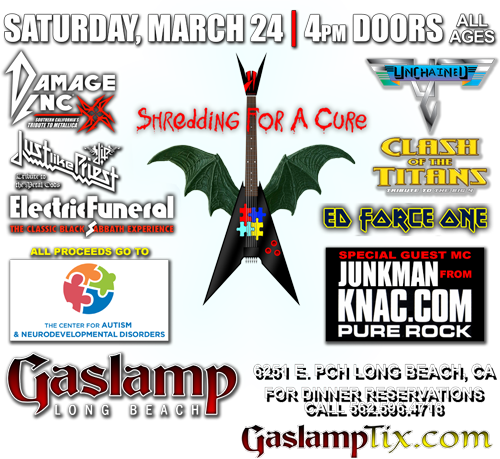 The night of Metal Jam, the musicians who have been assigned songs will need to check in before the show and find out the assigned number or numbers of the songs that they are playing. It's important for you to keep track of your song number or numbers as the emcee (KNAC's JUNKMAN!) will introduce each song by it's name and number as well as calling out the name and number of the song that is "on deck" so you can get ready (plug in, tune, etc.) prior to performing your song, which will keep the evening running smoothly.
Metal Jam is a charity event. $10 presale tickets are available exclusively through gaslamptix.com. For those without tickets there will be a $15 cover charge at the door. Presale guests will be given priority entrance at 4pm. All proceeds from admission goes to THE CENTER FOR AUTISM & NEURODEVELOPMENTAL DISORDERS. Additional donations throughout the night are encouraged but not required. The more we make, the more we give. As in the past, we will be raffling off various items throughout the evening. Items are donated by generous business owners, musicians and various music stores or websites.
Admission for participants, whether musical or volunteer is $5, payable on the day of the show at sign-in.
ARE YOU READY TO GET INVOLVED?
Please contact us at drcaligari@verizon.net with any questions, concerns or ideas and we will do our very best to assist you. We really appreciate your desire to help.
Metal Jam is seeking raffle prize donations. In addition to a tax write-off, donors will have their name printed on the Metal Jam 2018 commemorative brochure, displayed as part of Gaslamp's multi-TV slideshow and will be mentioned on stage during the event. For more information, please contact Cindy Spaulding at cindyrox2112@gmail.com.
We are always looking for donations to help Metal Jam run smoothly. Get in touch with us at cindyrox2112@gmail.com to see where we could use your help! ALL PROCEEDS GO DIRECTLY TO THE CENTER FOR AUTISM & NEURODEVELOPMENTAL DISORDERS.
For donations of cash, checks or money orders, please make them payable to:
THE CENTER FOR AUTISM & NEURODEVELOPMENTAL DISORDERS
We appreciate all of your help and donations! All items, cash or services offered are tax deductible.