RIVERS OF NIHIL Where Owls Know My Name


By Peter Atkinson, Contributor
Friday, March 16, 2018 @ 1:07 PM


| | | |
| --- | --- | --- |
| | | |
RIVERS OF NIHIL
Where Owls Know My Name
Metal Blade Records




Reading, PA-based tech/death/prog quintet RIVERS OF NIHIL really accentuate the "prog" part of its musical equation with a trippy, wildly adventurous third album. The Twin Peaks-like title alone is evidence that things are going to get a little weird here – and the band definitely delivers in that regard with Where The Owls Know My Name.

The album already is getting a lot of attention for its inventiveness and daring – and with good reason. This is metal that pushes the envelope farther – and far more successfully – than most bands are willing to even try, much less pull off. Especially one as still relatively new to the game as RIVERS OF NIHIL, which was just starting to make a name for itself. But no risk, no reward.

Along with the already turbulent death metal that was honed over the band's first two albums, Owls introduces elements of electronic, psychedlic and folk music, clean vocal passages, a healthy splash of jazz in the horn wails that punctuate a number of songs, and more sprawling, freewheeling and expressive arrangements. And it doesn't take long for RIVERS to start deviating from its usual course.

After the obligatory intro "Cancer/Moonspeak" – which, again, recalls Twin Peaks with its eerie electronic piano/synth strains and wispy vocals – the band roars to life with the galloping tech-death bob and weave of "Silent Life". But at its midway point, supple guitar lines and a distant sax – or perhaps it's a trumpet – take hold and things chill out dramatically. The song concludes in the death metal tangle from which it began, but it's point has been made – to expect the unexpected.

Though Owls is still an unquestionably heavy album – crushingly so, in many instances – nearly all of the tracks take their foot off your throat at some juncture, even if briefly, as is the case with the otherwise pummeling "Old Nothing" and its silky smooth solo break. The djenty "A Home" is tempered by a wash of almost symphonic keys before it too mellows out in the middle with a spacey, PINK FLOYD-like guitar lead.

"Subtle Change (Including The Forest Of Transition And Dissatisfaction Dance)", on the other hand, belies its title, and is not subtle in the least. Here, the band goes all in, mashing together organs, acoustic guitars, flutes, horns and clean vocals with blast beats, churning riffs and Jake Dieffenbach's assertive roar into one colossal 8:34 epic that sounds, at times, like a Frankenstein's monster of EMERSON, LAKE AND PALMER and JETHRO TULL fused with CULT OF LUNA and FALLUJAH. It's absolutely fucking nuts. The instrumental "Terrestria III: Wither" opens to the throb of more Angelo Badalamenti-inspired keys – and more muted horns – then takes a dramatic NINE INCH NAILS-like turn with the industrial clangor that ends the song in a thunderous cascade.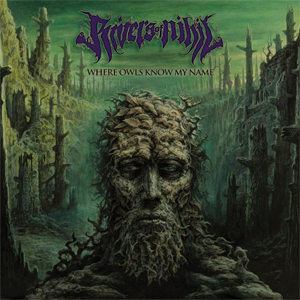 "Hollow" is really the only track to retain its full-on metal dynamic all the way through – with a smattering of clean vocals being the only real departure. "Death Is Real" replicates the drop-tuned gut punch of "A Home" and is pretty consistently heavy as well, but is interspersed with a funky bass jaunt and sly slide guitar run.
And speaking of guitars, hats off to Brody Uttley and Jon Topore, whose chops here are truly stellar and manage to stand out even with all of the potential distractions presented by the variety of new elements the band incorporate. From the delicate, quiet passages, to the searing shred – of which there is no shortage – and towering atmospherics, the tandem handle it with agility and finesse, all while doling out some pretty punishing death metal riffage betwixt and between.
Owls eventually does start to run out of gas as things draw to a close. Both the title track and the nearly eight-minute finale "Capricorn/Agoratopia" meander back and forth between moody mellow passages and fits of metallic bluster, and don't quite generate the sort of excitement as the more vibrant material leading up to them. That said, this is still some pretty wild stuff.
4.5 Out Of 5.0




Please log in to view RANTS

If you don't have a username, click here to create an account!