When vocalist Ronny Munroe (TRANS-SIBERIAN ORCHESTRA, METAL CHURCH, MUNROE'S THUNDER) teamed up with Frank Hetzel's Seattle-based BELTFED WEAPON, it was simply to make music. But the artistic alliance soon became more personal, after Munroe's wife/manager J. Von Hughes received a Stage 3 Mullerian Ovarian Cancer diagnosis.

With the couple's bank account drained and insurance refusing to pay for treatment at an out-of-network facility, the couple is faced with a dire need to raise funds for Hughes' treatment.

Hetzel and Munroe turned to what they do best - music - to help with this life-threatening situation, releasing the BELTFED WEAPON single "P.O.W." and donating all proceeds to Hughes' cause. To continue raising awareness and funds, the band has now teamed up with Bulgarian artist Maria Nicheva to create a brand new lyric video for "P.O.W.".

"I'm happy that this is for a good cause, supporting Ronny and his incredibly strong wife," Nicheva said. "This battle is one of many that many have to deal with every day and is becoming more and more frequent, which is a huge reason for us to be better people, helping each other a lot more."

Nicheva was honored to work with Munroe and Hetzel and dove into the video, drawing inspiration from an old newspaper called Prisoner of War, which tells the real-life stories of Prisoners of War. "We decided to use the character from the album cover art, created by Frank Dooley, in the video," she said. "I re-drew it and animated the skeleton in cage to look like he was telling us his story. They gave me their full confidence."

""P.O.W." is a song I had written the music for about five years ago," Hetzel said. "Having Ronny sing on this song is a huge honor for me as he is one of my favorite vocalists and a good friend as well, so this is a win-win situation for everyone. I felt this song had his style written all over it and after he recorded his vocals I was very impressed. He put a lot of emotion into this song and it shows. I couldn't be happier with the results."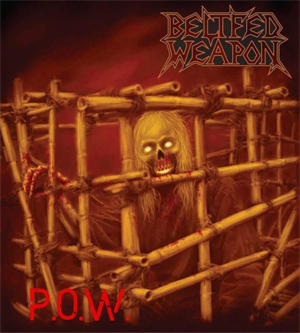 Although the song itself references literal war, its title aptly reflects the struggle with cancer, and being a prisoner of within a person's own body.
"Frank is a great songwriter and friend, and I am stoked to be able to do this this with him," Munroe said. It's a straight-ahead thrash metal song that delivers the goods. It is about one's personal hell, whether it be a prisoner of war left to die in a cage like an animal or someone going through a horrible disease and not knowing from one day to the next how they are going to cope, but yet still having and keeping the will to survive."
"P.O.W." also features Dean Sternberg on bass, Daryl Williams on drums and guest solos by Andy Beech and Adon Fanion. "P.O.W." was produced by BELTFED WEAPON, and mixed and mastered by Aaron Smith/Envisage Audio (Jeff Loomis, Ghost Ship Octavious, Binary Code).
The single is available at CD Baby, Amazon and iTunes.
"If every one of us spends only a dollar now, it will cost us next to nothing," artist Nicheva said. "But the total amount of all donors together can do a miracle for a human life. Let's make small steps with good deeds. Because humanity can perish not from a shortage of great deeds, but by the shortages of small acts of kindness."