MARCO MENDOZA Viva La Rock


By Daniel Höhr, European Correspondent
Tuesday, March 27, 2018 @ 6:36 AM


| | | |
| --- | --- | --- |
| | | |
MARCO MENDOZA
Viva La Rock
Mighty Music, 2018




The list of artists and acts bassist Marco Mendoza has worked with throughout his career is stunning and reads like a who's who of rock music. Amongst the more illustrious names are BLUE MURDER, THIN LIZZY, David Coverdale (Mendoza played on his solo album Into The Light), WHITESNAKE, Dolores O'Riordan, Tim "Ripper" Owens, LYNCH MOB, BLACK STAR RIDERS, and, most notably, THE DEAD DAISIES. His third solo album, Viva La Rock, was released on 2 March through Mighty Music and is the first collection of his own material in seven years. And what a collection it is.

Put the album on and the title track, a fiery, high-octane hard rock number will hit you in the face and most possibly grab you by the balls before you can say 'rock 'n' roll' – and this is just the beginning of the album. Mendoza and his musicians slow down a bit for the catchy "Sue Is On The Run", a song about a teenage girl facing some changes in her life. She runs away from her broken home but can't find her way – a topic somehow reminiscent of the BON JOVI classic "Runaway" but presented entirely differently. Now, we have heard the expression 'rocket man' quite a few times in recent months but, needless to say, it sounds indefinitely better in the context of Marco Mendoza's song with the same title – a stompy hard rock groover that is best played enormously loud. The good ol' boy-meets-girl story is dealt with in "Sweetest Emotion", another mid-tempo rocker with a cool Latin-style riff in the intro and the chorus. In "Chinatown", featuring Mike Tramp, Mendoza audibly pays tribute to his time spent with THIN LIZZY. "Burned" is a hypnotic, riffy rocker with an anthemic hook line in the chorus followed by the refreshingly funky "Love 2 U". The ballad "Leah" is dedicated to Marco Mendoza's wife – the lead guitar work is bound to send shivers down your spine. "Hey Baby" is about Mendoza's time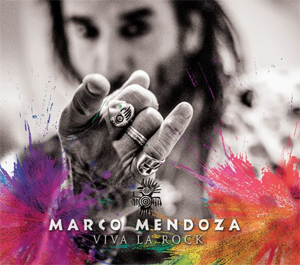 spent with Ted Nugent and, just like "Chinatown" picks up the style of THIN LIZZY, the music is more than just reminiscent of Ted Nugent and incredibly good fun to listen to. The final track, "Let It Flow", initially introduces quite a different, cooler and more mellow sound to the album. The track's melody unfolds over a subdued eighth-note groove, Hammond sounds and slightly distorted guitar arpeggios before it builds up to a much heavier climax. Definitely my favorite song on the album.
In addition to being the bass player extraordinaire that he is, Marco Mendoza once more presents himself on Viva La Rock as a great songwriter and exceptional singer in his own right. The ten tracks on the album do not only show his musical versatility but also testify the sheer joy of rock music. The musicians must have had great fun recording the stirring rock songs with all kinds of different musical influences. It is certainly good fun to listening to, partly because of the freshness that comes across, but also because of the great musical performance. Each of the songs has hit potential and all the them are bound to take you on a musical roller coaster ride that will make you addicted.
This record is a dynamic testimony that rock music is more alive than ever. Viva la rock!
5.0 Out Of 5.0




Please log in to view RANTS

If you don't have a username, click here to create an account!






DOOM SIDE OF THE MOON In Austin, TX

METALLICA, JIM BREUER In Portland, OR With Photos!

WARKINGS Reborn

URIAH HEEP Living The Dream

MONUMENTS Phronesis

2018 AFTERSHOCK Festival Photo Gallery 2

2018 AFTERSHOCK Festival Photo Gallery 1

TED NUGENT The Music Made Me Do It

FIVE FINGER DEATH PUNCH In Portland Photo Gallery

GHOST In Inglewood, CA With Photos!

ASHES OF ARES Well Of Souls

STRIKER, SKULL FIST, NO RESPITE In Essen, Germany With Photos!

UNEARTH Extinction(s)

WITHERFALL A Prelude To Sorrow

ARCHITECTS Holy Hell

RED DRAGON CARTEL Patina

ARTILLERY The Face of Fear

REVOCATION The Outer Ones

CATTLE DECAPITATION Medium Rarities

ARIA Proklyate Morey (Curse of the Seas)

BRITISH LION, CONEY HATCH In Ottawa, Canada

SUNFLOWER DEAD C O M A

SURF CITY BLITZ In California Photo Gallery

TRIVIUM, AVATAR, LIGHT THE TORCH In Portland, OR Photo Gallery

DEVILDRIVER, JINJER In Cleveland, OH With Photos!

CORROSION OF CONFORMITY In Dublin, Ireland

CAULDRON New Gods

STEVE GRIMMETT'S GRIM REAPER In Ottawa, Canada

JUDAS PRIEST, KREATOR In Quito, Ecuador

CAL JAM '18 Photo Gallery

BLOODBATH The Arrow of Satan Is Drawn

STRIKER Play To Win

NIGHT RANGER "Dawn Of Madness" Show In Waukegan, IL

BUTCHER BABIES, KOBRA AND THE LOTUS, SKARLETT RIOT, IGNEA, MAERTYRIUM, In Siegburg, Germany

HOUSE OF LORDS In New Bedford, MA

GRETA VAN FLEET Anthem Of The Peaceful Army

IMPELLITTERI The Nature Of The Beast

ALICE COOPER In Houston Photo Gallery

ICARUS WITCH Goodbye Cruel World

TARJA, STRATOVARIUS, SERPENTYNE In Cologne, Germany

CLUTCH, SEVENDUST, TYLER BRYANT & THE SHAKEDOWN In Portland, OR With Photos!

ACCEPT In Houston, TX With Photos!