FOREIGNER, CHILLIWACK In Ottawa, Canada


By Andrew Depedro, Ottawa Corespondent
Wednesday, April 4, 2018 @ 10:17 AM


| | | |
| --- | --- | --- |
| | | Waiting For A Girl Like You - Or You, Or Maybe You: FOREIGNER Brings The Couples With The Singles Together With CHILLIWACK At TD Place, Ottawa, Canada, March 23, 2018 |
It seemed promising at the time when I'd acquired those two tickets for a sold-out show to a work colleague whom I had a slight crush on, likely because she could pass as Diana DeVille's twin sister. Once mentioning the name of the band and offering the extra ticket to her, I was first greeted with a slight blushing smile as she was taken by surprise by the offer - think of that photo of Princess Kate with that similar smile during one of her recent official visits to Canada when she's greeted by PM Justin Trudeau - before she turns to her roommate who also responds with a blushing smile. It took ten seconds for the workplace crush to compose herself and respond back with a quick promise to check her calendar as she was also planning a girls' trip to Cuba at the time - the time being Valentine's Day.

Now that's the blueprint for a perfect romantic moment, right?

Except that when she finally did check her schedule for her Cuba trip, it fell on the same day as the concert. In fairness to her, the trip had been booked well in advance.

Luckily, there was a high ratio of women to men at my workplace so I kept asking other prospects - only to be met with responses such as "family reunion that day", "other plans", "girls' trip to Cuba with my roommate" and "didn't you already ask me?". By the day of the concert, I'd tapped out every possible resource in finding a date to accompany me to the show, resigned myself to being out $100+ on the extra ticket as well as regretting not having asked to interview either frontman Kelly Hansen or bassist Jeff Pilson instead, and caught the show. Sure, getting jibbed on concert tickets sucks, and the PA playing "Beautiful Girls" by VAN HALEN felt kinda patronizing given my circumstances, but at least the show itself was worth buying two tickets for in the first place.

70's CanCon legends CHILLIWACK first took the stage and jammed out "Lonesome Mary" - one of two songs referencing anyone named Mary that night which kinda cut deep given that one of the five work colleagues I'd tried to get to go to the show with me was Ann-Marie (fuck it, it's close enough for a review that literally set me out $100). She was even serious about going and had even hinted about already having her ticket at one point, then wouldn't be able to go anyway in the end. Frustrating. But at least I retained bragging rights on how the show went. Frontman/guitarist/founder Bill Henderson may have mellowed a bit with age on the vocals - he later revealed that CHILLIWACK had formed 48 years ago - but he could still deliver the range. The equally prophetic-sounding hits hittin' me right in the feels such as "Whatcha Gonna Do (When I'm Gone)", "Arms Of Mary" (told ya), "My Girl (Gone Gone Gone)" and the closing number "Fly By Night" were otherwise all solid gold and rockin', thanks to the equally fine guitar work of Ed Henderson and the rhythm section comprised of Doug Edwards (bass) and Jerry Adolphe (drums). But, yes, this was a band for which to bring along a date to.

http://www.gonegonegone.com/chilliwack/
https://www.facebook.com/Chilliwack-Band-Official-Page-126163464064478/

Headliners FOREIGNER were definitely the main date night band as the new lineup of Hansen, Pilson, Thom Gimbel (guitar, saxophone, lots of instruments that night to be honest), Michael Bluestein (keyboards), Bruce Watson (rhythm guitar) and Chris Frazer (drums) kicked off their set with a rousing rendition of "Double Vision". Hansen didn't stop save for briefly encouraging everyone to "keep it old school and join us by putting the phones away" before him and the rest of the band continued with "Head Games", "Cold As Ice", "Waiting For A Girl Like You" and "Dirty White Boy". As they were recording the night's concert for a future DVD release, the band also followed with a first-ever acoustic rendition of "Say You Will".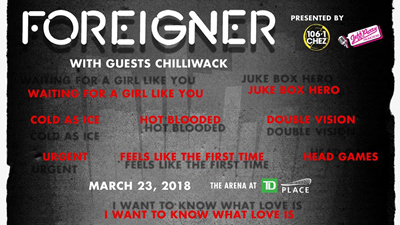 After Kelly Hansen had introduced the band members, it was time to bring out FOREIGNER's crucial member and founder - one Mick Jones, whose unique and pristine playing helped forge the sound of FOREIGNER since the release of their debut album some four decades ago. And he proved that he still had the technique as he riffed out the first chords to "Urgent", with Junior Walker's incendiary saxophone solo nicely replicated by Thom Gimbel. Michael Bluestein and Chris Frazer's respected keyboard and drum solos were so bombastic and larger than life that few people could resist leaving for the usual bathroom break before the lead in to "Jukebox Hero" started up.
And finally, while it's probably just scraping the bottom of my top 30 FOREIGNER tracks of all time, how can one otherwise not be moved by the soft interludes of "I Wanna Know What Love Is" especially if it's accompanied by a local high school choir? And that was how FOREIGNER saw out their performance courtesy of the choir from St. Francis Xavier High School, who'd won the chance on CHEZ 106 to back the band. Their performance was certainly moving enough for Kelly Hansen to remind everyone about the importance of funding music education.
Going on 41 years of belting out the hits, FOREIGNER proved that they didn't need no instructions to know how to rock - though I evidently need some schooling of my own to learn not to buy tickets off Kijiji on impulse without a back burner or four to catch a show with.
Setlist:
"Double Vision"
"Head Games"
"Cold As Ice"
"Waiting For A Girl Like You"
"Dirty White Boy"
"Say You Will (acoustic)"
"Feels Like The First Time"
"Urgent"
Keyboard/drum solo
"Jukebox Hero"
Encore:
"Long Long Way From Home"
"I Want To Know What Love Is" (with St. Francis Xavier High School Choir)
"Hot Blooded"
http://www.foreigneronline.com/
https://www.facebook.com/Foreigner/




Please log in to view RANTS

If you don't have a username, click here to create an account!