THE IRON MAIDENS In Houston, TX With Photos!


By Larry Petro, News Monkey
Wednesday, April 4, 2018 @ 2:09 PM


| | | |
| --- | --- | --- |
| | | All-Female Tribute Act Lights Up H-Town With MAIDEN Classics |
All Photos By Larry Petro/Petrofyed Photography
So, what's a person to do when they need an IRON MAIDEN fix and the band isn't currently touring the US and might not be for some time? Well, in the case of fans in Houston, Texas, all you needed to do was go and check out the world famous, only all-girl IRON MAIDEN tribute act THE IRONS MAIDENS, who made a swing through Texas for a trio of shows starting with a gig at the outdooor Proof Rooftop Lounge, located in the Midtown area just west of downtown Houston.
The primer for the evening was CHILDREN OF THE SEA, a relatively new Ronnie James Dio tribute act fronted by Houston's own HELSTAR frontman and himself also part of numerous other tribute acts around town, vocalist James Rivera. The group mainly covers the BLACK SABBATH and solo years of Dio, as evidenced by the band's opening number, "Mob Rules". The band definitely kicked off the tribute night in style with renditions of classics such as "Holy Diver" (how on earth did you forget some words to this James??), "Rainbow In The Dark", "Don't Talk To Strangers", "Neon Knights" and set closer, "Heaven And Hell". With his time in HELSTAR and involvement in a multitude of other tribute acts it's a wonder that Rivera has time for anything else, yet he does and continues to prove that he is the voice of Houston metal!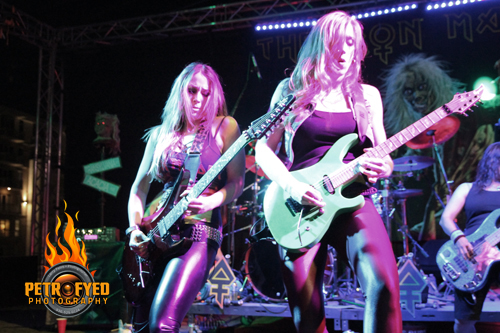 Since the band's inception back in 2001, THE IRON MAIDENS have undergone a slew of member changes over the years, most notably guitarist Nita Strauss, who now plays in Alice Cooper's band. And while drummer Linda McDonald (PHANTOM BLUE) remains as the only member from the band's creation days, the pieces they recruit to fill various slots have more than ample talent to carry on the legacy, which is to pay tribute to one of the greatest heavy metal acts of all time, IRON MAIDEN. The current incarnation, consisting of vocalist Kirsten "Bruce Chickinson" Rosenberg, bassist Wanda "Steph Harris" Ortiz, guitarists Courtney "Adriana Smith" Cox and Nikki "Davina Murray" Stringfield and drummer "Nikki McBurrain" McDonald, took the stage for the first Houston show in God-knows-how-long for a 14-song set, punctuated by a 1-2-3 punch of openers "Aces High", "2 Minutes To Midnight" and "Wasted Years", the latter of which Cox stumbled briefly on the opening riff.
Though the performance was not 100% spot-on (there was another minor gaffe later on), just the fact that the band was once again gracing the stage in Houston was enough to bring the fans out in droves and in my few visits to this particular venue I have never seen it so packed! Moving around really wasn't an option; you had to find a spot and stay put. As the band rolled through their set it was most refreshing to not hear the same MAIDEN classics that are played every single night. Sure, you had such legendary numbers as "The Trooper", "Hallowed Be Thy Name" and closer "Iron Maiden", but the real treat was hearing tracks like "22 Acacia Avenue", "Still Life", "Phantom Of The Opera" and "Alexander The Great". Getting to hear these would have been well worth the price of admission had there been one, but in what has become customary at Proof, most if not all of the shows are free, courtesy of Black Horse Limo owner Justin Ellerton, who over the last few years has brought some really good classsic shows to Houston for fans to partake of free. Of course no MAIDEN show, whether real or tribute, would be complete without the appearance of Eddie, the group's mascot, and true to form, the MAIDENS version of the iconic one paced the stage late in their set.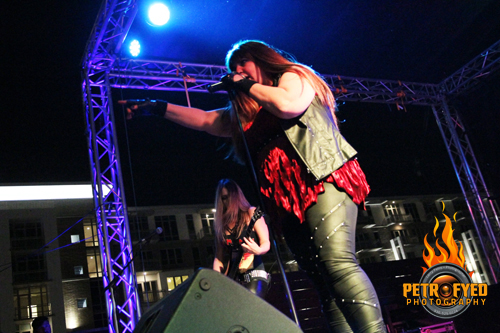 All in all, it was a fantastic night of tribute metal in Houston and if the band's words following the show at the meet and greet are to be believed, it won't be long at all before the MAIDENS return to Texas to heat things up once more.
Setlist:
"Aces High"
"2 Minutes To Midnight"
"Wasted Years"
"Still Life"
"22 Acacia Avenue"
"The Trooper"
"The Duellists"
"Number Of The Beast"
"Alexander The Great"
"Children Of The Damned"
"Phantom Of The Opera"
"Die With Your Boots On"
"Hallowed Be Thy Name"
"Iron Maiden"
https://www.theironmaidens.com/
https://www.facebook.com/TheIronMaidensOfficial/
Check out some more photos from the show!
All Photos By Larry Petro/Petrofyed Photography




Please log in to view RANTS

If you don't have a username, click here to create an account!