MICHAEL SCHENKER FEST In Ybor City, FL With Photos!


By Travis Failey, Planet Earth Contributor
Thursday, April 12, 2018 @ 8:07 AM


| | | |
| --- | --- | --- |
| | | At The Ritz Theater |
All Photos By Travis Failey/Rocket Sports & Entertainment
MICHAEL SCHENKER FEST came to the classic Ritz Theater in Ybor City and finished up what could only be deemed as a hugely successful North American tour. Accompanying Schenker were an all-star who's who of vocalists that have toured and recorded with him throughout his career.
Gary Barden, Graham Bonnet, Robin McCauley and current MICHAEL SCHENKER'S TEMPLE OF ROCK vocalist Doogie White, all took turns fronting the band and provided backup vocal harmonies throughout the 35 song set. That's right, 35 songs.
The Ritz was packed with a mostly male crowd that were treated to an evening of guitar virtuosity without being mired down in redundancy. Schenker thanked the crowd for coming out and introduced the first song of the night, the instrumental, "Into the Arena".
Gary Barden then strolled out onto the stage and unleashed "Let Sleeping Dogs Lie", then a rousing rendition of "Cry for Nations". Barden was the original vocalist for the MICHAEL SCHENKER GROUP and recorded the band's first 3 studio albums and 2 live releases. Schenker started his own band after leaving UFO and the SCORPIONS.
Schenker, affectionately known as "The Blonde Bomber", got his first taste of recording with the SCORPIONS on their first record, Lonesome Crow, at the ripe ole age of 16.
As Barden completed his set and left the stage, Michael introduced "Coast To Coast", which was the only SCORPIONS song in the set. Some fans felt a bit disappointed that "Another Piece of Meat" or "Lovedrive" wasn't included, but they were highly impressed with the format and amazing performances from the four singers as well as the other musicians on stage.

The group's members included Steve Mann (guitar/keyboards), Ted McKenna (drums), and Chris Glen (bass). All of whom have performed at one time within the MICHAEL SCHENKER'S TEMPLE OF ROCK ranks.
Former RAINBOW singer, Graham Bonnet, switched the sound up a bit performing mostly songs from his only release with MSG, Assault Attack from 1982. Bonnet came out wearing a button-down shirt and tie, slicked back hair while his voice boomed off of the ceiling of the Ritz, especially during "Assault Attack" and "Night Moods". Gary Barden and Robin McCauley provided amazing harmonies during Bonnet's set.
After Barden completed his spot, leather-clad took front and center and performed his five-song set that included a couple of Michael Schenker's biggest hits courtesy of MTV. Everyone in the crowd joined Schenker, Bardon, Bonnet and Doogie White for the chorus during the power ballad "Anytime". The vocal sound was so full that it seemed like there was a 20 piece orchestra on stage.

Another highlight of McCauley's set included the introduction solo by Schenker, sporting his red & black custom Dean Guitar. Schenker switched through five or six guitars coordinating with whichever singer was on stage.

MICHAEL SCHENKER'S TEMPLE OF ROCK and former RAINBOW and Yngwie Malsteem vocalist, Doogie White, completed the four-member vocal tag team. White dedicated "Before The Devil Knows You're Dead" to the late Ronnie James Dio with a "two-handed horned salute" with the crowd to screams of applause.

All four vocalists took the stage as a group and crushed the song "Warrior" from MICHAEL SCHENKER'S TEMPLE OF ROCK's recent album, Resurrection. Each vocalist took turns on lead and it was an amazing all-around symphony of sounds while the others members of the band sang the harmonies. Watch the official video for "Warrior" ON KNAC.COM HERE.

After 30 songs that traversed Michael Schenker's career, the last 5 songs were the most anticipated of the night for me, and I suspect most of the others that remained in the crowd after the musical marathon.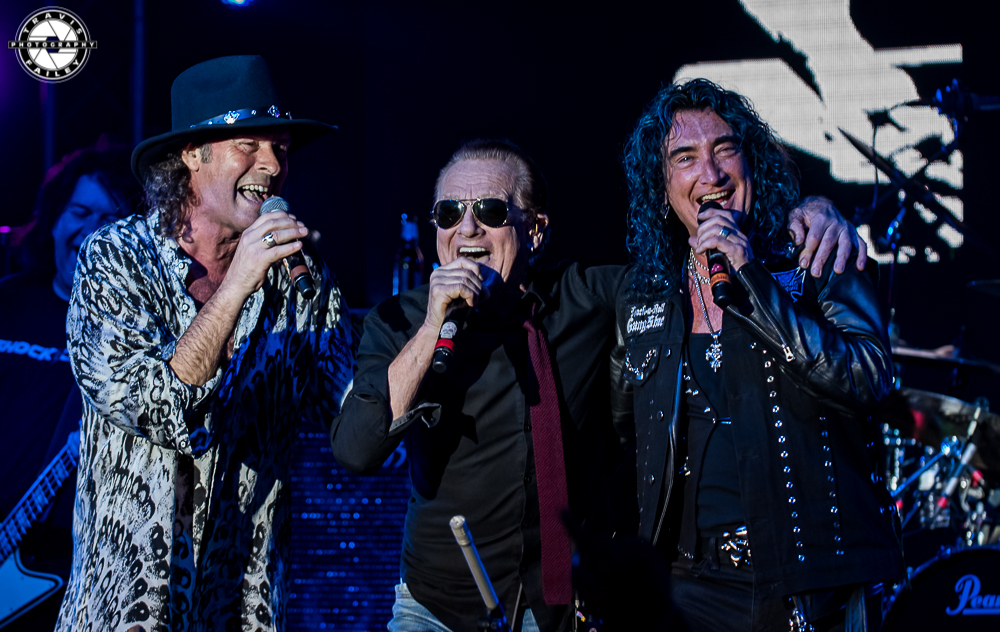 Schenker addressed the crowd and said that it had been almost forty years since the critically acclaimed UFO release, Strangers In The Night live album was released. To many fans, including Eddie Trunk, Strangers In The Night's an album that has been consistently proclaimed as one of the best live releases of all time. The crowd nodded with approval and Schenker kicked off the encore set of UFO songs with the classic "Rock Bottom", which was recently played by METALLICA as a tribute to Schenker in Hamberg, Germany.

Up next was "Doctor Doctor", which gave me chills because the only time I've heard that song in a concert setting is at IRON MAIDEN shows. IRON MAIDEN has (at least every time I've seen them) played a recording of "Doctor Doctor" right before they drop the curtain and take the stage to prime the crowd for their set. After "Shoot Shoot" and "Natural Thing", only the classic "Lights Out" could complete the night. Schenker didn't disappoint. All four singers once again took turns taking the lead and the band included "Lights Out Tampa" during the classic chorus.

As the band left the stage and I walked through the crowd, I realized that those in attendance witnessed something special tonight and on this tour. A guitar legend to many who say that they were influenced by him and become great in their own right and also to many fans who were just happy to see their idol live for the first time. One fan stated that "he can now die a happy man after seeing this show." That's a truly impactful statement and I'm sure hearing that would have put a smile on Michael Schenker's face, the same way that he put a smile on those faces of those lucky enough to be in attendance all night long.

Check out some more photos from the show!
All Photos By Travis Failey/Rocket Sports & Entertainment




Please log in to view RANTS

If you don't have a username, click here to create an account!