The Greasy Luck Brewpub in New Bedford, MA has been open for a relatively short time but they have begun to bring together the local rock and metal community with a series of shows by national rock acts such as LYNCH MOB and John Corabi as well as an ambitious slate of upcoming performers as well. They also book known tribute acts like THE IRON MAIDENS, ZOSO, ONE and more.

With this in mind, I made my first trek to the venue for Ted Poley's solo show. And by trek I mean I drove 20 minutes from my doorstep.

Before heading into the venue, I stopped by my friend Roger's vinyl record shop which is two doors down the street from the pub. I ended up briefly running into opening act SYGNAL TO NOISE singer Coopa and guitarist Dirty Dave as they checked out the shop. I ended up with a copy of their latest album Horns High (which includes a cover of the Billy Squier song "Lonely Is The Night") out of the deal.

The band was scheduled to hit the stage at 8pm but went on a little later which was seemingly due to the fact they were waiting for a substitute bassist to show up. According to what Coopa said from the stage, the band lost their bassist three hours before the show.

Billed as a melodic hard rock band, the Maine rockers SYGNAL TO NOISE delivered an 11 song set that I'm sure I would've liked a lot more had I known any of the material. That said, I did particularly enjoy the opening song "Tightrope", which was a bit of a slow burn rocker. I also liked the somewhat less than subtly titled "Lady Boner" and the closing number "Fed Up".

I should point out that the band did have a contingent of hardcore fans who travel to many of their shows so while I wasn't able to completely get into the band due to my lack of knowledge of them, they do seem to have something going on for themselves.

Set List:
"Tightrope"
"Dirty Girl"
"Stir Crazy"
"Punch The Clown"
"Soulless Mirror"
"Lady Boner"
"Cliche"
"The Note"
"Horns High"
"Broken"
"Fed Up"
LINK: http://www.sygnaltonoiserocks.com

SUPER TROUP was up next and for those that don't know the group, it is band whose members have played with a variety of bands like BONHAM, BANG TANGO, LYNCH MOB, ERIC MARTIN and GREAT WHITE amongst others. The band's set list of classic rock covers is drawn mostly from bands that singer Chas West has some sort of connection to. Whether it was, as he said twice during the show, the five minutes he spent singing with FOREIGNER or the time he spent with BONHAM, West has had the opportunity to sing a lot of great tunes.

In fact, the set was quite heavy with LED ZEPPELIN and BONHAM songs. I wasn't sure how this set was going to go over with me. I'm not really the biggest fan of tribute acts. I've always thought either see the original band or listen to the albums. But I've been softening my stance on that recently and I have to say that I really did enjoy most of SUPER TROUP's set.

Kicking things off with ZEPPELIN's "Heartbreaker", the band really captured my attention from beginning to end. Chas West peppered his stage banter with quick little stories or asides about his connections to the various songs. I was amused by the connection he made to the band performing CHEAP TRICK's "Surrender" by saying he once got drunk in L.A. with Robin Zander. I liked the performance from guitarist Scott LaFlamme as well. His guitar solo after the cover of ZEPPELIN's "The Rain Song" was pretty cool. Oh, and the LYNCH MOB track "River Of Love" was done quite effectively on this night because I actually ended up singing along with the song.

The one nitpick I had was that the far too rocked up rendition of BONHAM's "Wait For You". Maybe it is just my own recollection but I don't remember the song being quiet as hyper charged as SUPER TROUP did it.

I have to say that I really did enjoy the band's set and wished it had gone on for a bit longer as the set list I saw on the stage floor had them set to play a couple more tracks they ended up skipping. That list had them closing with Ozzy's "Bark At The Moon", which would've been really interesting to see.

Set List:
"Heartbreaker" (Led Zeppelin)
"Bring It On Home" (Led Zeppelin)
"River of Love" (Lynch Mob)
"Out On The Prey" (The Jason Bonham Band)
"Double Vision" (Foreigner)
"Surrender" (Cheap Trick)
"Rain" (The Jason Bonham Band)
"Hot Blooded" (Foreigner)
"Wait For You" (Bonham)
"Wicked Sensation" (Lynch Mob)
"Rock And Roll" (Led Zeppelin)
https://www.facebook.com/Super-Troup-676296225794334/
Like many people, I count myself a fan of the DANGER DANGER songs "Bang Bang" and "Naughty Naughty". However, I really didn't get into the band much beyond that during their initial run. So it might seem strange that when I saw Ted Poley was coming to the area that I wanted to go so much. I chalk that up to the fact that I was a huge fan of the TOKYO MOTOR FIST album he sang on in 2017. It made my Top Ten List for KNAC.COM last year and while I figured he wouldn't be doing any songs from that album during his set at the Greasy Luck, I really wanted to check out the show regardless.
Well, that turned out to be a great decision on my part because Ted Poley put on a fantastic show! The small but fervently appreciative crowd got treated to an enthusiastic performance from Poley and his band. If I had any doubts, Poley definitely converted me into a fan. Highly energetic and relentlessly personable on stage, he had the audience from note one and kept everyone continually engaged. While I was sitting in the back of the room for the first two bands, I was five feet from the stage for the entirety of Ted Poley's set.
Opening with "Horny S.O.B.", Poley and his band, including guitarist Maz Mazza, rocketed through their 11 song set with zest. Tossing balloons imprinted with the "Ted Poley World Tour" logo, the singer ended up batting them around throughout the show as he hit one musical peak after another.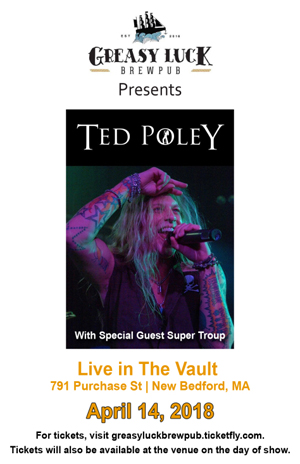 During "Don't Walk Away", Poley did something I've never seen before, at least not in person. He spent almost the entire song performing on the floor amongst the crowd, singing the lyrics as he took selfies with the crowd. Maybe that's something he does all the time, but I've never seen something liked that. It's not good enough for use with this article, but I have a shot of him coming right up to my camera phone during this song. It was a pretty cool thing to see happen.
The audience participation reached two different crescendos when it came time for the two big DANGER DANGER hits as Poley not only had the crowd singing the chorus but stuck the microphone out into the crowd for people to sing into it.
Things reached a fevered and final pitch during the closing cover of the KISS song "Rock & Roll All Nite". After watching his set from the side of the stage, Poley invited the members of SUPER TROUP onto the stage and eventually handed off the mic to Chas West to sing the last half of the song while Poley himself took over the drums. It was a raucous way to end the evening and believe me the crowd soaked it all in.
All in all, Ted Poley gave a great performance and the fans, which I can definitively now call myself one, ate it up and wanted a whole lot more. This was one hell of an entertaining night!
Set List:
"Horny S.O.B."
"Man Alive"
"Monkey Business"
"Shot Of Love"
"Let's Start Something"
"Bang Bang"
"Don't Walk Away"
"Feels Like Love"
"I Still Think About You"
"Naughty Naughty"
"Rock & Roll All Nite" (KISS cover)
https://www.facebook.com/Ted-Poley-123851607689228/
CONCERT FUN FACT: Ted Poley did a free meet and greet with the fans after his set and I was able to take part. I ended up buying his Greatest Hits Vol. 1 CD and getting my Tokyo Motor Fist CD signed as well as taking a photo with him as well as one with SUPER TROUP's Chas West.