KOBRA AND THE LOTUS Prevail II


By Daniel Höhr, European Correspondent
Monday, April 23, 2018 @ 8:37 AM


| | | |
| --- | --- | --- |
| | | |
KOBRA AND THE LOTUS
Prevail II
Napalm Records, 2018




Some live acts have a much more profound impact on whatever musical planet you happen to live on than others. One of the former has recently been KOBRA AND THE LOTUS, who I have seen on two occasions, namely in August 2017 supporting BIRTISH LION, the side project of IRON MAIDEN's own Steve Harris, and then in early December on tour with the German symphonic metallers of BEYOND THE BLACK. I was literally blown away on both occasions and, naturally, I soon got into KATL's records, especially their last two albums High Priestess (2014) and Prevail I (2017). The latter ended up as my number one album pick last year.

Now the sequel to the Canadians' 2017 album is to be released through the Austrian labal Napalm Records and, naturally, expectations are high. If I may say so right at the beginning, the album doesn't merely meet them. It exceeds all of them in any possible way. Conceived as a double album, the band's record label opted to split Prevail into two parts, containing a total of 21 songs including a cover version. As stated above, Prevail I was my favourite album release in 2017. However, the best songs, it seems, were saved for Prevail II.

The opener, "Losing My Humanity", bursts in with a high-octane riff and develops into a multi-layered modern heavy metal composition I will not even attempt to analyse and describe in detail because the listening experience speaks for itself. This is miles ahead of any song on Prevail I – and those were all bloody brilliant. As you progress through Prevail II, the sheer abundance of different ideas, moods, sounds, feelings, expressions and energies will send you on a musical roller coaster ride you haven't experienced before. "Let Me Love You" has a feel I haven't really heard since HIM at the beginning of the millennium and a vocal line that is sure to give you a fair amount of goosebumps. "Ribe", an atmospheric interlude that basically consists of an enchanting acoustic guitar and the sound of birdsong in the background, leads you to "My Immortal", an mid-tempo groover with an incredibly captivating chorus, whose melody could even be a folk song under different musical circumstances, and an otherworldly a cappella middle section. Some experiments fail, others turn out to be vastly successful and this track certainly belongs to the latter category.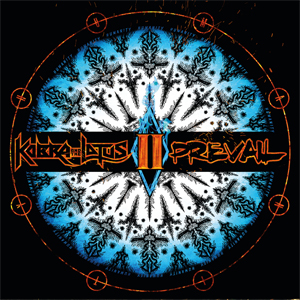 "Fallen Empire" brings back KATL's typical thundering riffing, but this too is taken to an entirely new level on Prevail II. It's rhythmically and tonally complex and never loses energy and expression – much to the contrary. "Heartache" has an open, alternative feel to it with its toned-down but steady grooves and Kobra's incredibly expressive and powerful vocals shine through each measure of the song. "Velvet Roses" is yet another example of how effectively KATL combine heavy, driving riffs with more lyrical moments. The melody in the verses of "Modern Day Hero", a dark and heavy groover, has an enchanting touch of Irish folk to it, somehow reminiscent of Gary Moore's "Over The Hill And Far Away". The chorus is somehow epic, brooding and once more prooves that Kobra Paige is one of the best and versatile female metal vocalists out there. "You're Insane" explodes with thundering riffing – kudos, once again, to KATL's explosive rhythm section, i.e. drummer Marcus Lee and bassist Brad Kennedy, who always provide an energized base for guitarist Jasio Kulakowski's sometimes extremely complex rhythm parts and his awe-inspiring virtuoso shredding. The album slows down for the melancholic "White Water" and is wrapped up with the FLEETWOOD MAC cover "The Chain".
KOBRA AND THE LOTUS's Prevail II is a masterpiece of an album and will hopefully see the band where they belong, namely headlining shows on the big stages and at the top of whatever charts there are. The twelve tracks on Prevail II, including an acoustic version of "Let Me Love You", somehow defy the word "song". These are masterful compositions made up of a host of different elements and moods, ingeniously combined to a stunning album that is hard to top.
5.0 Out Of 5.0




Please log in to view RANTS

If you don't have a username, click here to create an account!