Pure Rock Newswire 1/30/02


By Tokemaster General, Contributor
Wednesday, January 30, 2002 @ 7:58 AM


| | | |
| --- | --- | --- |
| | | A Summary Of News, Rumors And |
1/30/02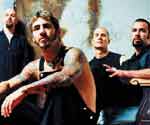 Godsmack's new single, "I Stand Alone," is expected to hit radio stations February 5th. The video fo the track was directed by the Brothers Strause (Linkin Park, Nickelback), and depicts frontman Sully Erna as a descendent of the Scorpion King, played onscreen by WWF pro wrestler the Rock. The clip also intersperses film clips for The Scorpion King with new footage shot January 23rd on a Universal Studios lot in Hollywood. As we have reported, not only does Godsmack get the soundtrack's first single, but Erna was asked by the film's director, Chuck Russell, to help assemble the album's tracks. Scheduled for a March 26th release, the soundtrack features contributions from Rob Zombie and Ozzy Osbourne, System of a Down, Creed, and Nickelback, among others. The film hits theaters April 19th.

NYC's revered gut-rock trio, the Jon Spencer Blues Explosion will release Plastic Fang in April through Matador, the first effort in nearly four years. They will embark on a full U.S. tour in the spring.

Mike Ski, the singer of Brother's Keeper, was stabbed in the leg at a gig on January 24th at CBGBs in New York. Ski stepped in to break up a fight, and ended up getting knifed. The show was stopped and the police arrested the suspects. He is currently recuperating and any letters can be sent to him at brotherskeeper@trustkill.com.

The long awaited CD collection of Death demos, entitled Zero Tolerance, that was supposed to be released on February 11th has now been "cancelled" according to the group's official web site. No reason was given for the cancellation.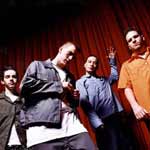 Taproot will begin recording their next album, tentatively titled Welcome, on February 21st with producer Toby Wright (Korn, Alice In Chains). Andy Wallace (Faith No More, System Of A Down) has been scheduled to mix the effort, with an August/September release through Velvet Hammer/Atlantic being eyed.

Led Zeppelin will release a new Knebworth Festival commemorative box set titled There Must Be A Better Way that will be signed and numbered by the band. The collection will contain a collection of mint quality reproductions, photos, a video documentary and a new book by legendary UK promoter Freddy Bannister. Included is a complete set of printed collectibles from the various Knebworth festivals of the 1970s featuring: programs, tickets, flyers, ads and more.

In Flames has been confirmed as the support act for Iced Earth's U.S. tour between March 29th and April 22nd.

Florida industrial fetish act the Genitortures will release a limited-edition US pressing of a five-song EP, titled Flesh Is The Law, via their website. The band now features former Morbid Angel bassist/vocalist David Vincent (a.k.a. "Evil D") within its ranks.

Primer 55 have been forced to temporarily part ways with drummer Preston Nash while the skinsman deals with an ongoing pain in his arm due to a pinched nerve in his neck. Nash is taking some time off to recuperate but the band will carry on without him for the time being.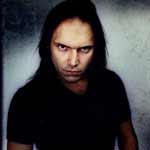 Blaze (the band featuring former Iron Maiden/Wolfsbane frontman Blaze Bayley) have begun recording their second album, titled Tenth Dimension at Backstage [Studios] in London.

The long rumored reunion of Boston metal pioneers Overcast is confirmed for the New England Metal and Hardcore Festival at the Palladium in Worcester MA on April May 6th. .

Theatre Of Tragedy's next album, Assembly is scheduled to be released on March 4th in Europe and April 16th in the US .

The title track to Candiria's 300 Percent Density is featured in the new Richard Gere flick, The Mothman Prophecies.

Eyehategod have announced that Gary from Hawg Jaw is their new basist. They will be going to Japan this spring for a tour that was re-scheduled after Brian Patton was injured in a van accident with his side project, Soilent Green.

1/29/02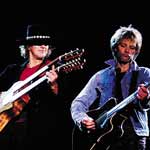 Jon Bon Jovi and Richie Sambora are among the artists who will honor Billy Joel at the 12th Annual Gala Tribute to benefit MusiCares' Financial Assistance Program on February 25th in Los Angeles. Other artists include Tony Bennett, Garth Brooks, Diana Krall, Matchbox Twenty's Rob Thomas, and Richard Joo.

Former Nirvana bassist Krist Novoselic, Meat Puppets vocalist/guitarist Curt Kirkwood, and Long Beach Dub Allstars/former Sublime drummer Bud Gaugh have teamed up in a a new band called Eyes Adrift and are in the midst of a short tour to cut their teeth. The band will record their debut album for an undetermined label after the trek. The trio made its debut on Friday, January 25th at the I-Spy club in Seattle, WA and played shows in Portland, Oregon and San Francisco over the weekend. They appear tonight in Sacramento, California and have eight other shows scheduled:

1/29/02 Sacramento, CA, Harlow's
1/30/02 Los Angeles, CA, Troubadour
1/31/02 Santa Ana, CA, Galaxy
2/1/02 Goleta, CA, Living Room
2/2/02 Tempe, AZ, Nita's Hideaway
2/3/02 Albuquerque, NM, Launchpad
2/5 /02 Dallas, TX, Tree's
2/6/02 Houston, TX, Fitzgerald's
2/7/02 Austin, TX, Emo's

Iron Maiden have added a third and final benefit show at London's Brixton Academy in support of ex-drummer Clive Burr after selling out the tickets for the first two gigs in less than 24 hours. Maiden will be performing three special benefit gigs at London's Brixton Academy on Tuesday, March 19th, Wednesday, March 20th and Thursday, March 21st to help Burr, who suffers from multiple sclerosis. All profits from the two shows will go to the Clive Burr MS Trust Fund, and most folks involved in the shows, including all band members, their management, agency and promoters, are donating their services for nothing to maximize the fund. In addition, all merchandising profits will also be donated to the fund. Tickets for the March 19th show will go on sale on Wednesday, January 30th at 9am. These shows will be the only shows that Maiden will play anywhere in the world in 2002.

Led Zeppelin received a Diamond Award for their self-titled box set, the band's fifth, tying Zeppelin with the Beatles for the artist with the most Diamonds. (I wonder what "Diamond" David Lee Roth has to say about that???)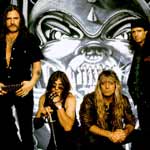 Motorhead's new album is titled Hammered and will be released on April 8th in Europe and April 9th in North America.

Former Alice In Chains guitarist Jerry Cantrell rjumped up on stage at a coupla Nickelback shows to jam on few Alice In Chains tunes. On Thursday, January 24th, Cantrell joined them on "It Ain't Like That" in Calgary, and played "Rooster" the next night in Edmonton. As you know, Cantrell recently signed with Roadrunner Records, who also have Nickelback on their roster, to release his long awaited sophomore solo effort, Degradation Trip, in May.

Bay Area metalheads Systematic have parted ways with bassist Nick St. Denis. No word yet on a replacement.

Los Angeles-based Diesel Machine have added a February 6th club show at the Big Fish Sports Pub in Tempe, AZ to close out their week long stint as part of the Static-X/Soulfly/Soil/OneSideZero metal extravaganza, which kicks off January 31st at the Warfield in San Francisco. The band has also just finished recording a new four-song demo in order to secure a new record deal.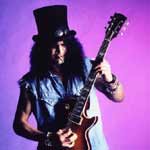 Former Guns N' Roses guitarist Slash is the rumored guest on Sebastian Bach's Sunset Strip edition of Forever Wild on VH1 on Friday, February 1st at 10pm EST.

Every Mother's Nightmare will release their new CD, A Deeper Shade of Grey, through Perris next month and will play a record release party on February 9th at Newby's in Memphis, TN to celebrate.

Korn bassist Reginald "Fieldy" Arvizu joined (hed) p.e. on stage at the Key Club in Hollywood, California on January 24th and the House Of Blues in Anaheim, California on January 25th to perofmr Korn's "Blind" with them. In related news, (hed) p.e. has set Maya as the title to their next album, which they will begin recording in mid-February with producer Machine (Pitchshifter, Vision Of Disorder).

Queen's Brian May is rumored to be recording some guitars parts on the new Foo Fighters album. May played on the band's cover of Pink Floyd's "Have a Cigar" in 2000, which appeared on the Mission Impossible 2 soundtrack.

Pearl Jam recorded a cover of the Ramones' "I Just Want to Have Something to Do" for their annual holiday single, which was sent out to fan club members last week.

Saxon have announced the second leg of their Killing Ground world tour:

3/16/02 Metal Mania Festival – Katowice, POL
3/29/02 Lucky - Rijssen (near Zwolle), NETH
3/30/02 Splendid – Lille, FRA
3/31/02 Paaspop Festival – Schijndel, NETH
5/15/02 Bar Opiniao - Porto Alegre, BRA
5/16/02 Direct TV Music Hall - Sao Paulo, BRA
5/17/02 Estudio 1250 – Curitiba, BRA
5/18/02 Lapa Multi Show - Belo Horizonte, BRA
5/19/02 Dokas – Recife, BRA
6/28/02 Bang Your Head – Balingen, GER

Sascha and Bill Rieflin of KMFDM will hang out at their record release party on Wednesday, February 6th, for the new single "Boots," which features three mixes of Nancy Sinatra's "These Boots Were Made For Walkin'" as well as a KMFDM original track, " Back in the U.S.S.A". The Record Release Party will be held at The Catwalk in Seattle from 7:30pm to 10pm for ALL AGES! KMFDM's new full-length CD, Attak, will be released April 16th via Metropolis Records.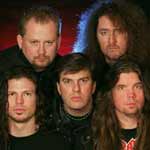 Jag Panzer will be re-recording choice tracks from their pre-Century Media releases (Tyrants, Ample Destruction and Dissident Alliance) due to not being able to work out the legalities of re-releasing the albums themselves due to a spat with ex-guitarist Joey Tafolla. In related news, the band will be selling a limited-edition DVD on their upcoming North American tour with Iced Earth and In Flames in April and via their official website.

Pro-Pain will release their latest bludgeoning, titled Shreds Of Dignity, on March 19th on Rawhead/Spitfire Records in the U.S. and March 18th in Europe through Rawhead/Nuclear Blast Records. The band will play two warm up shows in Ohio (3/29 at he Flying Machine in Loraine and 3/30 at Crossroad in Akron) before launching a European tour on April 2nd at Manifesto in Hoorn, Netherlands.

1/28/02

Pearl Jam's Eddie Vedder, Social Distortion frontman Mike Ness and Beck have been added to the list of acts that will perform in Los Angeles on February 26th to help raise funds for the Recording Artists Coalition (RAC). However, Launch.com reports that Ozzy Osbourne, Korn, and Rob Zombie are no longer participating in the event. Vedder, Ness and Beck will co-headline a gig at the Wiltern Theater.

Trent Reznor of Nine Inch Nails will make his first appearance as a guest on "Rockline" tonight, Monday, January 28th at 8:30PM PT/11:30PM ET. Reznor will join Rockline host Bob Coburn livefrom New Orleans. The toll free number for fans to call in to speak with Trent (only informed, creative calls will get on the air!) is 1-800-344-ROCK (7625). The show is heard on 70 stations across the country.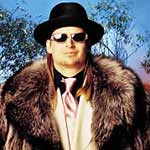 Kid Rock will kick off the first leg of his North American tour with a sold-out show on February 22nd at the Wendler Arena in Saginaw, Michigan. The current itinerary features dates continuing through May 4th, when Kid Rock and his Twisted Brown Trucker band are set to rock Atlanta's Music Midtown 2002 festival. In related news, the video for his latest single, "Lonely Road of Faith," incorporates footage from his recent performance before U.S military forces stationed at Ramstein Air Base in Germany.

Punk poet priestess Patti Smith will release a two-disc box set retrospective on March 19th titled Land 1975-2002. The first disc will feature singles and album tracks chosen by fans during Smith's last club tour and via the Internet, while the second disc will include previously unreleased demos and alternate takes, live tracks, poetry and a cover of Prince's "When Doves Cry." Smith will make additional rare material available on her new website www.pattismithland.com, which will launch in March.

Pure Rock Plane: Steve Barba of the US Air Force reproduced the cover of Judas Priest's Screaming For Vengeance on the B1-B bomber plane he flies.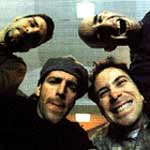 Anthrax recorded cover versions of U2's "Exit," The Police's "Next To You," and the Ramones' "We're A Happy Family" during the sessions for their new album., which is now reportedly NOT called Taking The Music Back. The covers are likely to end up as b-sides. Pantera's Dimebag Darrell recently rumored some guitar parts on the album, though it is not confirmed if he will appear on the final product, which is being produced Anthrax guitarist Rob Caggiano alongside Eddie Wohl, and Steve Regina (collectively known as by Scrap 60 Productions). Tentatively scheduled for a June 24th European release through Nuclear Blast Records, the upcoming CD will feature the following cuts: "Black Dahlia," "Refuse To Be Denied," "Superhero," "Safe Home," "What Doesn't Die," "Strap On My Old School," "Taking The Music Back< "Nobody Knows Anything," "Expiration," and "Think About An End."

The schedule for the Reverend Horton Heat/Nashville Pussy/Streetwalkin' Cheetahs tour has been announced. All three bands will be doing some gigs in before, after, and in between these dates so check their websites for any additional shows. For instance, between March 24th and 30th, the Rev and Nashville Pussy will head down to the Florida area for a run while the Cheetahs do a headlining stint in the Midwest before rejoining the the tour on March 0th in Atalanta. In related news, The Cheetahs have announced the addition of bassist John Ramirez into the lineup. Ramirez (formerly of the cover band Nudist Priest, among others) will make his debut when the Cheetahs play the DIY Fest at Club Vinyl in Hollywood on February 9th. Here's where you can see all three bands together:

3/05 Syracuse, NY Armory High
3/06 Portland, ME The Asylum
3/07 Boston, MA Paradise
3/08 Towson, MD Recher Theatre
3/09 Philadelphia, PA Trocadero
3/12 Buffalo, NY Showplace Theater
3/13 New York, NY Irving Plaza 1
3/14 New York, NY Irving Plaza
3/15 Clifton Park, NY Northern Lights
3/16 Washington, DC 930 Club
3/19 State College, PA Crowbar
3/20 Lancaster, PA Chameleon Club
3/21 Cincinnati, OH Bogarts
3/22 Columbus, OH Newport Music Hall
3/23 Pittsburgh, PA Metropol
3/30 Atlanta, GA Earthlink Live

DC4, featuring Armored Saint guitarist Jeff Duncan, will release their debut album, Volume 1, on April 27th through Rising Sun Records in Europe.

Metal vets Running Wild have announced the touring lineup of the band, which now includes bassist Peter Pichel, guitarist Bernd Aufermann and Matthias Liebetrud on drums. The band will be touring to promote their newest effort, The Brotherhood.

Def Leppard will release their two long-awaited DVDs on February 26th in the USA and March 5th in Canada. One features Historia and In The Round In Your Face, while the other DVD contains Visualize and Video Archive. Both also feature interviews and discographies.


Slipknot frontman Corey Taylor (a.k.a. #8) is planning to enter the studio in April to work on his upcoming solo album, which will be released under the moniker Superego through Roadrunner/Island/Def Jam. In addition, Taylor recently produced the new EP by IL-based band Slitheryn at SR Audio Studio in Iowa with Chicago and lent his vocals to the song "Lost."

Former Yngwie Malmsteen vocalist Jeff Scott Soto's band Talisman will issue their live CD in April. The still untitled album was mixed by Pontus Norgren and Ulf Larsson at NMW and Platform studios in Stockholm and recorded at last year's Sweden Rock festival. The band also features former Yngwie bassist Marcel Jacob and former Great King Rat guitarist Pontus Norgren.

Primer 55 drummer Preston Nash has formed a new side project called Nash in which he will sing and play guitar. He is demoing new tunes and expects to cut an album that will feature cameos by bandmates Bobby Burns and Kobie Jackson, Acey Slade of Dope, and members of Dog Fashion Disco and Static-X.

Former White Lion/Freak Of Nature vocalist Mike Tramp will kick off a worldwide tour on March 13th in Pumpehuset, Copenhagen in support of the recently released CD Recovering the Wasted Years. The trek will also find him hitting Australia, Indonesia, Canada and the US. In related news, a Freak Of Nature box set is in the works and will contain three CDs and a DVD.

Sweden's Marduk were forced to cancel their North American tour with Amon Amarth and Diabolic due to immigration problems. The trek was originally supposed to start on January 11th in St. Paul, Minnesota.

Finish glamsters H.I.M. will release their latest CD, titled Deep Shadows and Brilliant Highlights, in the UK on February 25th. They will play a couple of high profile gigs in the London area -- on February 28th at the Barfly Club in Camden and on March 1st with The Mission UK at the Astoria -- to promote the release.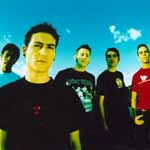 Trustkill Records have confirmed that Poison The Well will not be performing on any dates of the Suicide Machines and Catch 22 Tour. Instead, the group will be taking a short break before hitting the road on February 23rd with Hatebreed, Bane and What Feeds The Fire on the Perseverance 2002 Tour. The band has also been added to the upcoming Skate & Surf Fest, which will take place in NJ on April 19th through 21st. Their upcoming album, Tear From The Red, is due out on February 19th through Trustkill.

Hughes Turner Project will head out on a Japanese tour in May (dates TBA). The band features former Deep Purple/Black Sabbath frontman Glenn Hughes alongside former Rainbow/Deep Purple vocalist Joe Lynn Turner.

Dream Theater bassist John Myung, vocalist James LaBrie and former Megadeth axeman Marty Friedman are among the guests on Magellan keyboardist Trent Gardner's Explorer's Club 2: Raising The Mammoth CD, due out through Magna Carta Records on April 23rd. Other guests on the prog-rock opus include drum legend Terry Bozzio, Kansas guitarist Kerry Livgren, Shadow Gallery guitarist Gary Wehrkamp, and many others.

1/27/02

DIO guitarist Craig Goldy has officially left the group and Doug Aldrich has been tapped as his replacement. Ronnie James, drummer Simon Wright, and bassist Jimmy Bain will break in Aldrich while they record their new album and head out on the road this summer with Deep Purple and the Scorpions. According to DIO's official web site, the tour will begin on June 1st in Las Vegas.

P.O.D. will perform in Singapore for the first time at the National Youth Park on February 3rd at 3.30pm! Singapore Pure Rockers have been deprived of a good rock show since last July, 2001 when veteran German Rockers, Scorpions, held a concert here as part of their "Acoustica" World Tour. Rockers will definitely be looking forward to this Exclusive Outdoor Concert, plus, this concert is absolutely FREE so there really is no reason why Singapore will not be getting "Alive" with P.O.D.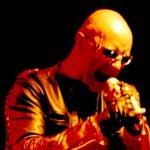 Halford have been added to the list of artists confirmed to appear at this year's Sweden Rock festival, which is scheduled to take place on Friday, June 7th and Saturday, June 8th in Sölvesborg, Sweden. Rob Halford and his band will perform on the 7th. Other artists scheduled to play the festival include Steppenwolf, Magnum, Gamma Ray, Halford, Virgin Steele, Rage, Manfred Mann's Earth Band, Candlemass, Doro, Evergrey, and many others.

The Chelsea will make its live debut at Spaceland in Silver Lake, CA on February 6th. The band features ex-Hole/Smashing Pumpkins bassist Melissa Auf Der Maur (on guitar, presumably), A Perfect Circle bassist Paz Lenchantin and former Hole/Motley Crue drummer Samantha Maloney.

In related news, Hollywood sleaze grinders The Hangmen will wrap up it's one month residency at Spaceland this Monday (January 28th). The band has performed every Monday this month with different opening acts at every show. The band has a live album due out through Acetate Records this spring.

Punk vets The Dogs (who feature Little Caeser guitarist Loren Molinare in its ranks) will be playing the Sleaze Feast in San Francisco on February 17th at the Bottom of the Hill. The Sleaze Feast is a three day festival that got it's start in Chapel Hill, NC. This year's event features sets by west coast rawk n' rollers such as the Controllers, the Lazy Cowgirls, the Lords of Altamont, Fireballs Of Freedom, The Bellrays, The Forty-Fives and many others. In addition, The Dogs recently released a new 7" single titled "Class of 1970" through Dionysus Records. It is a blistering slab of vinyl about the band's Detroit days in the '70s and features a b-side that is called "Rebel Rock," that was recorded live from 1971 from MSU in E. Lansing, MI. The band will be breaking in new drummer Steve Darrow -- formerlly of the Super Heriones and the Decandents -- at the Big Foot Lodge in Eagle Rock, CA on Thursday, January 31st.

Korn have enlisted Andy Wallace (Faith No More, System Of A Down) to mix their next album and have a tentative May 14th release through Immortal/Epic in mind.

Reformed Bay Area thrash legends Exodus have been added to the list of artists appearing at the Metal Meltdown IV festival, which is scheduled to take place at the Convention Hall in Asbury Park, New Jersey on Friday, April 5th and Saturday, April 6th. Other acts recently added to the bill include Germany's Edguy, Sweden's The Crown and reunited NWOBHM legends Witchfynde.

According to www.relapse.com, The Dillinger Escape Plan's upcoming new EP with Mike Patton of Faith No More/Mr. Bungle fame will now be titled, Irony is A Dead Scene and is due out this summer through Epitaph.

1/25/02

LAradio.com's Tammi Heide reported this week that the new band featuring Chris Cornell and Rage Against The Machine minus Zack De La Rocha is called Civilian. No official announcement has been made though.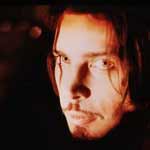 Metallica's James Hetfield and his wife Francesca gave birth to a healthy baby daughter in San Francisco on Thursday, January 17th. Marcella Francesca Hetfield weighed in at 8 pounds, 5 ounces and 21 1/4 inches.

Deep Purple will head out on an eight-week U.S. co-headlining tour with The Scorpions and DIO in June. Tour dates coming soon…

Los Angles band Rumblefish have been signed to Roadrunner/Island Def Jam. Having spent the last two years honing their craft and warming up audiences with heavy-weights such as Linkin Park, Crazytown, Soulfly, Mudvayne and the Kottonmouth Kings, and opening the main stage at 2001 Smoke Out Festival, producer Mudrock of Godsmack fame agreed to produce a demo for them. The combination of Mudrock's talent at the board with the recent addition of new bass player Dungus, equaled a musical chemistry that Roadrunner A&R guy Kevin Estrada was unable to resist. Having established a relationship with Rumblefish founding members Possum and Jason DeCosta during their days with L.A. favorites Hot Sauce Johnson, who at the time had been snatched up by Outpost, Estrada was ecstatic to have the opportunity to incorporate their talent into the Roadrunner family.

Anyone is set to release their self-titled debut on February 26t via Roadrunner. The band will be hitting the road along with Lennon and Speedealer starting February 9th in Pittsburgh, PA at Club Laga.

Soulfly have set a tentative May 21st release through Roadrunner/Island/Def Jam for their in progress new album. Soulfly/Medication drummer Roy Mayorga recently produced the new demo by Two Hit Creeper. Orgy frontman Jay Gordon was due to co-produce Two Hit Creeper's debut CD for his Division One imprint, but due to being busy on the third full-length Orgy CD, he has not been able to secure distribution for the label, thereby allowing the band to seek out other opportunities.

The first leg of the Jagermeister Music Tour, which features Drowning Pool, Coal Chamber and Ill Niño, have been announced:

3/8/02 Orlando, FL, Hard Rock Live
3/9/02 Tampa, FL, The Masquerade
3/10/02 Boynton Beach, FL, The Orbit
3/11/02 Atlanta, GA, Roxy Theatre
3/12/02 Washington, D.C., Nation
3/15/02 Philadelphia, PA, Electric Factory
3/16/02 Portland, ME, State Theatre
3/19/02 Pittsburgh, PA, Metropol
3/21/02 Columbus, OH, Newport Music Hall
3/23/02 Cleveland, OH, The Odeon
3/24/02 Pontiac, MI, Clutch Cargo's
4/3/02 Boise, ID, The Big Easy
4/16/02 Denver, CO, The Fillmore Auditorium

Trouble will play a seven song reunion set at Night Cap in Chicago on Saturday, January 26th. Guitarist Rick Wartell, vocalist Eric Wagner, guitarist Bruce Franklin, drummer Jeff Olson and bassist Ron Holzner have written nearly an album's worth of new material for the band's long-awaited new album, tentatively titled Seven.

The Offspring will join No Doubt and Weezer at a benefit concert for the Recording Artists Coalition on February 26th at the Long Beach Arena in California .

Sw1tched's long delayed debut album, Subject To Change, is finally due in stores on February 26th through Immortal/Virgin. The first single, "Inside," will impact at radio on March 26th.

Former Powerman 5000 bassist, Dorian Heartsong has joined the band The Flying Tigers, who will release their self-titled debut through Atlantic on April 16th.

1/24/02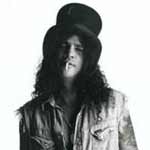 Former Guns N' Roses guitarist Slash and his wife Perla are expecting their first child in August.

Former Hanoi Rocks bassist Sam Yaffa, who currently resides in New York and plays in the band Mad Juana, has joined punk vets Murphy's Law and will head out on the road with them on March 18th.

The new Black Label Society album, 1919 Eternal, will be released through Spitfire on March 5th .

For the first time in its seven-year history, this year's SnoCore Rock will offer a free sampler CD on all of the tour stops. Twenty-five thousand CDs will be handed out at the concerts' merch booths featuring cuts from new artists such as Custom, Mad At Gravity, Dilated Peoples, OTEP, Cyclefly, Unwritten Law, Greenwheel, Third Strike, Finch, The Movie Life. The Starting Line and Diecast.

Static-X are creently shooting a video for a remix of the song "Cold" with directors Nathan Cox and Joe Hahn (Linkin Park). The remix is scheduled to be the lead single from the upcoming movie Queen of the Damned.

FastLane Records have just released a two CD set by Ohio's premiere hard/melodic rock act Lazarus that features remixed/remastered versions of both of their records from the '90s, Miss B. Haven and Bombz Away. Lazarus is currently in the recording studio working on a new album for Fastlane to be released this summer.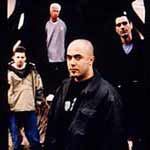 Staind vocalist Aaron Lewis recently leant his vocals to "Crawling" on Linkin Park's forthcoming remix album, due this spring.

MCA Records has set June 4th as the release date for Nonpoint's new album, Development. The band is currently in the studio wrapping up production on the effort.

Sebastian Bach's interview with Rob Halford for VH1's Forever Wild show will air on Friday night, January 25th, at 10pm. The interview took place at the Los Angeles studio where Halford are currently working on their new album. The segment will include an audio sample of a brand new Halford track in progress.

North Carolina hard rockers Leadfoot have signed with Sweden's Lunasound Recordings and will begin recording their third full-length album, tentatively titled Saturday Knight, with a late spring release in mind. The band features former C.O.C. vocalist Karl Agell and bassist Phil Swisher.

Jason McMaster (Dangerous Toys/Broken Teeth) dropped us a line to confirm that the collection of demos by his early '80s prog-metal band Watchtower will be released through Monster Records soon and finally has a working title, Demonstrations In Chaos.

Blaze, featuring former Iron Maiden/Wolfsbane vocalist Blaze Bayley, will hit the road in April on a Brazilian tour. Dates TBA…

The Associated Press is reporting that GM has cut a deal with Led Zeppelin to use "Rock and Roll" in a series of television commercials for Cadillac. The pairing is part of a new campaign called "Break Through" and marks the first time Zep has allowed its music to be used in a commercial. The spots will air during the Super Bowl, Winter Olympics, the Oscars, Wimbledon, and Ryder Cup golf coverage.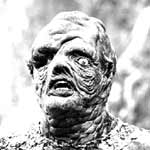 Epitaph Records superstar punk rock force Guttermouth will perform at the pre-screening Party for Troma's Citizen Toxie: Toxic Avenger 4 at the Knitting Factory in Hollywood on Friday, February 1st. The screening also includes the world-premiere of Apocalypse Soon, a behind the scenes look at the making of Citizen Toxie. Expect more Troma-tized surprises and screenings at the party.

Soulfly bassist Marcello D. Rapp and drummer Roy Mayorga have teamed up with Puya guitarist Ramon Ortiz and Punch vocalist Ikaro in a new side-project band called Ankla and have been cutting demos.

Rhapsody will head out on a European tour with Angel Dust and At Vance beginning April 1st in Pratteln, Switzerland at Z7 and carry through until April 21st when the tour wraps up in Paris, France at Elysee Montmartre.

Austin, TX "Southadelic Hick-Hop" band Larry will launch a national tour in San Angelo, TX on January 25th at Steel Penny Pub. The band is promoting their acclaimed new Lauan Records debut, Among Friends.

Members of Dog Eat Dog and Mucky Pup have united in a band called All Boro Kings and have signed a deal with Century Media Records. The band -- Dan Nastasi (guitar/vocals), Dave Neabore (bass/vocals), Sean Kilkenny (guitar/vocals), and John "Booge" Milnes (drums) -- will enter Big Blue Meanie Studios in Hoboken, New Jersey in January to begin tracking their debut album with Tim Gilles producing/engineering.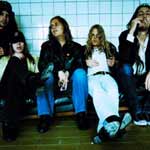 The Hellacopters' last studio album, High Visibility, will be re-released on double-vinyl through Sweet Nothing Records. The label will also release a 12" vinyl of High Visibility b-sides, including cover tunes and live tracks.

The reunion of Boston metal vets Overcast is confirmed for the New England Metal and Hardcore Festival at the Palladium in Worcester MA on April 5th and 6th.

Finland's Burning Point recently released Salvation By Fire through Limb Music Products, which features cover art by comic book artist Bob Eggleton. The album was recorded at Neo Studio in Oulo, Finland, and produced by Kari Vähäkuopus.

1/23/02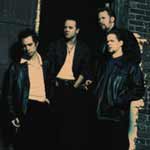 The song title of the Metallica collaboration with rapper Ja Rule and producer Swizz Beatz is "We Did It Again." The track will be released on May 14th through Ghetto Stories, a Dreamworks Records hip-hop compilation overseen by Beatz. The songs features Ja Rule rapping over a Metallica supplied beat but does not include any contributions from frontman James Hetfield, who was in rehab when the track was recorded last August.

U.S. Customs has seized the initial shipment of Die My Darlings' new album Virulent. Released through Trisol Music Group GmbH, Virulent is the debut full-length album by the Los Angeles based quartet whose lineup consists of Sean D (vox), Reiche (programming and bass), Entropy (guitars), and Vulgar (guitars). Trisol was informed by Deutsche Post AG today that the U.S. Customs Service has seized the shipment of CDs and marketing material destined for the band's Los Angeles office. According to information provided by Deutsche Post, the reason for the seizure is likely related to the albums title, Virulent, combined with the elevated levels of security within the United States following the tragedy of September 11th and the subsequent mail-born Anthrax attacks. Deutsche Post further added that the package would be thoroughly examined and searched, and provided that if nothing contraband in nature is found, the package would most likely be released after two weeks. When reached by phone for comment regarding the seizure, vocalist Sean D had this to say, "I think it's an evil, necessary or otherwise, which has become more pervasive. It seems to be impacting every aspect of the world around us." Virulent is due to hit stores February 15th, with DMD embarking on a European tour in support.

Marilyn Manson recently rcorded some lead vocals in a Los Angeles studio for a track composed by Korn's Jonathan Davis and Richard Gibbs for the soundtrack to the upcoming flick Queen Of The Damned. Manson sang on the song "Redeemer." The soundtrack will be released on February 19th..

Bloodhound Gang will not be releasing it's home video, One Fierce Beer Run, a documentary of the quintet's 1997 world tour in support of it's album One Fierce Beer Coaster (Republic/Geffen), until all individuals who appear in it give their formal consent. There are 35 people who need to be tracked down and signed forms need to be received from each one of them. Still photos of those who MIA are posted on the group's website at www.bloodhoundgang.com. Cash and/or prizes are being offered to both the finders and the findees -- those who made cameo appearances. The video features graphic images of everything from female-on-female sexual exploits to as much drunken debauchery as a St. Patrick's Day parade. The band is presently in the studio recording the follow-up to 1999's platinum-selling Hooray For Boobies. Their video production team has already begun editing the resulting home video, Hooray For Groupies. Both tour documentaries contain several music videos including MTV staples "Fire Water Burn" from Beer Coaster and "The Bad Touch" (a.k.a. "The Discovery Channel Song") from Boobies, as well as unreleased videos, comedy sketches and tour footage.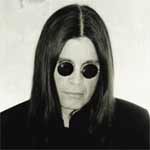 Ozzy Osbourne has announced the dates for his upcoming Canadian tour, which will include performances by The Tea Party and Project Wyze in the support slots. The dates are as follows:
3/3/02 Vancouver, BC, General Motors Place
3/5/02 Edmonton, AB, Skyreach Centre
3/7/02 Winnipeg, MB, Winnipeg Arena
3/10/02 Hamilton, ON, Copps Coliseum
3/11/02 Montreal, QC, Molson Centre
3/13/02 Kanata, ON, Corel Centre
3/14/02 Quebec City, QC, Quebec Collisee Arena

Former Screaming Trees drummer Barrett Martin has a new project called Tuatara that includes REM's Peter Buck, Scott Mccaughey and others. The album is called Cinemathique and is out through Fast Horse Recordings this week.

Punk vets The Dogs, which features Little Caesar guitarist Loren Molinare, recently released a new 7" single titled "Class of 1970" through Dionysus Records. It is a blistering slab of vinyl about the band's Detroit days in the '70s and features a b-side that is called "Rebel Rock," that was recorded live from 1971 from MSU E Lansing. Meanwhile, Little Caesar are playing at Paladino's in the Reseda, CA on Friday Jan 25th and have dates lined up in February in Las Vegas and Anaheim, CA.

1/22/02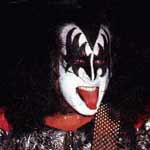 On Monday, January the 28th, KISS' Gene Simmons will be interviewing Hugh Hefner at the Playboy Mansion for the cover story of the premier issue of Gene Simmons Tongue magazine. The cover will sport Hef and a beautiful bevy of beauties...sticking their tongues out!!! On February 14th Gene will be doing a book signing at Book Soup on Sunset Blvd in Hollywood.

Jason Newsted's band EchoBrain will be performing as a quintet on their EchoTour 2002, which is slated to start in March in California and carry through the States in the Springtime. The band's self-titled debut album will be released through Chophouse/Surfdog Records on March 5th.

Reveille recorded a remix of their new single, "Inside Out," which features a guest appearance from Cold frontman Scooter Ward. You can check it out at the band's website.

NWOBHM stalwarts Angel Witch announced on their website that they are breaking up following the departure of guitarist Kevin Heybourne's, who moved the U.S.

Rhino Records is set to release Where There's Smoke There's Cheech & Chong: The Cheech & Chong Anthology. The two CD set will include some awesome photos and liner notes and some unreleased outtakes and nuggets.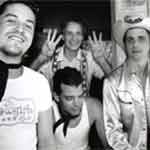 Tomahawk (featuring Mike Patton) have confirmed their upcoming European tour schedule and here's how it's looking:
2/14/02 Brussels, Belgium, Ancienne Belgique
2/16/02 Eindhoven, Holland, Effenaar
2/17/02 Amsterdam Holland, Melkweg
2/18/02 Paris, France, Elysee Montmartre
2/21/02 Malmo, Sweden, KB
2/22/02 Oslo, Norway, Betong
2/23/02 Stockholm, Sweden, KTH
2/24/02 Copenhagen, Denmark, Pumpehuset
2/25/02 Arhus, Denmark, Voxhaull
2/27/02 Zurich, Switzerland, Rote Fabrik
4/6/02 Lisbon, Portugal, Aula Magna
4/7/02 Oporto, Portugal, Hard Club
4/10/02 London, England, Astoria
4/11/02 Glasgow, Scotland, Garage
4/12/02 Manchester, England, MDH
4/13/02 Belfast, Ireland, Limelight
4/14/02 Dublin, Ireland, Ambassador

Hollywood rock n' rollers The Hangmen will release a live album this spring through Acetate Records that features a guest vocal from Supersuckers frontman Eddie Spaghetti.

Deadsy will release Commencement through Elementree/Dreamworks Records on May 14th Korn frontman Jonathan Davis guests on the track "The Key To Gramercy Park."

You can catch Static-X frontman Wayne Static in the new video by turntable wizards The X-ecutioners. In related news, bassist Tony Campos has been playing with Fear Factory guitarist Dino Cazares and drummer Raymond Herrera in a side-project band dubbed Asesino.

Reunited Bay Area thrash legends Exodus have announced some west coast tour dates, check 'em out:
2/8/02 Anaheim, CA, The Shack
2/9/02 Anaheim, CA, The Shack
3/13/02 Portland, OR, Satyricon
3/14/02 Tacoma, WA, The Norva
3/15/02 Ballard/Seattle, WA, Ballard Firehouse
3/16/02 Everett, WA, Jimmy Z's
3/23/02 Whittier, CA, Hellfest

Racer X was recently re-signed to Universal Japan following a successful Japanese tour. The band has a DVD out in Japan called Snowball Of Doom.

Entombed guitarist Alex Hellid recently directed a video for stoner rockers Orange Goblin. The track is "Monkey Panic" and it's available on the band's latest effort, Coup De Grace, which will be released through Rise Above Records on February 25th. The album was produced by former Kyuss/Unida bassist Scott Reeder and includes a guest appearance by former Kyuss/Unida frontman John Garcia.

Amen have once again selected Mike Fraser (AC/DC, Metallica) to mix their yet-to-be-titled new album. The band finished recording the record with producer Ross Robinson (Korn, Slipknot) late last year and will begin mixing after returning from down under to play the Big Day Out Tour in Australia. New guitarist Rich Jones (formerly of the Black Halos will make his debut on the Aussie dates.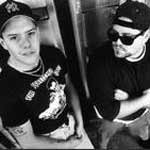 Billy Milano has chosen former Anthrax/current Sebastian Bach guitarist Paul Crook and ex-Nuclear Assault bassist Scott Metaxas (known as Dynamic Duo Productions) to produce his new M.O.D. record. The sessions will take place at Big Blue Meanie Studios in Hoboken, New Jersey beginning January 24th, with the mixing scheduled for Wayne Manor in Neshanic, New Jersey. The as-yet-untitled album will be issued this summer through Nuclear Blast Records.

Former Frank Zappa vocalists Ike Willis and Napoleon Murphy Brock have teamed up in a band called Project/Object for their first national tour together in 18 years. The six-week tour, which kicks off February 12th in Albany, NY, will hit 35 cities and conjure a rarely seen collaboration by the men whose vocals helped define the last two decades of Zappa's incredibly prolific career. The band will be playing many authentic renditions from classic Zappa albums. Other guest Zappa band alumni are expected to sit in with Project/Object along the way as well. Project/Object initially paired Ike and Napoleon on Halloween, when the band reunited the widest assortment of Zappa alumni to gather on one stage for a benefit concert at New York's Irving Plaza. The stellar event sold out a week in advance and raised more than $10,000 for prostate cancer research while significantly heightening awareness for the disease that tragically cut short the master composer's life eight years ago. Ike and Napoleon all loaned their support to that event with Mothers of Invention Don Preston, Bunk Gardner, Roy Estrada and Billy Mundi and local Zappa big band leader Ed Palermo.

Reunited metal vets Candlemass will appear at the Sweden Rock Festival (held on January 7th and 8th), Germany's Bang Your Head festival (June 28th and 29th), Germany's With Full Force festival (July 5th and 6th) and Germany's prestigious Wacken Open Air (Aug. 2nd and 3rd). In addition, the band will play two gigs in Greece in March:
3/23/02 Athens, GRE, Woodstock
3/24/02 Thessaloniki, GRE, Hidrogeios Club

The Red Hot Chili Peppers' performance at the Silver Lining Benefit Concert in Los Angeles last fall has been made available for download on the Warner Bros. website.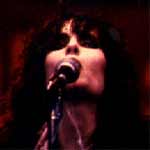 Reunited Los Angeles metal heavyweights Hellion will release a four-song CD EP through New Renaissance Records, to be sold at a low price to promote the band while they shop for a new record deal for a full-length effort. They have also announced some west coast tour dates:
1/26/02 Paladino's, Reseda, CA
1/31/02 Club Caos, Riverside, CA.
2/16/02 Brick By Brick, San Diego, CA
2/23/02 Roadhouse, Sacramento, CA.
2/24/02 Concord Depot, Concord, CA.
2/26/02 CW, San Francisco, CA
3/23/02 Hell Fest, Whittier, CA

Pete Shelley and Howard Devoto -- founding members of UK pop-punk legends the Buzzcocks -- will release their first collaboration in over twenty years, Buzzkunst, on March 5th.

Florida death metallers Malevolent Creation have sacked frontman Brett Hoffmann for the second time and replaced him with Hate Plow vocalist Kyle Simmons.

The DVD release of Queen's A Night at the Opera has been delayed until April.

Norway's Theatre Of Tragedy will release their latest CD, Assembly, in the U.S. on April 16th

1/21/02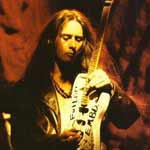 Alice In Chains axeman Jerry Cantrell will finally release his sophomore solo album on May 14th through Roadrunner Records. The album is a compilation of tracks culled from his unreleased double album Degradation Trip Vol. 1 and 2 and features Faith No More/Ozzy drummer Mike Bordin and Ozzy/Suicidal Tendencies bassist Robert Trujillo.

Hollywood hard rawkers the B Movie Rats have placed two semi-hidden MP3s on the MP3 section of their website. They are both demo versions of songs coming out soon on a Belgian release: "Bad Rain In Texas" and a Mott The Hoople cover, "Rock And Roll Queen." These two tracks will be up unedited for about a week before being shortened like the other song clips on the site. The boys are playing Friday, February 22nd at Spaceland in Silver Lake, CA with The Bellrays and Adam West and then head to Europe for a five week tour.

Slipknot have cancelled their Australian tour and don't seem to have any plans to reschedule it. No reason has yet been given for the cancellation.

Fireball Ministry will be playing a "fan appreciation" gig at the House of Blues in Los on January 23rd. That means they're going to have free tickets available at the House of Blues that night, but only until 9pm when they're scheduled to go on. You can only pick them up the night of the show and they are limited (well, sort of limited). Look for the girl in a Fireball Ministry t-shirt as she will have the tickets near the Industry Will Call window between 8pm and 9pm. Unida will also be on the bill.

Britain's Vex Red have been confirmed as the support act on Staind's forthcoming European tour, which is scheduled to start on January 27th in Manchester, UK. Vex Red will also support Alien Ant Farm at London's Brixton Academy on February 2nd. Then the band will head out on a nine-date UK tour. The band's debut album, Start With A Strong And Persistent Desire, is currently scheduled for a March 4th release through I AM/Virgin in the UK and will have an April release in the U.S.

Punk rock n' roll vets the New Bomb Turks have released a 7" single through Glazed Records that features "Spanish Fly By Night" (Glynt Mix) b/w a cover of Aerosmith's "Chip Away The Stone." "Spanish Fly By Night" was re-mixed by Jim Diamond (White Stripes, Dirtbombs). This single has been out of print for over a year and these two tracks have been re-mastered, repackaged and repressed lovingly for you by the good folks at Glazed.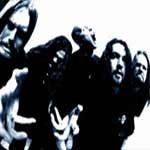 Swedish metalheads Meshuggah will begin recording their next album, tentatively titled Turbulence, this month to be released later this year through Nuclear Blast/Century Media. In addition, drummer Tomas is selling his current drumkit on the bands official website.

Ipecac Recordings will release Millenium Monsterworks - Live New Years Eve 2000 on April 2nd, which features performances by a combination of band members from the Melvins and Fantômas. In related news, the new Melvins studio album, titled H.A.T., will be released in April through Ipecac.

System Of A Down were forced to stop their Big Day Out performance midway through the set on Friday in Auckland, New Zealand when an audience barrier at the front of the stage collapsed. Although no injuries were reported, organizers temporarily stopped the show two songs into SOAD's set to prevent another tragic incident like last year's death of a Limp Bizkit fan in Sydney, Australia. After a 20-minute delay, the band returned to the stage and finished a-rockin'.

In related news, Mindless Self Indulgence have confirmed that they will be on the bill for the System Of A Down and Clutch tour in mid-February.

Insolence have broken up. While drummer Mando is already involved in a new band, the rest of the band members are planning on continuing on together under a different name.

SPV/Steamhammer Records will release the latest album by German guitar God Axel Rudi Pell in Europe on April 22nd. Pell will launch a German tour in April to support the effort, titled Shadow Zone.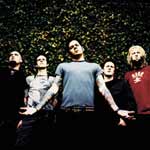 Adema will appear on a handful of SnoCore dates in March. The lineup also includes Alien Ant Farm, Fenix TX, Glassjaw and Earshot.

Dangerous Toys have posted pictures from their 2001 Japan tour at their website. In related news, frontman Jason McMasters other band, Broken Teeth, will release a split CD with Hollywood rawkers The Streetwalkin' Cheetahs through the UK label Changes One in April. In addition, the Cheetahs just released a split 7" single with Cleveland's Stepsister through Smogveil Records and a rarities album through Triple X called Guitars, Guns and Gold.

Drummer Lars Ulrich told the Metallica 'zine So What that the band have written the basics for 20 new songs for their next album. He also noted that their rap-metal collaboration with Ja Rule and producer Swizz Beatz will be released in February. In related news, James Hetfield and wife Francesca are expecting their third child in late January/early February. Congrats!!!

Stryper's Michael Sweet is currently in the studio mixing the new album by band Mustard for a early summer release.

Germany's Running Wild will release their new CD, The Brotherhood, on February 25th and will launch a German tour to support it in March.

The Alter Boys will enter a recording studio this month to record their debut album for SMDC Records. The band is a side-project featuring members of Mushroomhead, Dog Fashion Disco, Pro-Pain, Unified Culture and Original Pranksta.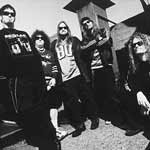 Exodus, Agent Steel, Abattoir, New Eden, Prototype, and Cage are among the acts scheduled for the Hellfest 2002, which will be held on Saturday, March 23rd at Ibiza Restaurant in Whittier, California.

Hollywood glamsters Pretty Boy Floyd will be touring with Faster Pussycat in the UK this spring. Tour dates coming soon. In related news PBF's Keri Kelli has recorded all of the guitars, rhythm and lead for the new Shameless album. The band features Kelli alongside PBF's Steve Summers and Kari Kane and Warrant drummer Mike Fasano.


Reunited metal heroes Candlemass have been added to the lineup of this year's Bang Your Head festival, which will take place June 28th and 29th in Balingen, Germany.

In related news, reunited NWOBHM icons Diamond Head will play five gigs in March, one of which is at the Metal Meltdown IV festival in Asbury Park, New Jersey (the rest are UK dates). The revamped band features Sean Harris (vocals), Floyd Brennan and Brian Tatler (guitars), Karl Wilcox (drums), and Eddie Moohan (bass). Here are the dates:
3/23/02 Milton Keynes, UK, Zak's Club
3/26/02 Newcastle, UK, Trillians
3/27/02 Hightown, UK, The Limelight
3/30/02 Dudley, UK, JB's
4/5-6/02 Asbury Park, NJ, Convention Hall (Metal Meltdown IV)

Glam vets Roxx Gang are currently in the recording studio and have finished six new songs for a future release through Perris Records. However, in the meantime the band will release a live CD through Perris to tide over hungry fans. Here are some upcoming tour dates in the Florida area:
2/8/02 Mastry's-St. Petersburg, FL
2/15/02 Green Parrot, Largo, FL
3/8/02 Lost And Found, Longwood, FL
4/5/02 Gasoline Alley, Clearwater, FL
4/25/02 Ringside Cafe, St. Petersburg, FL
5/30/02 Ringside Cafe, St. Petersburg, FL
5/24/02 Bourbon Street, New Port Richey, FL

Foo Fighters will perform at a benefit show for MAP (Musicians' Assistance Program) on February 7th at the House of Blues in Anaheim, California. MAP is an organization that makes it possible for members of the music industry to receive treatment for drug and alcohol addiction, regardless of their financial condition. Tickets go on Internet-only pre-sale beginning this Friday, January 18th at 6pm PST and ending Sunday at 6pm PST at http://tickets.artistdirect.com. Tickets go on public sale beginning Monday 10am PST.






Please log in to view RANTS

If you don't have a username, click here to create an account!






Represent! Get Your KNAC.COM Bumper Sticker

Happenings This Week on KNAC.COM

LIFE OF AGONY Set To Invade The UK This Fall

DIAMOND HEAD Drop New Album Title Track Video For "The Coffin Train"

IMMOLATION Announce North American Headline Tour

SUICIDAL ANGELS Set To Release Years Of Aggression

RINGWORM Announce Summer Headline Tour Dates

SANTA CRUZ Unveils New Single "Tell Me Why"

GHOST Add More Dates To 'Ultimate Tour Named Death' North American Headline Arena Trek

OPETH Reveal New Album In Cauda Venenum Details

FULL TERROR ASSAULT OPEN AIR Festival Returns For Fifth Year

GLENN HUGHES Announces November 2019 UK Tour

GYGAX Releases "Hide Mind" Single

Calgary's DECIMATE METALFEST Announces 2019 Lineup

CANNIBAL CORPSE Unveil Brutal "Red Before Black" Video

PAUL GILBERT Presents Video For "A Herd Of Turtles"

SHALLOW SIDE Announce Spring Tour Dates

SHATTERED SUN Drop "Shades Of Melodie" Video

KEELFEST 2019 Celebrates Three Decades Of Music In Non-Stop Show Over Three Hours Long

SUMMONER'S CIRCLE Drop Become None Album

HOLLYWOOD VAMPIRES Stream "The Boogieman Surprise" Track

BLACK STAR RIDERS Return With Another State Of Grace Album

CROBOT Debut New Video For "Keep Me Down"

VANDEN PLAS Set To Release The Epic Works 1991-2015 Box Set Collection

SOTO Launch "HyperMania" Single, Video

ROCKLAHOMA Band Performance Times Announced

TAKE THE DAY Release Music Video For "Save Me Now"

HARD ROCK HELL Announce HRH Road Trip XI - Ibiza 2020

SLIPKNOT Unveil New Album We Are Not Your Kind, First Video For "Unsainted"

RED FANG Launch Headbanging Music Video App Featuring New Single

PSYHO LAS VEGAS Announces Daily Band Lineups

SAMMY HAGAR Confirms The Lineup For His Second "High Tide Beach Party & Car Show"

HEAVY AS TEXAS Unleash "King Of Fools" Video

DESTRUCTION Reveal Cover Art For New Album Born To Perish

PAUL GILBERT Announces Solo Album Tour Dates

VOLBEAT Return With Rewind, Replay, Rebound Album

BARONESS Stream New Track "Throw Me An Anchor"

DONNIE VIE Gets Release Date For New Solo Album Beautiful Things

KILLSWITCH ENGAGE, CLUTCH Join For Summer Tour Dates

GRETA VAN FLEET Announces Fall Leg Of 2019 Tour

AS I MAY Unveil My Own Creations Album Details

HATE Launches Video For "Sovereign Sanctity"

TORCHE Reveal New Album Admission Details

THE ROCK GODS & METAL MONSTERS Auction Commences

ROTTING CHRIST Announce North, South American Headline Dates

AVATAR To Support BABYMETAL In North America

ALIEN WEAPONRY Release Music Video For "Ahi Ka"

PHILIP H. ANSELMO & THE ILLEGALS Confirm European Tour

(HED) P.E. Announces New Album Stampede

GLORYHAMMER Stream "The Siege Of Dunkeld (In Hoots We Trust)" Track

GENERATION AXE Lineup Reveal Live Album, Generation Axe: The Guitars That Destroyed The World (Live In China)

HELIX Go Old School With New Album Of Unreleased Material

ABBATH Announce European Tour

TENGGER CAVALRY Reveal Northern Memory Full Album Stream

Bay Area Thrash Metal Documentary Murder In The Front Row: The San Francisco Bay Area Thrash Metal Story Set For Public Premiere

Fantasy Metal Crusaders GYGAX Reveal New Album High Fantasy

LO-PAN Debuts New Song "Ascension Day"

SWEET Announce November/December UK Tour

JORN Set To Release New Live On Death Road Album

HELION PRIME Announces 'The Cybernetic Terror Tour'

ALIEN WEAPONRY Premiere New Single "Ahi Ka"

THUNDERPUSSY Announces Summer Headline Tour

METAL FOR KIDS UNITED Reveals 2019 Benefit Lineup

THE WILD! Launch New Single "Helluva Ride"

OF MICE & MEN Drop "Mushroom Cloud" Video

TARJA Unveils New Album In The Raw

THE RODS Stream New Single "Louder Than Loud"

SABATON Unleash New Single/Video, "Fields Of Verdun"

ABNORMALITY Launches New Single, "Monarch Alpha"

CHICAGO OPEN AIR Reveals Band Performance Times

SLASH FT MYLES KENNEDY AND THE CONSPIRATORS Release "Boulevard Of Broken Hearts" Video

COLD KINGDOM Release "A New Disaster" Video

GRUESOME Announce EU/UK Summer Headline Tour Dates

NEW YEARS DAY Premiere "Shut Up" Video

ROCKLAHOMA Announces 2019 Onsite Attractions

THEM Releases New Single And Epic Video For "As The Sage Burns"

SANCTUARY Announce 2019 North American Headline Tour

ARCH/MATHEOS Drop New Single, "Wanderlust"

UFO Tour 2019 Will Continue With New Guitarist

NORTHLANE Reveal New Album Alien, Debut Video For "Bloodline"

OZZY OSBOURNE Announces Rescheduled UK/Europe "No More Tours 2" Dates

DUANE MORANO Celebrates '80s Metal With Incognito Album

FLESHGOD APOCALYPSE Launch "Healing Through War" Video

HAMMERFALL Unveil New Album Dominion

URIAH HEEP To Join JUDAS PRIEST On North American Tour

MONOLITH ON THE MESA Announce After Party Lineup

THREE TREMORS Unleash "Fly Or Die" Video

LOVE N' REVENGE Drop New Single "All 4 U"

SABATON Plots 'The Great Tour' North American Invasion

DEATH ANGEL Unleashes New Song "The Pack"

DEF LEPPARD To Release 2nd Limited Edition Box Set, Def Leppard - Volume Two

ENFORCER Present "Regrets" Music Video

JANET GARDNER Announces Your Place In The Sun Album

AXEL RUDI PELL Releases New Single And Video For "Only The Strong Will Survive (Live)"

THY ART IS MURDER Announce New Album Human Target

HE IS LEGEND To Release New Album White Bat

DEAD BY WEDNESDAY Release New Self-Titled Album

HATE Reveal Details For New Album Auric Gates of Veles

SOTO Release Second Single, Title Track "Origami"

TURILLI/LIONE RHAPSODY Set To Release Debut Album Zero Gravity (Rebirth And Evolution)

THE DAMNED THINGS Stream New Track "Omen"

FOZZY Announces 'Unleashed In The West' U.S. Tour

BLACK LABEL SOCIETY Are "Bored To Tears" In New Video

STRIKER Reveal More 'Summer Of Shred' Tour Dates

LO-PAN Release New Single, Video For "Ten Days"

BUCKCHERRY Announce November U.K. Tour

RIDE FOR RONNIE Motorcycle Ride & Concert Announces Additional Performers, EDDIE TRUNK's All-Star Band Members

UK Supergroup TRONOS Drop "Premonition" Single

DIAMOND HEAD Unveil "Death By Design" Video

STATIC-X, DEVILDRIVER Announce WEDNESDAY 13, RAVEN BLACK As Additional North American Tour Support

SONIC TEMPLE Festival Reveals Music & Comedy Performance Times

DUFF McKAGAN Releases New Track "Don't Look Behind You"

AFTERSHOCK 2019 Expands To Three Days, Announces Lineup

3TEETH Debut NSFW "Exxxit" Video

CORROSION OF CONFORMITY Announces North American Summer Headlining Tour

MONOLITH ON THE MESA Festival Comes To Taos, NM

WARRIOR SOUL Return With New Album Rock n' Roll Disease

Inaugural EXIT 111 Fesitval Reveals Full Details

SKILLET, SEVENDUST Join For Co-Headline 'Victorious War' Summer Tour

Mexico's CERBERUS Set To Unleash Fire!

GEARS Release Music Video For "Tango Yankee"

NEW YEARS DAY Announce 2019 'Unbreakable' Headline Tour

SAINT VITUS Unveil New Song, "Useless"

JINJER Announce North American Headline Tour

CELLAR DARLING Debut New Track "Freeze"

ABNORMALITY Debut New Single "A Catastrophic and Catalyzing Event"

EXODUS Celebrate 40th Anniversary With Unearthed Live Single, "No Love (Live At Day In The Dirt 1984)"

HALCYON WAY Debut "The Church Of Me" Video

THE HOLLYWOOD VAMPIRES Are Back With Rise Album

EPICENTER Festival Reveals Band Performance Times

ENTHRONED Premiere "Hosanna Satana" Video

EXMORTUS Confirm North American Spring Tour

SNEW Release New Video For Track "Sharpie"

MEGADETH, OPETH Join 2019 PSYCHO LAS VEGAS Lineup

MIND OF FURY Drop "Let Me Fly" Video

AMON AMARTH Launches "Crack The Sky" Video, Announces North American Headine Dates

KING'S X Enter The Studio To Record First New Album In Over A Decade

BEASTO BLANCO Releases Music Video For "The Seeker"

HARDLINE Announce First Leg Of 2019/2020 Life Tour Dates

KNAC.COM Exclusive: AFTER THE FALL Debut Lyric Video For "The Fight"

BULLET Set To Release New Live Album Live

STITCHED UP HEART Premieres New Song "Lost" Featuring SULLY ERNA Of GODSMACK

AT THE GATES Drop "The Colours Of The Beast" Video

ELUVEITIE, KORPIKLAANI Join For Co-Headline North American Tour

VENOM Stream Track "Bring Out Your Dead"

METALACHI Announce Spring 2019 Tour Dates

GLORYHAMMER Release Namesake Video For "Gloryhammer"

SEPTEMBER MOURNING Announces New Dates With ROB ZOMBIE, HED PE And KOTTONMOUTH KINGS

BEASTO BLANCO Return With New Album We Are

PSYCHO LAS VEGAS Reveals 2019 Pre-Party Details

LORD DYING Announces North American Headlining Tour

JESUS CHRÜSLER SUPERCAR Reveal Lucifer Album

STRIKER Announces Tour Dates With HOLY GRAIL, BEWITCHER

SANTA CRUZ Return With New Song "Changing Of Seasons"

ABBATH Unleash Fiery New Music Video, "Harvest Pyre"

METALOCALYPSTICK: Canada's Premier Women Focused Metal Festival Announces 2019 Lineup