DIMMU BORGIR Eonian


By Peter Atkinson, Contributor
Friday, May 4, 2018 @ 12:29 AM


| | | |
| --- | --- | --- |
| | | |
DIMMU BORGIR
Eonian
Nuclear Blast Records




If you were thinking that Norwegian black metal vets DIMMU BORGIR might have finally gotten the classical bug out of their systems after playing live with an orchestra and choir on several occasions, well think again. Instead of satisfying the urge, performing with the NORWEGIAN BROADCASTING ORCHESTRA, CZECH NATIONAL ORCHESTRA and SCHOLA CANTORUM CHOIR — which were captured on last year's Forces Of The Northern Night CD/DVD set — only seems to have whet the band's appetite for more extravagance. And DIMMU's latest album, and first in nearly eight years, revels in it – to its detriment.

The Forces shows seemed a fitting denouement for 2010's Abrahadabra, the most complex, heavily orchestrated album of the band's long career. And they were something DIMMU had been building up to for a decade, since 2001's Puritanical Euphoric Misanthropia introduced genuine classical instrumentation to the mix. It would have served as a perfect opportunity for the band to take a step back and streamline things a bit, a la 2007's In Sorte Diaboli, especially since Abrahadabra stumbled under the immense weight of all of its accoutrements - choirs, strings and horns, curtains of keyboards and caterwauling female guest vocalists.

But it was not to be. Eonian is just as bloated and frustrating as Abrahadabra, perhaps moreso, since it came with an eight-year wait before it. Though the orchestration is somewhat more modest, the monumental choirs chime in early and often and largely snuff out what black metal majesty there is here – and Eonian boasts more old school blackened riffing than the band has offered since, probably, 1997's Enthrone Darkness Triumphant. Yet, ultimately, even that is not enough to cut through all the fat.

DIMMU gets right down to business, for better and worse, with "The Unveiling". After the invariably creepy intro, mainstay guitarists Galder and Silenoz let loose with slashing tremolos and it's off to the black metal races – for a moment anyway. But then the choir kicks in for an epic chorus of sorts and grinds things to a screeching halt. It's a pattern that happens time and again here, recalling other extreme bands who become overly fond of clean vocals or female accompaniments, often at the expense of the raw power or ferocity that made them resonate in the first place.

In DIMMU's case, the band took what had been the strategic use of clean vocals in the past – from former bassist ICS Vortex and his brief replacement Snowy Shaw – and just blew it out of all sense of proportion. While the choral vocals provide rather effective accents in some cases, as on the almost jaunty "Interdimensional Summit" - one of the most consistently melodic, catchy tunes the band has ever done with its nifty flitting strings and rousing choruses - or in the aforementioned intro to "The Unveiling", more often than not they are overblown and intrusive and make the album sound less symphonic black metal and more Broadway musical.

It would be interesting to hear songs like "Ætheric", "Council of Wolves And Snakes" or the otherwise fearsome "Alpha Aeon Omega" stripped of all the excess vocalizing. With just frontman Shagrath's rabid snarl and the orchestral foundation – which was scripted here by Francesco Ferrini of FLESHGOD APOCALYPSE – they may well have captured a nice, or tolerable, balance between menace and grandiosity. Instead, they come off sounding sound frilly and tepid, and more silly than sinister.

This is especially true of one of Eonian's more captivating tracks, "I Am Sovereign" with its serpentine, Eastern-flavored strings, biting tremolos and determined chug powered by drummer Daray's double-bass clatter – he is terrific throughout. The intrusive operatic chants and full-throated closing verses, however, snip the song's balls clean off.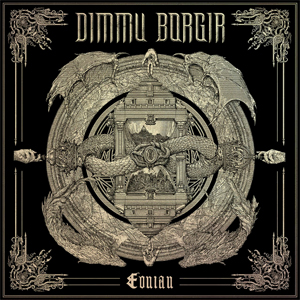 The comparatively less ostentatious songs here, notably the martial "Lightbringer" and "Archaic Correspondence", do deliver some fearsome metallic thrills. And "Alpha Aeon Omega" manages to power through its opulence and sound triumphant, whereas others can merely slog through the sonic mire. "Alpha" would have made a resounding finale to an otherwise exasperating album, but DIMMU – as was probably inevitable - tacked on the pointless classical instrumental "Rite of Passage" after it to ease things to a close and finish with a wheeze instead of a bang.
As was the case with Abrahadabra, there is some compelling music to be found on Eonian. But it is buried under so much pomp and fluff that it struggles to be heard and rarely sustains over the course of even a full song. If only the band had left well enough alone, but then restraint of any sort has never been in DIMMU BORGIR's DNA. And after nearly 30 years, it's probably too late for that anyway.
2.5 Out Of 5.0




Please log in to view RANTS

If you don't have a username, click here to create an account!