SONS OF APOLLO In Portland, OR With Photos!


By Ruben Mosqueda, Contibutor
Monday, May 7, 2018 @ 7:00 AM


| | | |
| --- | --- | --- |
| | | At The Hawthorne Theater, April 29th, 2018 |
All Photos By Mike Lewis Photography
"We're all in. It started when SOTO, a band I'm in was opening for THE WINERY DOGS in South America. I remember seeing [Mike] Portnoy on the side of the stage checking us out every night. I thought "He must really love us!" Little did I know then that he was checking me out for this new venture he was putting together and they were looking into singers," recalls singer Jeff Scott Soto in an interview with KNAC.COM in April of 2018. He continues, "I received an email from Mike wishing me a happy birthday. He ended the email by saying that he would call me in a few days with my birthday present. True to his word, he called me within a few days. My birthday present was an invitation to a part of this new band with him. There was no audition. I was hand-selected for this band. It was like a dream for me to be a part of this."
That band would become SONS OF APOLLO; a who's who collective of musicians from the world of progressive hard rock and metal. The band features [as you know] vocalist Jeff Scott Soto [AXEL RUDI PELL, YNGWIE MALMSTEEN, JOURNEY], guitarist Ron 'Bumblefoot' Thal [GUNS N' ROSES, ART OF ANARCHY], keyboardist Derek Sherinian [DREAM THEATER, YNGWIE MALMSTEEN, BLACK COUNTRY COMMUNION], bassist Billy Sheehan [TALAS, DAVID LEE ROTH, MR. BIG, THE WINERY DOGS] and drummer Mike Portnoy [DREAM THEATER, THE WINERY DOGS, METAL ALLEGIANCE]. So to say that SONS OF APOLLO are armed with some potent firepower would be gross understatement. Sherinian told KNAC.COM in October of 2017, "We put the virtuosity in a special place because we didn't want it to take away from the song. I think Mike and I have mastered the art of 'strategic wankery!' [laughs] We didn't want the musicianship to be so overbearing. When the vocals come in the songs are very 'classic rock' and very straightforward."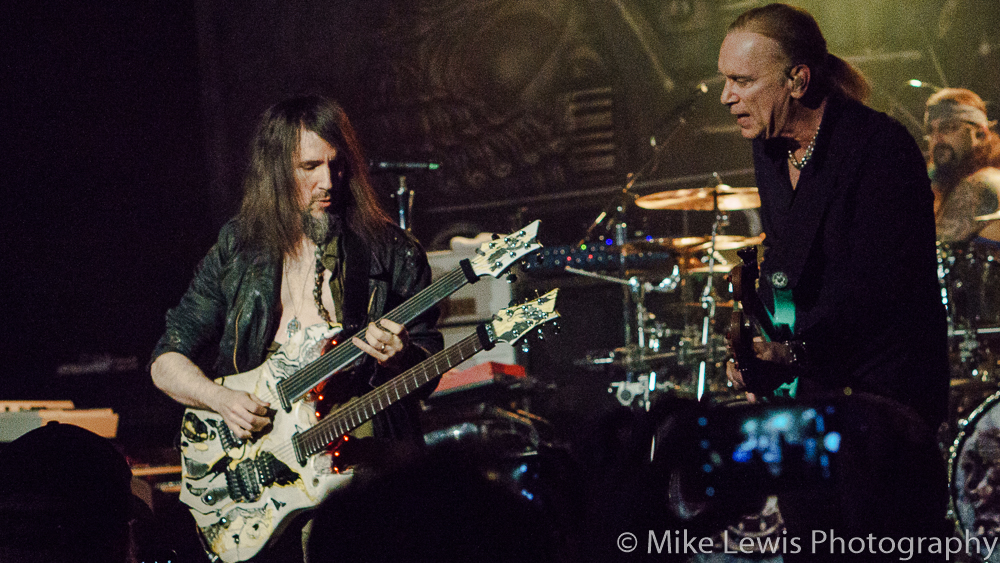 Sherinian was spot on in his assessment of his his new venture; SONS OF APOLLO issued their 'self-titled' debut in the last quarter of 2017. Sons Of Apollo received critical acclaim from critics, metal fans and progheads alike. SONS OF APOLLO were hellbent on making a statement with this band; the message being that they are a 'real' band and they wanted to prove that they have staying power and are in it for the long haul. So they announced a North American tour. That's when things got very real; which brings us to the show at Portland's Hawthorne Theater. SONS OF APOLLO, as any new act would, performed most of their 'self-titled' record in the set along with some 'breathers' for singer Jeff Scott Soto in the form of a Billy Sheehan bombastic bass solo, a Derek Sherinian electrifying keyboard solo, and a 'Bumblefoot' song in the form of "Day To Remember". The entire band joined in for a cover of Henry Mancini's "Theme From The Pink Panther" which went over, surprisingly well. Jeff Scott Soto got his opportunity to break away from the SOA tunes and showcased his vocal prowess by tackling QUEEN's "The Prophet's Song" [from A Night At The Opera] and "Save Me" [from The Game]. Soto's renditions were splendid and it's a crying shame that Soto hasn't gotten the credit that he is due in the United States. Perhaps SONS OF APOLLO will help change that. God knows he's certainly deserving.
The highlights of the SOA set were; [original compositions] "God of The Sun", "Signs of The Times", Labyrinth", "Coming Home", the aforementioned QUEEN covers and the two DREAM THEATER covers; "Just Let Me Breathe" and "Lines In The Sand" [both from Falling Into Infinity] were pretty bitchin'. The musicianship is completely over the top, but not so that it would alienante the 'typical' rock fan and as far as melody? Well, they have that in spades, which sets SONS OF APOLLO apart from the pack. "I'm so thrilled to hear you say that. It's so rare to do an interview where someone gets it. Of course, for all intents and purposes this band was going into the 'prog' arena, but we wanted to and did transcend it," says Soto when asked about the eclectic sound of SONS OF APOLLO. If you missed SONS OF APOLLO on this inaugural North American tour, you really missed out on an 'eargasmic' event.
Check out some more photos from the show!
All Photos By Mike Lewis Photography




Please log in to view RANTS

If you don't have a username, click here to create an account!