Korn Live in Jakarta


By Tokemaster General, Contributor
Sunday, February 22, 2004 @ 2:23 PM


| | | |
| --- | --- | --- |
| | | Korn Live at the Jakarta Exhib |
REVIEW BY: Reza Bovier, Jakarta – Indonesia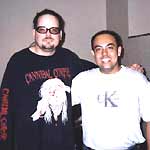 Hi there !!

After waiting for several months, finally one of the best metal bands for the time being KoRn, had a concert in Jakarta on February 5, 2004.

I am such a lucky person. I got to take the picture with Jonathan Davis, 1 day before the concert. Jonathan was a very nice person. It is totally different when he is on the stage.

The concert took the place at Jakarta Fair Ground Arena. For more than 10.000 metal fans saw the gigs. Opening act by metal band from Indonesia called /rif. The vocalist Andy said that they had an honor to become opening band of KoRn. For you to know that /rif song also included on the Spiderman Soundtrack called "Dunia."

KoRn opens at 8.30pm with "Right Now" from the latest album, Take a Look in the Mirror. We're all headbanging together. Afterward "It's On." The concert was peaceful and we enjoyed it very much.

Then continuing, "Freak on a Leash," "Here to Stay" and "A.D.I.D.A.S." Jakarta shook like earthquake when they did song "Blind" and Jon said, "Come on Jakarta, make some noise!" and then went onto "Got the Life." All audiences jumping around. My favorite song is "Did My Time" and they bring it. KoRn surprised us when they did Metallica's top song, "One." We also sing together. KoRn never forgot as Jon said that because of Metallica that they can be like this now meant the inspirations. At the end of the show, Jon said that Jakarta concert was 1 of the best 3 concerts that they did for the last 5 years. He said from the beginning they came, hotel and accommodations was on VIP treatment. Also on press released.

For 2 hours, KoRn banging Jakarta and there is no ballad song for it. I never forgot and always memorized in my mind that I came to the concert together with them. I stayed in the same hotel. I am so excited. For me in Jakarta, this is the best metal concert after Metallica did in 1993.

See you ...
---

Send your live reviews to submissions@knac.com




Please log in to view RANTS

If you don't have a username, click here to create an account!