DEVIN TOWNSEND PROJECT Ocean Machine: Live At The Ancient Roman Theatre Plovdiv


By Peter Atkinson, Contributor
Thursday, July 12, 2018 @ 11:08 AM


| | | |
| --- | --- | --- |
| | | |
DEVIN TOWNSEND PROJECT
Ocean Machine: Live At The Ancient Roman Theatre Plovdiv
Century Media Records




When Devin Townsend closed the door for good on STRAPPING YOUNG LAD in 2007, he pretty much slammed it shut. After The New Black there was the 2006 Ozzfest tour and the odd festival show before Townsend effectively fled for greener pastures. The skullet was shorn, Townsend sobered up and he was soon at work on what evolved into the DEVIN TOWNSEND PROJECT (DTP) – no big, or really any, sendoff for SYL, no farewell tour, etc. Indeed the retrospective 1994-2006 Chaos Years was issued only in Europe – which may be why so many fans still pine for SYL, since there was no, well, closure.

With DTP, however, it's been a much longer goodbye. Indeed, it started well before Townsend actually announced a "break" for the band in January as he prepared to embark on a series of typically ambitious new projects. DTP was initially envisioned as a four-album venture that blossomed into seven. Add a series of live releases spanning all or part of his career – By A Thread - Live In London 2011, 2013's The Retinal Circus and 2015's Ziltoid Live At The Royal Albert Hall – and it feels more like Townsend is closing up the house and clearing out the attic and basement before moving on.

The new Ocean Machine: Live At The Ancient Roman Theatre Plovdiv may well be the last few boxes of kitchen stuff and picture frames. Along with marking the 20th anniversary of Townsend's second solo album, Ocean Machine, it showcases a collection of fan-requested odds and ends – newer tunes from 2016's Transendence, the only actual DTP album featured here, obscurities and less frequently played numbers – performed alongside the ORCHESTRA OF PLOVDIV STATE OPERA. Townsend has described it as "the end of one era, and the celebration of another. … the culmination of many aspects of my work on one stage." So there you go.

As with Townsend's other recent concert outings, Plovdiv is a sprawling affair – 25 tracks over three discs, featuring 2 hours 42 minutes worth of music and available in a variety of formats with or without video. We'll just deal with the music here.

The show is split into halves, the first billed as "By Request with Orchestra" and the second featuring a performance of Ocean Machine in its entirety. And even taken in its separate chunks, it's still a lot to digest. Only two of the "By Request" songs are less than six minutes long, and one, the opener "Truth" from Transcendence is 5:58. Backed by the orchestra, which struggles to be heard much of the time amid a very "drummy" mix and plenty of keyboards, the band takes a somewhat more relaxed approach in its performance than usual at times, which tends to stretch things out, as does the less familiar material.

If you're looking for Townsend's "hits," such as they are, you'll have to refer back to the earlier live albums - indeed the droning "A Simple Lullaby" from 2006's Synchestra is performed for the "fourth or fifth time" here. That said, "Om" from the Christeen EP and "By Your Command" from Ziltoid The Omniscient are plenty feisty, despite their relative length, as is the kooky "Bad Devil" from Townsend's third solo album, 1998's Infinity, which is the shortest song in the set at a "tidy" 5:39. And the similarly spry "Gaia" actually features some of the most obvious orchestra participation with its flighty flutes and horns. It's a shame there isn't more of that sort of thing – or at least more than can actually be heard above the band's already grandiose sound.

The Ocean Machine half is a more stripped down affair, relatively speaking. Gone is the orchestra and joining the band is bassist John "Squid" Harder, who played on the original but now suffers from multiple sclerosis and performs here while seated. It's a nice touch.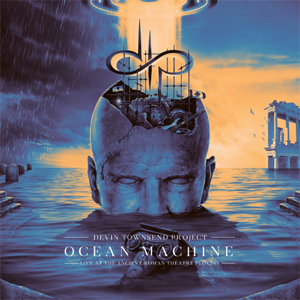 And though in its entirety Ocean Machine swells well past 70 minutes, the comparatively shorter, punchier songs – at least over the first two-thirds - make for a livelier set. "Life" and "Night" are hard rock gems, and some of Townsend's most accessible material. The rousing "Hide Nowhere" and "Regulator" boast more oomph, but are still incredibly catchy, recalling DTP's Addicted and Epicloud, while "Voices In The Fan" falls somewhere in the middle with its layers of keyboards and operatic finale.
Of course things get epic in a big way as the set draws to a close, following "Regulator" with "Funeral", "Bastard", and the massive "The Death of Music" encompassing nearly a half-hour all by themselves, and at times echoing the Momentary Lapse of Reason-era of PINK FLOYD with their prog/pop expanses. But there is a definite buildup here, whereas the first half has more of a random vibe – and nearly all the songs are epic. "Things Beyond Things" makes for a mellow, almost romantic ending – save for the banshee howl at the end that still scares the crap out of me every time I hear it even though I know it's coming.
What's coming next for Townsend, though, is anyone's guess given his unpredictability and chameleon-like nature as a musician. There are titles being bandied about, Empath and The Moth for example, and typically vague/coy descriptions, so we'll just have to wait and see. But for those who have enjoyed his solo albums and work with DTP and THE DEVIN TOWNSEND BAND, Ocean Machine: Live At The Ancient Roman Theatre Plovdiv isn't a bad way to complete your collection, even if it takes a while to wade through. No one can complain about closure this time around.
3.5 Out Of 5.0




Please log in to view RANTS

If you don't have a username, click here to create an account!