FOO FIGHTERS, GRETA VAN FLEET At The Ottawa Bluesfest


By Andrew Depedro, Ottawa Corespondent
Monday, July 30, 2018 @ 10:32 AM


| | | |
| --- | --- | --- |
| | | At The Ottawa Bluesfest, Ottawa, Canada, July 10, 2018 |
So, something of a slight change of genre of the pure rock persuasion that many of you have come to see in my reviews as of late. For yes, both of these aforementioned bands are as radio friendly mainstream as it gets - and they even command a bit of KNAC.COM airplay every now and then - but bypassing their frequency on the radio, both of these bands are helping to keep the spirit of rock alive at least at the Ottawa Bluesfest on a warm summer night.

Kicking off the events with their presence would be GRETA VAN FLEET, whose LED ZEPPELIN influences, while heavily obvious, also bring back a solid blues/rock vibe that tends to go overlooked at this festival. That said, the quartet from Frankenmuth, Michigan bring their own style and swagger to the stage - and in frontman Josh Kiszka's case, lots of feathers and floral necklaces. Hell, the whole band looked like they've come straight outta 1975 clad in bell bottom pants and sequins; too bad some other band in the UK already co-opted the name of 1975 for themselves - and their music isn't anywhere on the same level between the two.

GVF launch into "Highway Tune" and "Edge Of Darkness", Josh's soaring vocals unmistakably bearing hallmarks of the same trademark yelps of Robert Plant and Ian Gillan in parts. His other two brothers Jake (bass) and Sam (guitar) also share the same groove in their performances as well. Jake's free-spirited playing is more reminiscent of Glenn Hughes than John Paul Jones in parts and he plays a mean Mellotron keyboard in "You're The One". Sam's own playing isn't just relegated to the sounds and style of Jimmy Page but also takes in hints of Keith Richards, Eric Clapton, Frank Marino and particularly Howlin' Wolf as the band shines on their cover of his song "Evil". Finally, drummer Danny Wagner brings out his best beats whose styles ran the gamut from Bonham to Keith Moon to even a bit of Gene Krupa - raw, rambunctious but with lots of rhythm and dynamic precision. As a four-man unit, GRETA VAN FLEET are definitely in sync with their music - so much so that they risk going over their allotted stage time after a lengthy version of "Black Smoke Rising". Luckily they manage to keep the closing number "Safari Song" brief despite it clocking in at over 4 minutes before they go out through the In door for the last time to the sounds of a whole lotta love from the roaring crowd. The average age of the members of GRETA VAN FLEET may only be 20 but with their songs already finding new fans including Robert Plant himself, it's safe to say that their time is gonna come if it hasn't already.

http://www.gretavanfleet.com
https://www.facebook.com/gretavanfleet/

At one point on KNAC.COM, almost anything with Dave Grohl playing on it made instant airplay. NIRVANA, his heavy metal side project PROBOT featuring Lemmy and King Diamond among other cult favorites, TENACIOUS D (when Spyder was on the air and generally baked)....even QUEENS OF THE STONE AGE's Songs For The Deaf got some fair spins on The Loudest Dot Com. His otherwise main band the FOO FFIGHTERS have about a grand total of two songs - "Wind Up" and "White Limo" - in the roster and that was because one of 'em had a video featuring Lemmy as a limo driver. And at one point it was easy to see why the band were pretty much reviled back in the day by the metal/rock purists since their debut was released a year after NIRVANA and Kurt Cobain's drug habit imploded. Often too poppy by grunge standards and too grungy for pop standards, the FOO FIGHTERS were caught on both of the wrong sides of each genre when they released their self-titled debut in 1995. Dave Grohl, having vacated the drum stool to try his hand at singing some songs he'd written for the follow-up to Incesticide, was looking for a new group of musicians to perform with. Back then he never counted on his lineup to include former members of Alanis Morrissette's touring band and the GERMS but somehow it worked 23 years and nine studio albums later. And, yes, the aforementioned drumming/guitar tasks of Taylor Hopkins and Pat Smear respectively were present at the FOOS' first-ever Bluesfest appearance - an appearance that has so far broken all attendance records at the festival.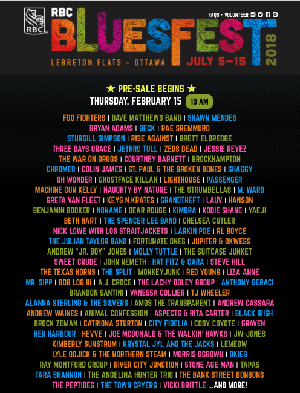 His sky-blue colored Epiphone plugged in at 200% and his '89 Chris Cornell hairdo obscuring his face half the time, Grohl, along with Hopkins, Smear, bassist Nate Mendel, guitarist Chris Shiflett and keyboardist Rami Jaffee, delivered a nearly 3-hour set of loud riffs, even louder singing, blinding light displays, a quarter century of FF hits and apologies to Alanis Morrissette for turning some of her songs into 13-minute RUSH-themed sagas (Miss Thang was reportedly never a big fan). Opening with "All My Life" and "Learn To Fly", Grohl, sensing that the 30,000+ crowd were already screaming themselves hoarse as they chanted for more, asked the crowd "if you came for a fuckin' rock 'n roll concert?". Getting the loud response he'd been expecting, Grohl and his band continued the show. Noting at one point that the FOO FIGHTERS had in fact never played at a blues festival until Bluesfest, Dave got the band to dole out a pretty solid improvised blues jam before launching into "Another One Bites The Dust" thanks to Taylor's random Freddie Mercury impersonation. A couple of other surprise covers included the unlikely yet awesome pairing of the lyrics to VAN HALEN's "Jump" sung to the melody of "Imagine" by John Lennon followed by a speech from Taylor thanking Alanis Morrissette for allowing for his chance meeting with Grohl leading in turn to his long career in the band since then. For such an occasion, Taylor and Dave switched roles and the blonde-haired drummer belted out a heartfelt cover of QUEEN and David Bowie's "Under Pressure". And while it wasn't fair to deny Hawkins a chance to play more than 5 seconds of "You Oughta Know", Grohl did give more accolades to Alanis when he brought up the "serendipitous hairdo" memory of the mid-90's when him and Alanis sported the same Pippi Longstocking pigtail hairstyle in separate videos - including "Big Me" which he also dedicated to her. I was surprised Dave didn't have her waiting backstage to bring her out for a duet just to really sweeten the tone. Then again, that honor was saved for his daughter Violet who covered backing vocals on the FOOS' new song "Dirty Water" from last year's Concrete And Gold album.
Closing their set with "Times Like These" and "Everlong", the FOO FIGHTERS made up for a decade-long absence to Ottawa with a show for the ages. And while pure rock may occasionally and bizarrely have Alanis Morrissette and the 1975 lumped into its genre, it takes bands like the FOO FIGHTERS and GRETA VAN FLEET to remind us where it all started.
https://www.facebook.com/foofighters/
https://foofighters.com/
Setlist:
"All My Life"
"Learn To Fly"
"The Pretender"
"The Sky Is A Neighborhood"
"Rope"
Drum solo
"Sunday Rain"
"My Hero"
"These Days"
"Walk"
Blues jam/"Another One Bites The Dust" (QUEEN cover)
"La Dee Da"
"Imagine"/"Jump"/"Blitzkrieg Bop" medley
"Under Pressure" (QUEEN & DAVID BOWIE cover)
"Monkey Wrench"
"Run"
"Breakout"
"Dirty Water" (featuring Grohl's daughter Violet)
"Best Of You"
Encore:
"Big Me"
"Times Like These"
"Everlong"




Please log in to view RANTS

If you don't have a username, click here to create an account!






ALICE COOPER In Houston Photo Gallery

ICARUS WITCH Goodbye Cruel World

TARJA, STRATOVARIUS, SERPENTYNE In Cologne, Germany

CLUTCH, SEVENDUST, TYLER BRYANT & THE SHAKEDOWN In Portland, OR With Photos!

ACCEPT In Houston, TX With Photos!

U.D.O. Steelfactory

SKULL FIST Way Of The Road

SOULFLY Ritual

ANTHRAX State of Euphoria 30th Anniversary Deluxe Edition

FIFTH ANGEL The Third Secret

STEVE GRIMMETT'S GRIM REAPER In New Bedford, MA

ANAAL NATHRAKH A New Kind of Horror

PRIMAL FEAR Apocalypse

BEHEMOTH I Loved You At Your Darkest

DORO Forever Warriors, Forever United

SLASH FEATURING MYLES KENNEDY AND THE CONSPIRATORS In Houston, TX Photo Gallery

BILLY MORRIS AND THE SUNSET STRIP Holdin' All The Aces

VINCE NEIL In Houston, TX Photo Gallery

DEE SNIDER For The Love Of Metal

UNLEASH THE ARCHERS, STRIKER, HELION PRIME In Houston, TX W/Photos!

CLUTCH, SEVENDUST In Houston, TX

KING KOBRA Sweden Rock Live

DREAM CHILD Until Death Do We Meet Again

SCORPIONS, QUEENSRYCHE In Tampa, FL With Photos!

HUMBLE PIE Live At The Ottawa CityFolk Festival

BEHEMOTH Album Listening Party In Los Angeles For I Loved You At Your Darkest

THE DEAD DAISIES, HOOKERS 'N BLOW In Ottawa, Canada With Photos!

DRAGONLORD Dominion

STONE BROKEN Ain't Always Easy

BRANT BJORK Mankind Woman

KORPIKLAANI Kulkija

BRAINSTORM Midnight Ghost

SLEAZY WAY OUT, INSUFFICIENT FUNDS In Ottawa, Canada

DEEP PURPLE, JUDAS PRIEST In Jacksonville, FL W/Photos!

HELLOWEEN In Worcester, MA With Photos!

RED TIGER Evolution

ALTER BRIDGE Live At The Royal Albert Hall Featuring The Parrallax Orchestra

CLUTCH Book Of Bad Decisions

ANGRA In Winter Park, FL With Photos!

TALES FROM THE PORN H.M.M.V.

CARRY THE STORM i/E

PIG DESTROYER Head Cage

SAXON Strong Arm Of The Law Reissue

THE DEAD DAISIES In Houston, TX Photo Gallery

ALICE IN CHAINS, BUSH, THE CULT, STONE TEMPLE PILOTS In Ridgefield, WA W/Photos!

SUICIDAL TENDENCIES STill Cyco Punk After All These Years

OPERATION:MINDCRIME, TILL DEATH DO US PART In Portland, OR With Photos!

TNT XIII

DC4 Atomic Highway

CAL JAM '18 POP UP In Los Angeles With Photos!

SLAYER, LAMB OF GOD, ANNTHRAX, TESTAMENT And NAPALM DEATH In Ridgefield, WA With Photos!

JIZZY PEARL OF LOVE/HATE All You Need Is Soul

NIGHT DEMON Live Darkness

RAVENSCROFT Rebel

NASHVILLE PUSSY Pleased To Eat You

QUIET RIOT In Houston Photo Gallery

WARRANT, STEELHEART In Houston Photo Gallery