STARS ALIGN TOUR Featuring JEFF BECK, PAUL RODGERS And ANN WILSON In Irvine, CA With Photos!


By Junkman, On-Air Personality
Tuesday, July 31, 2018 @ 11:31 AM


| | | |
| --- | --- | --- |
| | | At Five Point Amphitheatre 7-20-18 |
All Photos By Junkman
On a starry summer evening at the all-new Five Point Amphitheatre in Irvine, the stars did indeed, align. Three of the most celebrated stars in the world of Classic Rock that is. Guitarist Jeff Beck, and singers Paul Rodgers and Ann Wilson convened in a very comfortable setting, to a very enthusiastic crowd to deliver plenty of hits and incredible musicianship from their respective catalogues and well-rehearsed bands. Although they were never onstage at the same time, this trio gave performances that thrilled those of us fortunate to witness.
Entering the brand new and spacious (but temporary) Five Point Amphitheatre, I was delighted to see that I had a great seat for the show, and that there was a wide open and comfortable space to roam, complete with plenty of food and drink options and free parking. Picnic benches, comfortable rest rooms, even a huge lawn with "Corn-Hole" games available, as well as phone charging stations, food trucks, and a lot more. It is a great place to meet up before a show. You can have a drink and a laugh, and unwind before heading to your seat.
A very brief but pleasant opening set by singer Deborah Bonham opened the evening's onstage festivities. Deborah is the sister of legendary LED ZEPPELIN drummer, the late John Bonham, and joined by guitarist Ian Hatton, sang in a sultry, bluesy style that reminded me of singers like Maria Muldaur and at times like Janis Joplin. The still arriving crowd gave her a warm reception, and she seemed thrilled to be onstage opening for such legendary performers. Wouldn't you?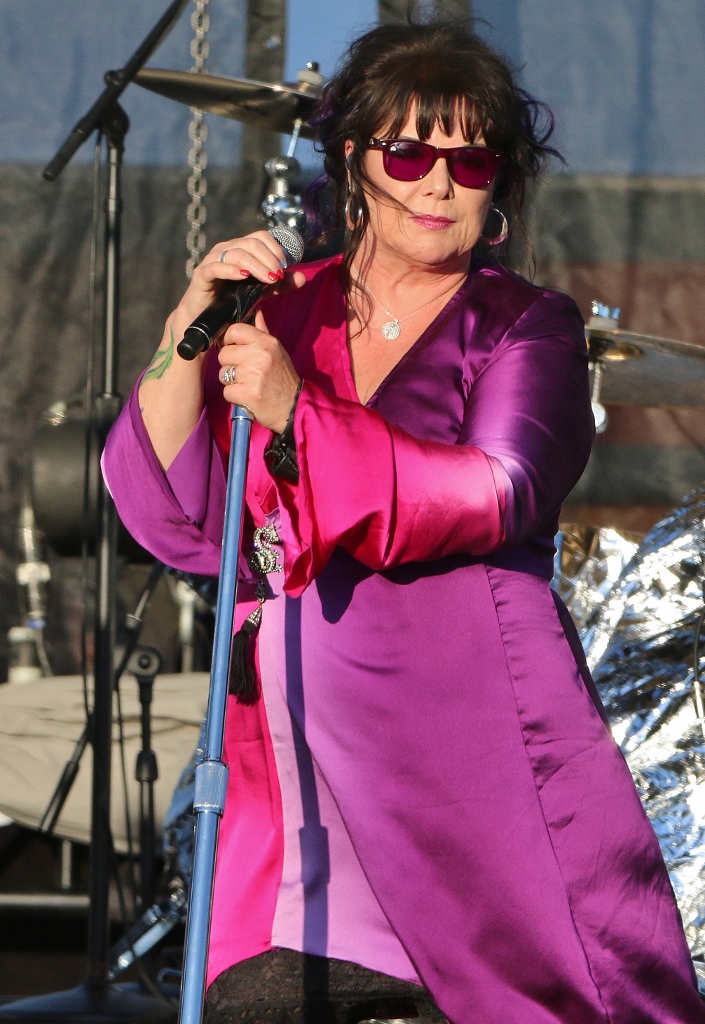 After a brief break, HEART singer Ann Wilson and her band cranked up the energy and the volume a bit. They performed a nine song set that was mostly "tribute material" and a good way to plug her upcoming release of Immortal which has her covering a wide range of material from classic artists. Opening her set with THE WHO's "The Real Me", it was full steam ahead for this woman who has rocked so many stages in her long career. Her band, featuring Craig Bartok on guitar (he has played for years in HEART), Andy Stoller on bass, Denny Fongheiser on drums, and Daniel Walker on keys, were extremely tight. The opening guitar riff to HEART's "Barracuda" got the fans on their feet, and highlights of the set included a "heart felt" take on AUDIOSLAVE's lovely "I Am the Highway" which Ann dedicated to their late singer and friend Chris Cornell. The opening keyboard sounds led way to the set closing version of yet another WHO song, the yes, "immortal" 1971 anthem, "Won't Get Fooled Again" in which Wilson showed off her vocal chops to the extent that any Roger Daltrey fan would approve of.
Paul Rodgers, still sounding great at the age of 68, has not lost a step since first appearing on the scene with FREE some 50 years ago. As a matter of fact, this tour he has decided to honor his time in FREE by naming his band (Pete Bullick on guitar, Rich Newman on drums, Ian Rowley on bass, and Gerard "G" Louis, keyboards) FREE SPIRIT as a tribute. Naturally, he dipped into the FREE catalogue with outstanding takes on just about anything you would want to hear from that classic band, including "Mr. Big", "Wishing Well", "Fire and Water" as well as my favorite FREE cut, "The Stealer".
Rodgers voice is seemingly indestructible. He sang with passion and grace, in the same key as he always has, more soulful than rock, and always smooth, and right on the money. He tackled a few of his hits from his time in BAD COMPANY as well, much to the delight of the Irvine crowd, who gladly sang along to the chorus on "Can't Get Enough", "Feel Like Makin' Love", "Shooting Star" and the set closing "Rock n Roll Fantasy" as Rodgers, always smiling and twirling his microphone stand throughout the show, delivered the goods. Encoring with the FREE anthem "All Right Now", the audience collectively roared its approval for a master artist demonstrating his craft.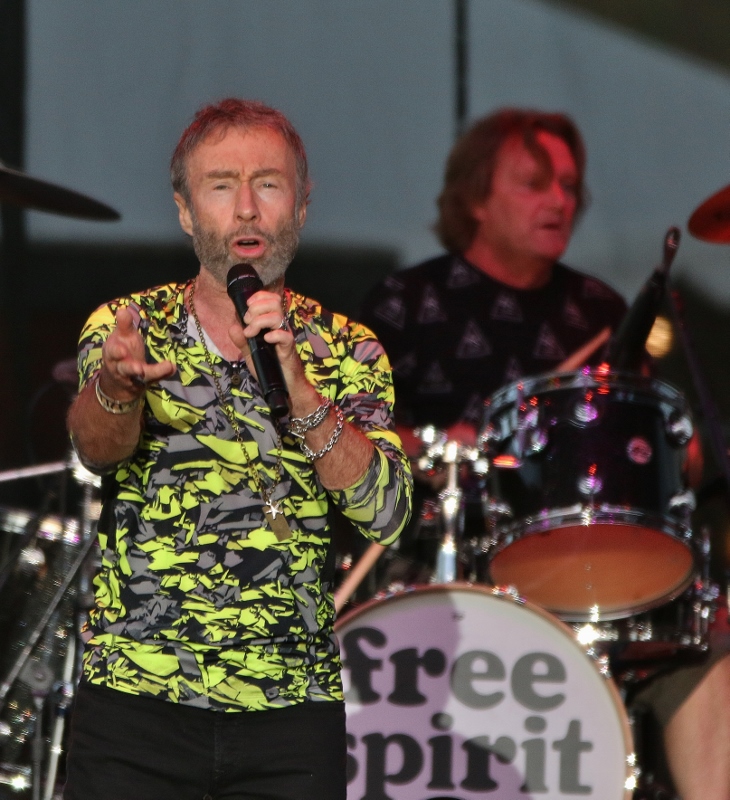 As for our headliner, any time you get to see a master musician hypnotize an audience with their skills, like Jeff Beck did (and has for years…) it is something that you will not soon forget. Especially with the quality of the opening acts on this tour, the fact that Jeff Beck and his incredible band can make one feel as if they have gone to another dimension, says so much about his talent as a player. Not flashy, no explosions or dynamic lighting, just a man, with his guitar. It's what he does with said guitar that is so unworldly.
Opening with the 1-2 punch of "Pull It" and quickly into a cover of Billy Cobham's "Stratus" got the chatty crowd completely mesmerized, almost immediately. Becks sound and technique are quite unique. Using his thumb and fore finger on his picking hand simultaneously on his tremolo bar, make each note a musical wonder. His excellent band, featuring god-like drummer Vinnie Colaiuta, bassist Rhonda Smith, and cellist Vanessa Freebairn-Smith took songs like Mahavishnu Orchestra's 1971 progressive classic "You Know You Know" to another level.
It wasn't until the fifth song of the set that vocalist Jimmy Hall took center stage for a take on "Morning Dew" an often covered song which was included on the JEFF BECK GROUP's Truth album, way back in 1968. Hall, who has sung for Beck the last few years, is an accomplished vocalist. His bluesy wail that he patented back in the 1970's with his group WET WILLIE, was a great fit for the current Beck band, and his vocals on the Jimi Hendrix favorite "Little Wing" soared just like all the guitars that have taken on that particular number since the days when Hendrix and Jeff Beck were both on the same touring circuit.
After a funky take on "Big Block" from his Guitar Shop album that featured phat bass playing from Rhonda Smith, who I thought deserved to be more in the forefront than this show allowed, Jeff Beck reached in to his arsenal of material for an inspiring version of the Syreeta Wright/Stevie Wonder song "Cause We've Ended as Lovers". This particular track, from his 1975 platinum selling Blow By Blow recording, is in my opinion, what Jeff Beck is all about. Emotional, searing sounds come from his guitar, almost like the most elegant of Jazz or Soul vocalists. This was punctuated by Freebairn-Smith's cello which added depth to an already almost perfect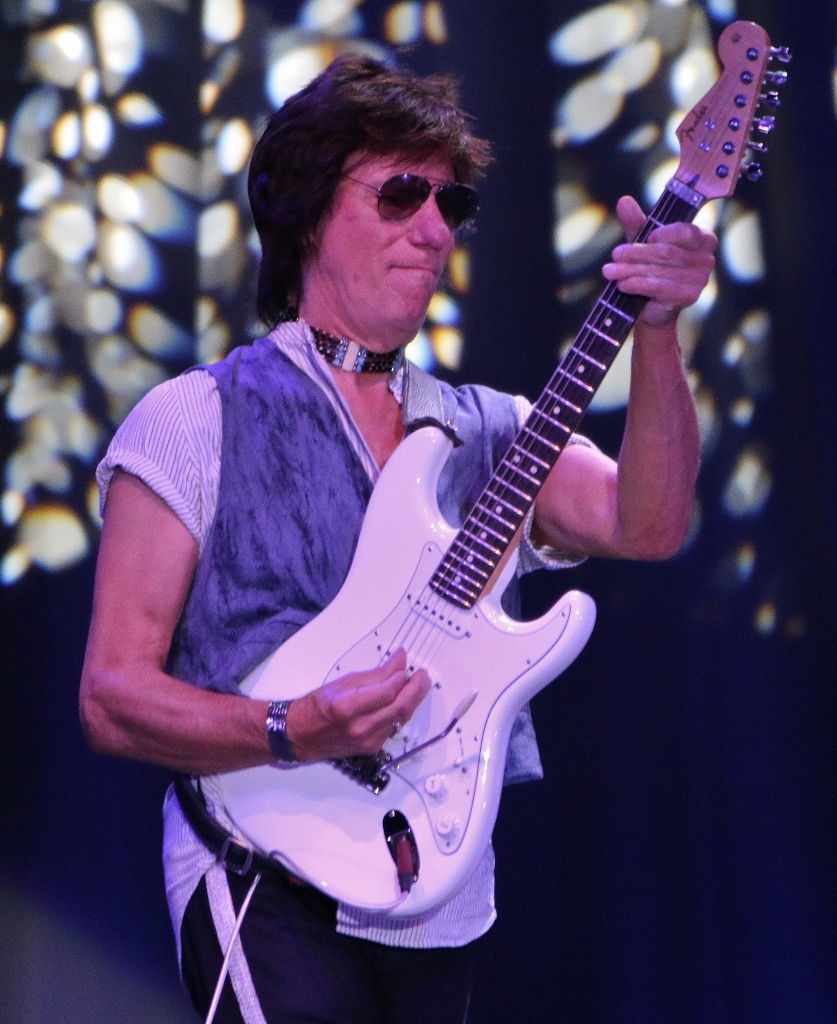 ballad. The combination of those two elements made this version even more enjoyable than the original. The cheering crowd at songs end thought so too, as the band was rewarded with a standing ovation. It was one of many, on this sizzling, summer night serenade under the stars.
After a slick version of "Brush With The Blues" that had many in the crowd slack-jawed at his technique, drummer Colaiuta and bassist Smith kicked it into gear with a take on yet another Stevie Wonder favorite, "Superstion" that was even funkier than the version on the Beck, Bogert, and Appice LP from 1971 had dared to go. This rhythm section was on fire! As musicians would say- "Chops for days, man". Jeff Beck and company then closed the set with an interesting version of THE BEATLES psychedelic marvel "A Day in the Life" that featured again, more of his marvelous emotional guitar tone, that only a master player like Jeff Beck can create.
An interesting encore of the late Jeff Buckley's "Corpus Christi Carol" that Beck introduced by saying that he was "a big fan of Jeff Buckley's" preceded the set-ending rave up of "Going Down" that was first heard on 1972's Jeff Beck Group LP. Surprisingly, neither Paul Rodgers nor Ann Wilson came out to join the band for this tune, which I have heard at so many shows as a set closing jam. Jimmy Hall did a great job though, and the band blazed through it to the delight of all in attendance.
This was a highlight show of 2018 for me as a fan of all the bands that performed. I couldn't have been happier with what I witnessed. If my opinion matters to you, then please, do not miss this tour when it comes to your town. My thanks to all who performed, and those who made it possible for me to attend. It was indeed, one of those magical evenings when the stars did align.
Check out some more photos from the show!
All Photos By Junkman




Please log in to view RANTS

If you don't have a username, click here to create an account!