MARTY FRIEDMAN Is One Bad M.F. Live!! On New Album


By Larry Petro, News Monkey
Thursday, August 23, 2018 @ 1:33 PM


| | | |
| --- | --- | --- |
| | | Due Out October 19; "Whiteworm" Video Premieres |
MARTY FRIEDMAN's presence in the world of music, the world of guitar, and Japanese pop culture is mystifying, bizarre, and nothing short of inspiring. His 14th solo album, ONE BAD M.F. Live!!--set for release October 19 on Prosthetic Records--is an all-out celebration of his music in its rawest form. Recorded live during his 2018 "Wall of Sound" tour on its final show in Mexico City at Centro Cultural on April 14, 2018, ONE BAD M.F. Live!! is chock full of his own brand of "feelgood aggression."

He'll celebrate the release of ONE BAD M.F. Live!! in Los Angeles, CA at the Viper Room on October 21. It's the only U.S. show he will do in 2018, but at this show, he will officially announce the details of a full scale 2019 U.S. and Europe tour. Tickets are now on sale HERE.

As seen in the first live music video, "Whiteworm", FRIEDMAN and his band--Kiyoshi (bass), Jordan Ziff (guitar), Chargeeee (drums)--are all smiles and are in constant interaction with the audience, pouncing on the rhythms and playing such addictive melodies that one doesn`t miss a vocalist for a moment.

"This live album is a tip of the hat to the live albums that blew my mind when I was a kid," explains FRIEDMAN, "the musical content itself is modern and atomic-powered, but the presentation is decidedly old school. The pacing of the show, the audience participation stuff, the special live arrangements of the songs, these are the things that got me all jacked up as a kid. I like to give the audience the feeling that they are really getting something unique, something that only happens at THEIR show, not just a recital of the songs exactly as they know them. There are lots of happy accidents, once in a lifetime ad libs, things that could have only happened because we were high on that particular audience's energy."

ONE BAD M.F. Live!! is the follow-up to WALL OF SOUND, which was released August 4, 2017 on Prosthetic Records, and debuted on Billboard's "Heatseekers" chart at #12. "I`ve had albums that have charted higher, sold more, and got more attention over my career, "says FRIEDMAN, "but WALL OF SOUND is the album I`ve been striving to make ever since I picked up a guitar. I have an almost unhealthy amount of pride towards that album. The thrill I get from playing the WALL OF SOUND stuff live is something that I wanted documented, and that`s what ONE BAD M.F. Live!! is."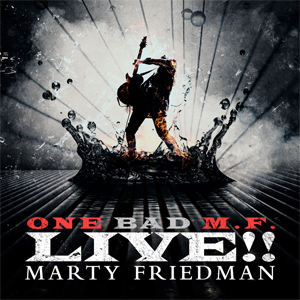 Fluent in Japanese, FRIEDMAN's overwhelming love of Japanese music and the Japanese language found him moving to Tokyo in 2003. It is there where his career took off in very unexpected ways. His appearance as the star of a new TV comedy, Hebimeta-san (Mr. Heavy Metal) and its spinoff, Rock Fujiyama, which ran for six seasons, propelled him into the living rooms of Japan`s mainstream. Currently he is a constant fixture on Japanese television (appearing on hundreds of network programs of all types, and as the face of long running campaigns for Fanta/Coca Cola, Sumitomo Bank, Suntory etc.), as well as appearing in major motion pictures. He is also the author of two hardcover books in Japanese detailing his unusual views on the current Japanese music scene, as well as two best-selling manga-related books, which are both in their eighth editions now.
Despite MARTY FRIEDMAN`s flourishing television career, he still considers his music his "only real job," often performing at the Tokyo Dome, Budokan, Ajinomoto Stadium, the Saitama Super Arena and other top venues with his own music, as well as guesting with other artists. FRIEDMAN has not only held top charting positions with his own albums in Japan, (LOUDSPEAKER, INFERNO & B: THE BEGINNING-THE IMAGE ALBUM), but has also collaborated on and produced several chart topping hits with the biggest names in J-pop and J-rock (Momoiro Clover Z, Sound Horizon, Man With A Mission, Crossfaith, SMAP, AKB48, NEWS, and several others).
In 2017, the Japanese Government appointed MARTY FRIEDMAN as an Ambassador of Japan Heritage, for a term of three years through the 2020 Tokyo Olympics. Along with J-pop icon Kyary Pamyu Pamyu, baseball legend Hideki Matsui, and four others, he's the first foreigner ever to receive this title. He performed the Opening Ceremony at the Tokyo Marathon in both 2017 and 2018, again the first foreigner to do so. His most recent collaboration with the Tokyo Philharmonic Orchestra is the government sponsored Japan Heritage Theme Song he released in 2018. In 2018, Young Guitar Magazine honored him with a 175-page special edition devoted only to FRIEDMAN and his inimitable playing style.
Not one to slow down and take any breaks, FRIEDMAN is also currently in the fourth year of filming a documentary, and his biography is set to be published soon.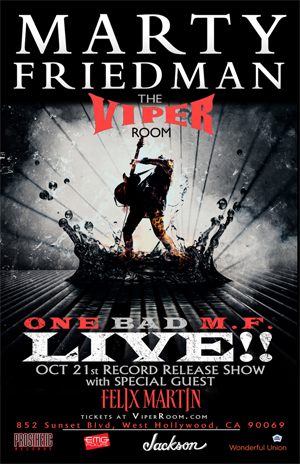 Now with the release of ONE BAD M.F. Live!!, the combination of his other worldly experiences culminate into an avalanche of emotion, in his immediately recognizable style. "I like to lose myself in giving energy to the audience," MARTY FRIEDMAN continues. "I want everyone to go home feeling like they were injected with a shot of positive vibes. I think we captured that on the record."
The album will be available on all digital platforms, compact disc, and as a 2LP gatefold set with glow-in-the-dark wax as one variant and black sparkle with clear splatter as the other. Pre-orders are available now here: http://smarturl.it/MartyFriedman.
Complete track listing for ONE BAD M.F. Live!!:
"Street Demon"
"Elixir"
"Amagi Goe"
"Inferno"
"Self Pollution"
"Devil Take Tomorrow"
"Mutation Medley" (featuring Asche zu Asche, My Oh My, Forbidden City, Tornado of Souls)
"Ripped"
"Whiteworm"
"Undertow"
"Dragon Mistress"
"Kaeritakunatta Yo"
BONUS TRACKS, DIGITAL ONLY:
"Hyper Doom"
"Stigmata Addiction"




Please log in to view RANTS

If you don't have a username, click here to create an account!