METAL ALLEGIANCE began as a celebration of heavy metal, powered by the almost tribal bond shared between the extreme music community's most revered trailblazers, armed with a list of contributors onstage (and off) that read like a Wikipedia entry on the genre itself. Their upcoming sophomore album, Volume II - Power Drunk Majesty, will be released on September 7th, 2018 via Nuclear Blast Entertainment.

With less than 2 weeks until Volume II - Power Drunk Majesty is released, METAL ALLEGIANCE is offering a third single. Watch the music video for "Bound By Silence" featuring John Bush on KNAC.COM HERE.

Alex Skolnick comments, "Bringing in John Bush to sing on "Bound By Silence" feels like a real coup. He has the perfect voice for this track musically, as well as the ability capture the intensity of the lyrics in terms of storytelling. A great addition the the MA family."

Mark Menghi states, ""Bound By Silence" tells the true tale of an amazing Vietnam War Vet, a brave soul who told me his incredible story with only a few months left to live due to Pancreatic Cancer. It's a very personal song to me. I've since come to learn he recently passed on while leaving a great legacy behind. Forever Bound By Silence."

Pre-order Volume II - Power Drunk Majesty and receive "Voodoo Of The Godsend" and "Mother Of Sin" instantly.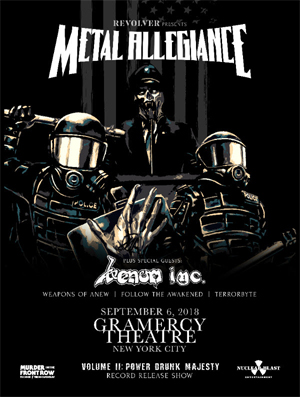 In celebration of the release, the band announced a special release show presented by Revolver at The Gramercy in New York on September 6th. In true METAL ALLEGIANCE fashion, the night will include an all-star line-up that will not disappoint!
The night will feature the core four - David Ellefson, Alex Skolnick, Mark Menghi, and Mike Portnoy - as well as Mark Osegueda, Andreas Kisser, John Bush and Bobby "Blitz" Ellsworth. The night will also include Trevor Strnad and Mark Tornillo who are making their METAL ALLEGIANCE debut on Volume II - Power Drunk Majesty.
Direct support for the show is VENOM INC, WEAPONS OF ANEW, FOLLOW THE AWAKENED and TERRORBYTE.
Tickets for the show can be purchased HERE.
Attendees have the option to purchase a very limited and exclusive VIP Meet & Greet package
VIP MEET & GREET PACKAGE INCLUDES:
Early access into the venue
Exclusive pre-show Meet & Greet with members of Metal Allegiance
Personal photograph & autograph signing with members of Metal Allegiance
Collectible show poster (which they'll happily sign for you)
Metal Allegiance Power Drunk Zombie T-Shirt (sizing from Small to 3XL)
Metal Allegiance Embroidered Logo Patch
Official Meet & Greet VIP laminate
(1) One Pair of Tascam Professional Audio Studio Monitoring Headphones
Crowd-fee access to the merch booth
Purchase your VIP package HERE.

Volume II - Power Drunk Majesty will be available in the following formats:
CD Digipak
Orange with Black splatter vinyl – limited to 500
Beer with Blue splatter vinyl – limited to 500
Yellow Tint Cassette
T-shirt + CD digi + Patch bundle
Below is the Track list:
"The Accuser" (feat. Trevor Strnad)
"Bound by Silence" (feat. John Bush)
"Mother of Sin" (feat. Bobby Blitz)
"Terminal Illusion" (feat. Mark Tornillo)
"King with a Paper Crown" (feat. Johan Hegg)
"Voodoo of the Godsend" (feat. Max Cavalera)
"Liars & Thieves" (feat. Troy Sanders)
"Impulse Control" (feat. Mark Osegueda)
"Power Drunk Majesty (Part I)" (feat. Mark Osegueda)
"Power Drunk Majesty (Part II)" (feat. Floor Jansen)