ANTHRAX State of Euphoria 30th Anniversary Deluxe Edition


By Ruben Mosqueda, Contibutor
Sunday, October 7, 2018 @ 8:43 AM


| | | |
| --- | --- | --- |
| | | |
ANTHRAX
State of Euphoria 30th Anniversary Deluxe Edition
Island Records/UMe 2018




1988's State of Euphoria was ANTHRAX's 'breakthrough' album. No it didn't have a commercial 'hit' single on it, but it did include a cover of TRUST's "Anti-Social". The song went on to become an MTV smash and got the band the support slots in America opening for OZZY OSBOURNE on the No Rest For The Wicked tour and in Europe with IRON MAIDEN on the Seventh Son Of A Seventh Son tour.

The band have gone on record in interviews to say that State of Euphoria might have been rushed and the final product didn't meet the band's collective vision for the album. While that might be the case, the album features a number of fan favorites and deep cuts that include "Be All, End All", "Finale", "Antisocial", and "Now It's Dark". This album also featured "Who Dares Wins", for which the music video featured social commentary on homelessness. It was a slight departure from the 'fun' and at times 'goofy' band in t-shirts, sneakers and bermuda shorts, but it worked and showed the band for the first time in a 'serious' manner.

This '30th Anniversary Deluxe Edition' of State of Euphoria isn't far removed from a two disc import that was issued a few years back. It features the original album plus additional [6] bonus tracks on the disc. Like with most 'bonus' material there is stuff that is really good ["Antisocial" Live At Hammersmith, Odeon] and stuff that you probably won't listen to again ["Antisocial" in French]. There's also content that has been previously available on Attack Of The Killer B's ["Parasite" and "Pipeline"]. While State of Euphoria might have not lived up to the expectations of the label in '88, the album has aged well and is now considered a classic in the ANTHRAX back catalog.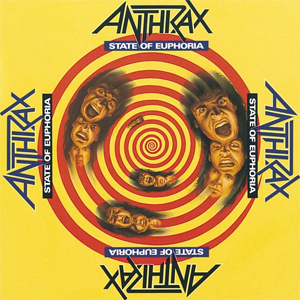 The second disc of this deluxe edition is a real treat. It's a collection of nine demos that were culled from drummer Charlie Benante's personal archives, titled Statements of Euphoria. Anyone that has the original copy of State of Euphoria will find it hard to shell out $20 to buy another copy, but the second disc will make it worth your while. It puts you right in the room with the band as they jam their way through songs and work out the bugs. The best example is "Be All, End All", which follows the song from a band member humming the melody to working the song out acoustically to jam space demo to full on studio demo. I for one love this kind of stuff and it's this kind of stuff that hooks me every time and has me re-buying some of my favorite classic albums. This '30th Anniversary Deluxe Edition' of State of Euphoria is no different.
4.0 Out Of 5.0




Please log in to view RANTS

If you don't have a username, click here to create an account!