Phoenix, Arizona melodic heavy metal band CRIMSON REIGN are making available their new single for the song "The Darker Side Of Life" from the band's upcoming 2nd album to be released in 2019 for worldwide radio airplay.

Watch the video for "The Darker Side Of Life" on KNAC.COM HERE.

Hailing from Phoenix, AZ, USA, CRIMSON REIGN consisting of Titus Medina (vocals, guitars), Philip Hernandez (drums), Zipp Wiggins (guitars), Ken Pacini (Keyboards) is a band on the rise that you do not want to miss.

The band began performing extensively throughout the local scene; performing for any venue, stage or contest who would have them; from battle of the bands to small club gigs. Live show after live show helped the band find their true identity and cohesion, which resulted in their growing popularity and in the increasing demand for a full-length debut album.

The band decided to fully focus on their recording and song-writing process and before long, the group had something amazing to look forward to. Produced and engineered by Titus Medina, The Calling was released and has been well received throughout Europe and the U.S.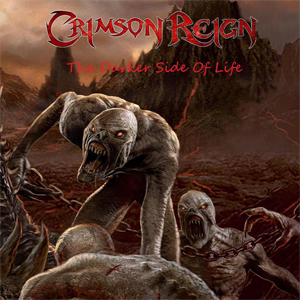 The music and live performances has been noted by promoters and booking agents which has led the band to become an international act. They performed with several of the music industry's greatest heavy metal/ hard rock bands of all time at one of the world's largest metal festivals during 2018, Hell and Heaven festival in Mexico City, Mexico.
CRIMSON REIGN opened the 'Heaven Stage" on May 5th and shared the main stages that day withOZZY OSBOURNE, JUDAS PRIEST, MEGADETH, MARILYN MANSON, SAXON and OVERKILL among other bands. This was more than just a festival, it was a piece of music history.
CRIMSON REIGN is currently writing and recording the second album to be released in 2019 and is well on their way to a modified new direction. The new sound has a heavier foundation and incorporates new elements that is taking the band to a whole new, higher level while still maintaining it's melodic roots and high energy impact.
CRIMSON REIGN's sound has been compared to IRON MAIDEN, MEGADETH, JUDAS PRIEST, ICED EARTH, and METALLICA just to name a few however, you can expect a unique and modern sound to be heard when you listen to them.