Chuck Shuldiner
Zero Tolerance


By Krista G., Contributor
Monday, June 7, 2004 @ 0:28 AM


| | | |
| --- | --- | --- |
| | | (Karmageddon) |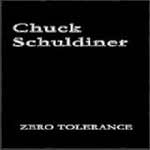 This is not the Control Denied album that has caused so much controversy. This is a collection of rehearsal room songs and extremely old demos…

I could sit here and speculate why this was released, but suffice it to say, I do believe that Karmageddon is wading through whatever material they have from Chuck Schuldiner, trying to generate some money. Possibly forcing the family's hand. Pure speculation on my part--I'm just an outsider looking in. However, we all know this was released against the family's wishes. And right or wrong, good or bad, Zero Tolerance is in my hands. I've been yelled at by a friend and shamed for buying it, basically "supporting" a controversial situation. Chuck's family Vs. Karmageddon. Honestly, I do have some guilt over buying Zero Tolerance for the very reasons I just listed. As a fan, my curiosity got the best of me and I ordered it. I've had it for a while now, absorbing it in small doses. Let's be honest, this may or may not be some of Chuck's last work, and it's a bit of a solitary journey as a listener. It conjures dozens of "what if" scenarios in my mind -- sorrow that he's gone, and gratefulness to be hearing his work again. If I'm a "bad fan" for that, too bad, since I have what I consider a treasure in my hands.

Working backwords here--tracks 5 through 7 are demo material taken from Infernal Death. The word horrible doesn't even begin to describe the sound quality. It's an old demo ('85) taken from an old master tape. "Infernal Death," "Baptized in Blood" and "Archangel" are basically a novelty used to fill this CD out. But, listening to these tracks really gives you a vivid sense of how far Chuck had come in his career as far as songwriting and guitar skills. Tracks 8-10 are the demo ('86) for Mutilation. Sound quality is far less painful on the ears. Sounds like what it is, early Death material. "Land of No Return," "Zombie Ritual" and "Mutilation" are rough, but very cool to hear. "Zombie Ritual" has a riffing style that is much like what is contained on the Control Denied rehearsal tapes.

Tracks 1-4 are rehearsal room recordings for the Control Denied release that has not been finished. Sound is actually fair, given what the tracks are. It's Richard Christy and Chuck roughing in and fleshing out songs--drums and guitar only. A few leads and solos were added after the fact, but not too many. While I admit that I'm more than likely putting Chuck on a pedestal, I have to admit this is pretty magical to me. You're the fly on the wall, listening in, as if you're in the room with them. Two of the tracks feel more finished, and the other two are a wild ride as Chuck beats his guitar into submission. The overall impression is that these two are jamming heavily and seriously. They range from almost 9 minutes to a little over 6. That's a lot of rhythm guitar work, and Christy just goes along for the ride. He's a freak at times as the songs escalate or dip into breakdowns, feeding off the energy of the rough songs. Plenty of high hat, cymbals, few fills, lots of snare and double bass. Extremely loose and impromptu drumming. But, what does the guitar work sound like is really the question. These tracks sound straight ahead Death to me. Mix The Sound of Perseverance, Spiritual Healing, with a tiny bit of Control Denied. "Altering the Future," "Within the Mind," "A Moment of Clarity," "Cut Down" are the tracks that come to my mind. That's what the riffing sounds like. Having said that, I'm confident that if this Control Denied recording is ever properly finished, it will be extremely heavy, but above all, brilliant.

It's so hard to say "Rest in Peace," because for 29 minutes on Zero Tolerance… Chuck is alive again. You'd have to hear some of the solos, listening to the rhythm guitar work as it's laid down. I had many mixed emotions--it was saddening, enthralling, amazing, technical grace, grateful, electrifyingly alive.

Side note: according to the liner notes, the label is exercising the right to release more material. The notes suggest this is perhaps the first of many releases like this.

No rating--unfinished work.




Please log in to view RANTS

If you don't have a username, click here to create an account!