WITHERFALL A Prelude To Sorrow


By Daniel Höhr, European Correspondent
Monday, November 26, 2018 @ 6:26 AM


| | | |
| --- | --- | --- |
| | | |
WITHERFALL
A Prelude To Sorrow
Century Media, 2018




Prelude, 1. [C usually singular] something that comes before a more important event or action that introduces or prepares for it. 2 [C] a short piece of music that introduces the main work.
(from: Cambridge Dictionary)

WITHERFALL's seminal album A Prelude To Sorrow was hailed as "the metal album of the year" well in advance of its release on 2 November through Century Media. The self-released 2017 debut, Nocturnes And Requiems, did indeed cause a bit of a stir amongst metal fans and the media. Obviously, the Californian's mix of stellar musicianship, seasoned song writing and enormous metal power hit the spot and now the second album promises to top the debut album.

The title track is nothing more but the intro to the album, a sorrowful succession of mainly minor arpeggios, atmospheric keyboards and a vocal line – that's it. Being a true prelude in a musical sense, "A Prelude To Sorrow" sets the tone for what is to come. And yet it is much more than that and has a deeper meaning. The letters A P S are an acronym for Adam Paul Sagan, WITHERFALL's drummer, who sadly lost his battle with cancer in 2016. At the time when Sagan was already very sick, singer/lyricist Joseph Michael and guitarist Jake Dreyer started writing the album. Sagan's sickness and passing did not only have an impact on the band's debut album but also on the present release. I wonder whether the release date November 2, which is All Souls' Day, was chosen deliberately.

Musically, the prelude/intro is a proper one, if we go by the definition of prelude, as it introduces a much larger work. "We Are Nothing" is a musical world on its own with high-velocity metal riffing and an anthemic chorus and soon develops into a composition of symphonic dimensions. The masterful juxtaposition of relentlessly powerful metal, laid-back, expressive acoustic parts and virtuoso shredding not only showcasts the musician's writing and playing skills but also serves as a blueprint for the entire album. "Moment Of Silence" is anything but a moment of silence. Alternating between enormous speed and slow, sludgy parts, this gloomy riff and shredfest of a track is bound to do hitherto unheard of things to your blood pressure. "Communion Of The Wicked" sets in with an eery and mysterious mood, but soon turns into an intense metal epic moving from climax to climax.

This track, like actually all the others, exemplifies WITHERFALL's inspired songwriting skills. Acoustic parts stand equally next to enormously heavy ones and where other bands often fail to organically connect such musical extremes, WITHERFALL manage to weave everything into an impressive sonic tapestry where each and every element makes sense. And yet such compositions demand masterful execution, i.e. musicians who get these extreme feels credibly across. There is absolutely no doubt that Withefall has such musicians. Be it singer Joseph Michael, who sends shivers down your spine in gloomy, acoustic parts, easily masters extreme, soaring heights in epic choruses or simply shouts his guts out, be it Jake Dreyer, who audibly feels at home in any guitar style heard on this album, or be it the rhythm section, which blasts out complex and complicated high-octane rhythm patters with utmost precision one moment and sparsely accentuates quieter passages the other.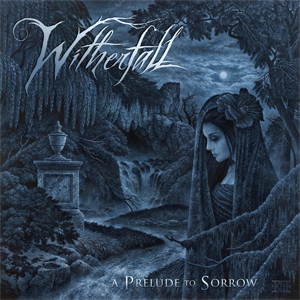 The balladesque 3:14-minute "Maridians Visitation" with its choral vocal arrangement is a prelude to "Shadows", alternating between speedy verses and a hymnic chorus (trying to avoid using the word "catchy" in this context as it may create the wrong impression). Back onto acoustic territory with "Ode To Despair" – Spanish guitars alternate with doomy riffing build up to an over-the-top climax with Joseph Michael's high screams at the end, seriously posing danger to your window panes. The ghostly sound collage "The Call" leads to "Vintage", another epic track of biblical dimensions. This 11:04-minute opus is to me the highlight of the album, a masterful composition of WITHERFALL's core strengths, combining atmospheric sections with hymnic metal, DREAM THEATER-style rhythm parts and setting many a climax. Like an afterthought, "Epilogue" rounds off the album with acoustic guitars and leave you somewhat hanging in the air thanks to the total absence of a final chord.
WITHERFALL explore the topic of sorrow in all its aspects and take you on a musical and emotional roller coaster ride on their new album. And yet, the complexities and the ever-changing moods make A Prelude To Sorrow also quite difficult to listen to, so this CD required some concentration on the listener's part. However, it is worth it. On the other hand, the recurring alternation between acoustic tracks/parts and eruptions of enormously explosive metal parts are a bit predictable in the long run. Nevertheless, this album thankfully lacks any of the superficial pomp often found in melodic, epic metal. Instead, it is a deeply thoughtful and emotional album. I wouldn't say it's the metal album of the year but is it certainly one of the more impressive releases this year. If it is a prelude, we can expect more masterful works of this quality from WITHERFALL in the future and the best may even be yet to come.
4.5 Out Of 5.0




Please log in to view RANTS

If you don't have a username, click here to create an account!