Thornley
Come Again


By Mick Stingley, Contributor
Tuesday, June 22, 2004 @ 9:16 AM


| | | |
| --- | --- | --- |
| | | (Roadrunner) |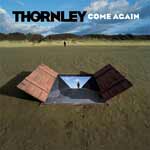 Bereft of any originality whatsoever, this four-piece "nu-metal" group, (named for the Chris Cornell sound-a-like singer Ian Thornley), manages to exceed all expectations of extreme disappointment by creating a deadly-boring effort so devastatingly awful that no amount of alcohol, public-apologies or Aleve™ could dull the pain of listening to it.

Whether this watered-down Filter meets a poor-man's 3 Doors Down at the crossroads of a Soundgarden cover-band could exist in a world where every hyped-up new-band sounds the same as the last hyped-up new-band before it, is indicative of the recording industry in the post-Napster, post-Millennium, post-original-idea age. And what they can hope to accomplish in the stifling milieu of Hot Topic and MTV remains to be seen.

What is heard, however, is the blowback of other bands success in the form of ready-made radio-friendly, MTV-Pop junk that would better fill a cat box than an iPod. Thornley is strictly music for those who have no sense of individuality or merit of scholarship in music-appreciation. A total fucking waste of time.

Empty lyrics about life, growing up, and love ("The Going Rate") have all the gravity of Britney Spears' "Email My Heart." Thoroughly recycled riffs, harmonies and half-assed attempts at vocal sincerity via generous study of a ClearChannel radio play-list, reveal a band firmly rooted in the deplorable exercise of soul-less A&R efforts at alchemy that recall marketing Creed as "The New Pearl Jam." "Easy Comes" falls so flat in its striving to be Soundgarden that not only Kim Thayil and Chris Cornell, but all residents of Seattle ought to bring a copyright infringement lawsuit and civil-damage lawsuit against the group; RoadRunner, the empty-headed opportunistic sycophants who brought these schmucks around to release a Compact Disc and anyone affiliated with this travesty of a band who failed to impart to this woefully sorry quartet of copycats that, diversity is not the problem: sameness is.

This record fucking sucks and I feel raped and robbed of my time for having had to listen to it.

No stars. Zero. Flatline. Nada.




Please log in to view RANTS

If you don't have a username, click here to create an account!






VISIGOTH Conqueror's Oath

THERION Beloved Antichrist

FRANK HANNON From One Place...To Another, Vol. 1

SONS OF APOLLO In Orlando, FL With Photos!

MARILYN MANSON In Hollywood, CA With Photos!

IGNITOR Haunted By Rock & Roll

URIAH HEEP In Ottawa, Canada For Two Nights

AVATAR, THE BRAINS, HELLZAPOPPIN In Cleveland, OH With Photos!

BLACK LABEL SOCIETY, CORROSION OF CONFORMITY, RED FANG In Akron, OH With Photos!

L.A.GUNS In Portland, OR With Photos!

FU MANCHU Clone Of The Universe

SABER TIGER Bystander Effect

TORA TORA In Houston, TX With Photos!

SAXON Thunderbolt

WEAPONS OF ANEW The Collision Of Love And Hate

LOUDNESS Rise To Glory

EISLEY/GOLDY Blood Guts And Games

WAKE Misery Rites

G3 In Los Angeles, CA With Photos!

IN THIS MOMENT In St. Petersburg, FL With Photos!

STEEL PANTHER In Portland Photo Gallery

SCOTT IAN Access All Areas: Stories From A Hard Rock Life Book

MAYHEM In Sydney, Australia With Photos!

JOHN 5 AND THE CREATURES It's Alive!

RANDOM EYES Grieve No More

ENSIFERUM Two Paths

BELPHEGOR Totenritual

PHILIP H. ANSELMO & THE ILLEGALS Choosing Mental Illness As A Virtue