Thornley
Come Again


By Mick Stingley, Contributor
Tuesday, June 22, 2004 @ 9:16 AM


| | | |
| --- | --- | --- |
| | | (Roadrunner) |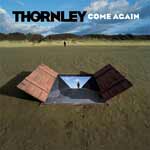 Bereft of any originality whatsoever, this four-piece "nu-metal" group, (named for the Chris Cornell sound-a-like singer Ian Thornley), manages to exceed all expectations of extreme disappointment by creating a deadly-boring effort so devastatingly awful that no amount of alcohol, public-apologies or Aleve™ could dull the pain of listening to it.

Whether this watered-down Filter meets a poor-man's 3 Doors Down at the crossroads of a Soundgarden cover-band could exist in a world where every hyped-up new-band sounds the same as the last hyped-up new-band before it, is indicative of the recording industry in the post-Napster, post-Millennium, post-original-idea age. And what they can hope to accomplish in the stifling milieu of Hot Topic and MTV remains to be seen.

What is heard, however, is the blowback of other bands success in the form of ready-made radio-friendly, MTV-Pop junk that would better fill a cat box than an iPod. Thornley is strictly music for those who have no sense of individuality or merit of scholarship in music-appreciation. A total fucking waste of time.

Empty lyrics about life, growing up, and love ("The Going Rate") have all the gravity of Britney Spears' "Email My Heart." Thoroughly recycled riffs, harmonies and half-assed attempts at vocal sincerity via generous study of a ClearChannel radio play-list, reveal a band firmly rooted in the deplorable exercise of soul-less A&R efforts at alchemy that recall marketing Creed as "The New Pearl Jam." "Easy Comes" falls so flat in its striving to be Soundgarden that not only Kim Thayil and Chris Cornell, but all residents of Seattle ought to bring a copyright infringement lawsuit and civil-damage lawsuit against the group; RoadRunner, the empty-headed opportunistic sycophants who brought these schmucks around to release a Compact Disc and anyone affiliated with this travesty of a band who failed to impart to this woefully sorry quartet of copycats that, diversity is not the problem: sameness is.

This record fucking sucks and I feel raped and robbed of my time for having had to listen to it.

No stars. Zero. Flatline. Nada.




Please log in to view RANTS

If you don't have a username, click here to create an account!






SLEAZY WAY OUT, INSUFFICIENT FUNDS In Ottawa, Canada

DEEP PURPLE, JUDAS PRIEST In Jacksonville, FL W/Photos!

HELLOWEEN In Worcester, MA With Photos!

RED TIGER Evolution

ALTER BRIDGE Live At The Royal Albert Hall Featuring The Parrallax Orchestra

CLUTCH Book Of Bad Decisions

ANGRA In Winter Park, FL With Photos!

TALES FROM THE PORN H.M.M.V.

CARRY THE STORM i/E

PIG DESTROYER Head Cage

SAXON Strong Arm Of The Law Reissue

THE DEAD DAISIES In Houston, TX Photo Gallery

ALICE IN CHAINS, BUSH, THE CULT, STONE TEMPLE PILOTS In Ridgefield, WA W/Photos!

SUICIDAL TENDENCIES STill Cyco Punk After All These Years

OPERATION:MINDCRIME, TILL DEATH DO US PART In Portland, OR With Photos!

TNT XIII

DC4 Atomic Highway

CAL JAM '18 POP UP In Los Angeles With Photos!

SLAYER, LAMB OF GOD, ANNTHRAX, TESTAMENT And NAPALM DEATH In Ridgefield, WA With Photos!

JIZZY PEARL OF LOVE/HATE All You Need Is Soul

NIGHT DEMON Live Darkness

RAVENSCROFT Rebel

NASHVILLE PUSSY Pleased To Eat You

QUIET RIOT In Houston Photo Gallery

WARRANT, STEELHEART In Houston Photo Gallery

INKCARCERATION FESTIVAL Photo Gallery 2

INKCARCERATION FESTIVAL Photo Gallery 1

THE DEAD DAISIES, Dizzy Reed's HOOKERS & BLOW In Joliet, IL

THE SKULL The Endless Road Turns Dark

NO HOT ASHES No Hot Ashes

SOULHEALER Up From The Ashes