Deep Purple
This Time Around: Live In Tokyo


By David Lee Wilson, Contributor
Friday, January 25, 2002 @ 11:18 AM


| | | |
| --- | --- | --- |
| | | (CMC International) |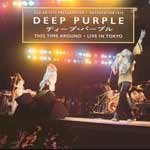 It would be best to start out this one with noting a few things that this release is not. First off, it is not a collection of previously unreleased material. It is not material from a single live performance. For all of its brilliance this is definitely not the best that Deep Purple has ever sounded live and finally this release is not to be missed by even the most transient fans of either Deep Purple or Tommy Bolin.

The largest bulk of material here was originally released in 1977 under the title Last Concert In Japan with that release actually only being in Japan ostensibly because Deep Purple was a dead issue everywhere else in the world. For years the hard core Deep Purple fan waited for the disc to be released on CD which it was, again only in Japan, sometime in the mid nineties and for as much as there was want for the disc it was a disappointment. The sound quality was none too improved from the vinyl release and there was nothing in the way of any "bonus" material that CD re-issues usually featured. The release was slammed by the professional Deep Purple critics, (yes they do exist), and attention was focused on the current goings on in the world of Purple.

Now, years later and with a full 180 degree turn by the critics turned re-issue experts an expanded version is available featuring nearly twice the material from the period on two discs along with extensive liner notes. The package was re-titled This Time Around and issued to an audience of Purple people deserving of a genuine bargain after years of buying two or three discs at high import prices that contained the exact same material, (check the Scandinavian Nights/Live And Rare scam for reference here) and all rejoiced.

As a package what you get is Deep Purple in their very last days, well their very last days with the seventies version of the group. Tommy Bolin has replaced Ritchie Blackmore on guitar and the sound is Deep Purple with a funky twist which itself is further warped by the fact that Bolin was playing these gigs injured, some say with a paralyzed fretting arm, leaving the keyboard heavy final result as unique as anything that has ever been issued under the Purple banner. I mean, Jon Lord did so much more than pick up the slack on numbers like "Getting Tighter" and the show opener "Burn," he made them live again and not only live but scream, this was Lord at his best and it is an honor just to listen to the man torch his Hammond organ.

Where the Last Concert In Japan version credits a drum and keyboard solo as "Woman from Tokyo" this new package gives a truer set list though there have been some additions, properly credited, from other shows on the tour. Honesty in packaging and advertising, who would have thought? In any case this two disc, liner notes heavy, refined sound, expanded version of Last Concert In Japan is a brilliant time piece worthy of many afternoons of play while you go about what you do but don't be surprised if you catch yourself trying to sing along to the screaming Glenn Hughes or air keyboarding to the master strokes of Jon Lord.

****




Please log in to view RANTS

If you don't have a username, click here to create an account!






ALLEGAEON Apoptosis

FALLUJAH Undying Light

JOHN 5, JARED JAMES NICHOLS In Anaheim, CA With Photos!

L.A. GUNS In New Bedford, MA

...AND JUSTICE FOR ART – Stories About Heavy Metal Album Covers – Volume 2

THE END MACHINE In Los Angeles Photo Gallery

TRUTH CORRODED Bloodlands

THE IRON MAIDENS In Houston, TX Photo Gallery

THE RAVEN AGE In Paris, France With Photos!

ENFORCER Zenith

NOTHING MORE In Houston, TX With Photos!

KISS Live In Ottawa, Canada With Photos!

KIX In New Bedford, MA With Photos!

PERIPHERY IV: Hail Stan

GARY HOEY Neon Highway Blues

BLOODBOUND Rise Of The Dragon Empire

ANTROPOMORPHIA Merciless Savagery

AS STRANGE AS ANGELS Mirror Mirror EP

HYPOCRISY, FLESHGOD APOCALYPSE In Dallas, TX

ARCH ENEMY In Bangkok, Thailand

WHITECHAPEL The Valley

THE RAVEN AGE Conspiracy

TYGERS OF PAN TANG Hellbound, Spellbound Live 1981

SPIRITS OF FIRE Spirits Of Fire

EXUMER Hostile Defiance

BURNING RAIN Face The Music

MOTLEY CRUE's The Dirt Movie

MIKE TRAMP In New Bedford, MA

DEVIN TOWNSEND Empath

QUEENSRŸCHE The Verdict

MEGADETH Warheads On Foreheads

QUEENSRYCHE, FATES WARNING In Worcester, MA

Y&T In New Bedford, MA With Photos!