QUIET RIOT One Night In Milan


By Ruben Mosqueda, Contibutor
Tuesday, January 29, 2019 @ 3:50 PM


| | | |
| --- | --- | --- |
| | | |
QUIET RIOT
One Night In Milan
Frontiers Records 2019




QUIET RIOT released Road Rage in the summer of 2017, and they've gone through a revolving door of singers in recent years [KNAC.COM readers are fully aware of this], and after unceremoniously sacking SEANN NICHOLS and recutting vocals for the album with AMERICAN IDOL alumni JAMES DURBIN, QUIET RIOT had their singer. Unfortunately for QUIET RIOT, all this instability with the various singers damaged the brand. QUIET RIOT missed an opportunity to monopolize on the SPINAL TAP-esque release of 2014's Well Now You're Here documentary. The band [as you know] is solid. [Bassist] CHUCK WRIGHT and [guitarist] ALEX GROSSI are outstanding musicians that anyone would want on stage left and right.

FRANKIE BANALI is a hard-hitting drummer. If you've witnessed a QUIET RIOT show you've seen it live and in the flesh. Having said that, BANALI gets too self-indulgent and he shows off ad nauseam. BANALI is passionate about the band and the legacy, but I wish he'd stop playing 'the lead drummer'. He's a huge JOHN BONHAM fan, but even BONHAM, as fantastic as he was, never tried to upstage his singer, or the bass player or guitarist for that matter.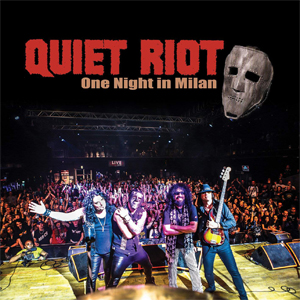 This brings us to the One Night In Milan album, which is also available on DVD and Blu-Ray, recorded at 2018's Frontiers Rock Festival. QUIET RIOT blast through the usual suspects, "Slick Black Cadillac", "Mama Weer All Crazee Now", "Thunderbird", "Party All Night", "Cum On Feel The Noize", and "Bang Your Head". I love the inclusion of "Run For Cover" and "The Wild & The Young", and there's also two tracks from Road Rage: "Freak Flag" and "Can't Get Enough". One would have sufficed, but I'm not sure which one is more uninspiring? JAMES DURBIN tries a little bit too hard to sell us that he is having a blast on stage fronting QUIET RIOT. DURBIN is a likeable character who has the incredible task to try to jump into KEVIN DUBROW's tights. DURBIN will no question settle into his role in the band but a little bit of that stage banter goes a long way and there comes a point where it becomes disingenuous. One Night In Milan is a fun record and the performances are tight, at times over the top, but I for one am curious to see the JAMES DURBIN era of QUIET RIOT, even though I didn't enjoy Road Rage much.

3.0 Out Of 5.0




Please log in to view RANTS

If you don't have a username, click here to create an account!






THE END MACHINE In Los Angeles Photo Gallery

TRUTH CORRODED Bloodlands

THE IRON MAIDENS In Houston, TX Photo Gallery

THE RAVEN AGE In Paris, France With Photos!

ENFORCER Zenith

NOTHING MORE In Houston, TX With Photos!

KISS Live In Ottawa, Canada With Photos!

KIX In New Bedford, MA With Photos!

PERIPHERY IV: Hail Stan

GARY HOEY Neon Highway Blues

BLOODBOUND Rise Of The Dragon Empire

ANTROPOMORPHIA Merciless Savagery

AS STRANGE AS ANGELS Mirror Mirror EP

HYPOCRISY, FLESHGOD APOCALYPSE In Dallas, TX

ARCH ENEMY In Bangkok, Thailand

WHITECHAPEL The Valley

THE RAVEN AGE Conspiracy

TYGERS OF PAN TANG Hellbound, Spellbound Live 1981

SPIRITS OF FIRE Spirits Of Fire

EXUMER Hostile Defiance

BURNING RAIN Face The Music

MOTLEY CRUE's The Dirt Movie

MIKE TRAMP In New Bedford, MA

DEVIN TOWNSEND Empath

QUEENSRŸCHE The Verdict

MEGADETH Warheads On Foreheads

QUEENSRYCHE, FATES WARNING In Worcester, MA

Y&T In New Bedford, MA With Photos!

EXPERIENCE HENDRIX In Clearwater, FL With Photos!

OVERKILL, DESTRUCTION, FLOTSAM & JETSAM In Munich, Germany

TORA TORA Bastards of Beale

THE ELYSIAN FIELDS New World Misanthropia

IRON SAVIOR Kill Or Get Killed

BEAST IN BLACK From Hell With Love