DEVIN TOWNSEND Launches Video For "Spirits Will Collide"


By Larry Petro, News Monkey
Tuesday, April 2, 2019 @ 1:27 PM


| | | |
| --- | --- | --- |
| | | From The Album Empath, Now Available |
Canadian heavy music artist Devin Townsend's latest album EMPATH is now available worldwide via InsideOut Records. To coincide with EMPATH being released, the video for the song "Spirits Will Collide" was unveiled and can be seen on KNAC.COM HERE.

Devin comments: "Here is the video for my Enya influenced, 'commercial' song. I love this type of mid-tempo, big, romantic heavy music. I would love to do a full album in this style somewhere down the line, and it's the only one of its kind on the Empath record.

"Spirits Will Collide" as a song is pretty standard fare for me if you've followed what I've done over the past few years. It's ultimately an 'anti-suicide' statement and it's meant to bemelodic and straightforward. A video with a CGI Gorilla playing bass and Elephants playing drums in front of a billion people is so ridiculously dumb that I'm surprised it makes me feel as happy as it does, but the theme of the song is essentially about tryingto convince kids or teens to 'hang on' when they feel depression or suicidal thoughts. The story of the video is about a kid that has a fantasy about playing at a massive concert with thousands of people as a choir, animals etc...just the biggest concert hecan imagine, and the strength of the sound and the intention of a bunch of people singing together is such that the sound blows away the darkness.

It's admittedly a bit ridiculous, but I guess in a way I feel that beauty is much harder to be expressed quietly in this day and age, so the video is about saying it louder than ANYTHING.Without a multi-million dollar budget, it was hard to do. However, Kudos to iCode Team and the hundreds of extras for really pulling this out on a shoestring budget, I think it gets the point across.

The only thing I would say that if I was a kid imagining playing the universes biggest concert, I would have added a full head of hair in there for good measure =)"

On this album Devin decided to see what would happen if all the styles that make up his current interests were finally represented in one place. To finally shake the fear of expectation and justdo what it is he was meant to do creatively; EMPATH, true to the name, is about allowing the audience a feeling for a variety of musical emotions. The musical dynamics represented on this single album are broad, challenging, and immense. To approachthis sort of work with a long history of what makes heavy music "heavy," allows this to be done with a type of power rarely heard. This is a statement about not only pursuing creative freedom in a conservative scene, but also trying to show that heavy musicis truly a valid musical tool. EMPATH is available on Limited 2 CD Digipak in O-Card (including an entire disc of bonus material), Standard CD Jewelcase, Gatefold 180G 2LP Vinyl + CD + LP-booklet & as digital album and can be ordered here: https://devin-townsend.lnk.to/Empath.

The full track-listing is as follows:
"Castaway"
"Genesis"
"Spirits Will Collide"
"Evermore"
"Sprite"
"Hear Me"
"Why"
"Borderlands"
"Requiem"
"Singularity"

"Part 1 – Adrift"
"Part 2 – I Am I"
"Part 3 – There Be Monsters"
"Part 4 – Curious Gods"
"Part 5 – Silicon Scientists"
"Part 6 – Here Comes The Sun"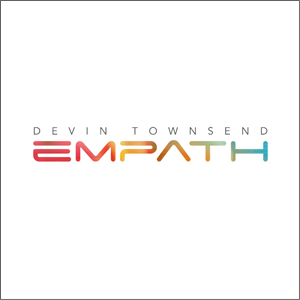 Last year Devin announced a special 'An Evening With' tour that would see him performing acoustically, as well as taking part in a fan Q&A at each show. All tickets and tour dates can be found at https://www.hevydevy.com/tourdates/

The full list of North American dates are as follows:
5.16th – Town Ballroom – Buffalo, NY
5.18th – Starland Ballroom – Sayreville, NJ
5.19th – Aura – Portland, ME
5.21st – Mr. Smalls Theatre – Millvale, PA
5.22nd – House of Blues Chicago – Chicago, IL
5.23rd – The Sylvee – Madison, WI
5.24th – Pops – Sauget, IL
5.25th – Anthem @ Hard Rock Hotel – Sioux City, IA
5.28th – First Avenue – Minneapolis, MN
5.29th – The Garrick Centre – Winnipeg, Canada
5.30th – Coors Event Centre (fka O'Brians Event Centre) – Saskatoon, Canada
5.31st – The Ranch Roadhouse – Edmonton, Canada
6.1st – The Palace Theatre – Calgary, Canada
6.3rd – Commodore Ballroom – Vancouver, Canada
6.4th – McMenamins Crystal Ballroom – Portland, OR
6.6th – The Fillmore – San Francisco, CA
6.7th – Whitney Peak Hotel – Reno, NV
6.8th – The Complex – Salt Lake City, UT
6.9th – Mesa Theater – Grand Junction, CO
6.10th – Black Sheep – Colorado Springs, CO
6.11th – Sunshine Theater – Albuquerque, NM
6.13th – Mayan Theatre – Los Angeles, CA
6.14th – Rialto Theatre – Tucson, AZ
6.15th – House of Blues Las Vegas – Las Vegas, NV




Please log in to view RANTS

If you don't have a username, click here to create an account!