Monolith On The Mesa is a music experience intertwined with an art event. Since music inspires art and art inspires music the two compliment each other at this event. The festival features an indoor stage (400 people capacity) and an outdoor "earthship" amphitheatre which holds 1,500 people. This allows an intimate experience for guests and performers. Music will begin daily at 11:30 am and will alternate between the indoor and outdoor stages. Hotel Luna Mystica is located adjacent to the venue and offers guests camping and the exclusive "Monolith Experience" in the form of a custom, vintage trailer park. Vendors can be found on both properties and will include artisans, record labels, food trucks and more. Art lovers will enjoy the interactive art installations by Christian Ristrow and Christina Sporrong of Robochrist industries. JP Rodman, an innovator in the bike builder world, will be showing off his custom bike builds that are unrivaled in the world. Once the sun sets the Mad Alchemist Liquid Light Show will illuminate the open air amphitheatre with an astounding 21st century light show.

EVENT TITLE:
Monolith on the Mesa "High Desert Experience"

VENUE:
Taos Mesa Brewing (The Mothership and Taos Tap Room)
20 ABC Road
El Prado, New Mexico, 87529
https://www.taosmesabrewing.com/

TYPE OF EVENT:
Three day music and interactive art festival.

DATES AND TIMES:
Box office opens at 9am Friday and Saturday.
Venue doors open to the public at 11am Friday and Saturday.

THURSDAY MAY 16TH 2019 PreShow Party doors open at 6pm
PREY FOR KALI- 6:15-6:45
THE HORNED GOD- 7:00-7:30
TEETH- 7:45-8:15
ARTICLE 15- 8:30-9:00
BEARD- 9:15-9:45
RED MESA- 10:00-10:30
BLACK MARIA- 10:45-11:15
BLACK MAGIC FLOWER POWER- 11:30-12:15
FRIDAY MAY 17TH 2019
OUTSIDE STAGE: OM- 10:30-12:00
INSIDE STAGE: WINO ACOUSTIC-9:45-10:30
OUTSIDE STAGE: DEAD MEADOW-8:45-9:45
INSIDE STAGE: TIA CARRERA-8:00-8:45
OUTSIDE STAGE: WOVENHAND-7:15-8:00
INSIDE STAGE: STONE-DEAF- 6:30-7:15
OUTSIDE STAGE: TRUE WIDOW- 5:45-6:30
INSIDE STAGE: LORD BUFFALO- 5:00-5:45
OUTSIDE STAGE: GREEN DRUID- 4:15-5:00
INSIDE STAGE: ORYX- 3:45-4:15
OUTSIDE STAGE: WEEED 3:00-3:45
INSIDE STAGE: SUPERGIANT- 2:30-300
OUTSIDE STAGE: SPIRIT MOTHER- 1:45-2:30
INSIDE STAGE: YOU- 1:15-1:45
INSIDE STAGE: VIA VENGEANCE- 12:30-1:00
INSIDE STAGE: DEEP CROSS- 11:45-12:15
SATURDAY MAY 18TH 2019
OUTSIDE STAGE: THE OBSESSED- 11:00-12:00
INSIDE STAGE: THE WELL- 10:15-11:00
OUTSIDE STAGE: HEAVY EYES- 9:30-10:15
INSIDE STAGE: PINKISH BLACK- 8:45-9:30
OUTSIDE STAGE: EYE- 7:45-8:45
INSIDE STAGE: ITCOS- 7:00-7:45
OUTSIDE STAGE: CASTLE- 6:15-7:00
INSIDE STAGE: PALEHORSE- 5:45-6:15
OUTSIDE STAGE: CRYPT TRIP- 5:00-5:45
INSIDE STAGE: COMMUNION- 4:15-5:00
OUTSIDE STAGE: PHARLEE- 3:30-4:20
INSIDE STAGE: LOOM- 2:45-3:30
OUTSIDE STAGE: YATRA- 2:00-2:45
INSIDE STAGE: SORXE- 1:30-2:00
OUTSIDE STAGE: THE MUNSENS- 12:45-1:30
INSIDE STAGE: DYSPHOTIC- 12:15-12:45
INSIDE STAGE: DEVIL'S THRONE-11:30-12:00
ART INSTALLATIONS:

Christian Ristow
https://www.instagram.com/ckristow/

Christina Sporrong
http://spitfireforge.com/

JP Rodman
https://jp-rodman.squarespace.com/

EVENT LISTED ONLINE:

https://www.monolithonthemesa.com
https://www.facebook.com/events/260645364631316/
https://www.taosmesabrewing.com/
https://www.taosmesabrewing.com/?fbclid=IwAR0uWIkDdwtIAsXdhCi6-mlK5IJMCNWxSwBXcMIYEP5M35i1kaGgIiZTYwE
https://holdmyticket.com/event/334468

TICKET INFORMATION:

May 16th: Pre-party Show ticket at $25
https://holdmyticket.com/event/329481

May 17-18 Two Day Pass at $125
https://holdmyticket.com/event/329524

May 17-18 Two Day Pass with camping access at $155
https://holdmyticket.com/event/334468

May 17th (Day One) Single Day Pass at $70
https://holdmyticket.com/event/329477

May 18th (Day Two) Single Day Pass at $70
https://holdmyticket.com/event/329482

Rain or shine event! No refunds!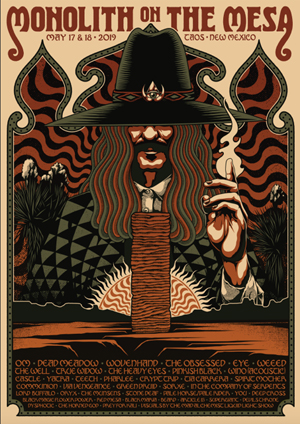 ARTISTS COMMENT ON THE FESTIVAL:
"Music is the universal language, and as emotion's companion invokes thought, feeling and awareness. And Rock! The Obsessed is excited and honored to be invited to perform at this gathering, and we hope to see a lot of friends, fans and family out in the gorgeous environs of Taos, New Mexico. Thanks to all who believe."
- Wino, THE OBSESSED
"Looking forward to Monolith on the Mesa in Taos. Very high desert. Above the Rio Grande goes the stoner caravan."
- Al Cisneros, OM
"We are truly looking forward to being a part of Monolith on the Mesa. Since improvisation is a big part of the overall picture EYE paints with our music, we're very inspired to take everything in while we're there, and to circulate that momentum."
- Lisa Bella Donna, EYE
"Taos is a special place, and it's a huge deal for me to be apart of the fest. My girl and I only lived in Albuquerque for two years, but we loved every fucking second of it. THE HEAVY EYES cut our album in Santa Fe last July. So it comes full circle for us."
- Matt Qualls, THE HEAVY EYES
FESTIVAL SPONSORS:
Sponsorship opportunities are available to companies and organizations that share the festivals outlook on music and consciousness.
Magical tattoo-Taos, New Mexico's premier tattoo shop.
https://www.magicaltattoo.com
Black Arts Toneworks-Amp Smashers Union: Handbuilt Electric Guitar/Bass/Keyboard distortion/boost and fuzz pedals.
https://www.blackartstoneworks.com
Worshiper Cabinets: blood, sweat, volume.
https://www.worshipercabinets.com
Hotel Luna Mystica: vintage trailer and starlight campground.
https://www.hotellunamystica.com
El Monte Sagrado: Northern New Mexico's most exclusive luxury resort.
https://www.elmontesagrado.com
"The first time I went to Taos Mesa Brewing a light bulb went on in my head" enthuses Monolith on the Mesa (MOTM) festival founder and curator Dano Sanchez. "I knew there was something special there. At a MELVINS show soon after that inspiring moment Al Cisneros and I were talking about SLEEP or OM playing the venue and that was the seed! This location is highly unique and vastly different than anyplace else I've ever witnessed live music. I feel compelled to share this experience."
"Our incredible location at the base of the Sangre de Christo mountains and at the edge of the Rio Grande gorge sets our festival apart. Taos Mesa Brewing is a far out venue in a far out land. From the Taos Pueblo to the Gorge Bridge we've got amazing activities like rafting, hiking in the desert or in the mountains, mountain biking, soaking in the natural hot springs, not to mention visiting all the cool establishments in Taos. It is truly a magical place and combined with awesome music and art it's going to be like no other music festival around today. We are hoping to establish a "School of Rock" to help make music more accessible in our community. We're planning to create scholarships for local kids and provide art classes geared towards design. I think all this will stimulate the community and effect the youth around here in a positive way. We want MOTM to be a yearly event which will enable us give back to this amazing community we are a part of."
https://www.monolithonthemesa.com
https://www.facebook.com/monolithonthemesa
https://www.instagram.com/monolithonthemesa