STEEL PROPHET The God Machine


By Daniel Höhr, European Correspondent
Thursday, May 2, 2019 @ 6:24 AM


| | | |
| --- | --- | --- |
| | | |
STEEL PROPHET
The God Machine
ROAR! Rock Of Angels Records, 2019




Five years after the release of Omniscient, LA-based metal legends STEEL PROPHET are back with a new studio album, The God Machine, featuring the quintet's new vocalist R.D. Liapakis for the first time. And not only does he do a bloody good job behind the microphone but also behind the mixing desk, where he produced The God Machine with STEEL PROPHET's guitarist Steve Kachinsky. The punchy, heavy, well-balanced, full and clear sound is one of the many assets of STEEL PROPHET's new release. The quality of the song-writing, which was also in the most capable hands of Steve Kachinsky and R.D. Liapakis, is another. STEEL PROPHET are on the one hand quite traditional when it comes to the stylistic elements of their music. As you listen to the ten tracks on The God Machine, you will come across such diverse influences as hard rock, traditional NWOBHM bits and pieces, doom metal gloom and thrash metal aggression. On the other hand, they skillfully craft all these elements into songs that betray a modern attitude and are far from sounding like warmed-up 80s formulas. But let's play through the album.

The title track opens the release with high-octane riffing, showcasing R.D. Liapakis's vocal qualities as well as Steve Kachinsky signature riffs and licks. "Crucify" reduces the tempo but by no means the urgency and intensity. The chorus of this NWOBHM-style song is tailor-made for shouting along in big arenas and is definitely one of the many highlights of The God Machine. "Thrashed Relentlessly" combines riffing in the vein of ICED EARTH with a catchy chorus, which I would associate more with melodic hard rock than with metal. "Dark Mask (Between Love And Hate)" is also more than just superficially reminiscent of NWOBHM qualities wrapped up in a modern metal sound, whereas "Damnation Calling" features a BLACK SABBATH-style riff and has an earworm of a chorus.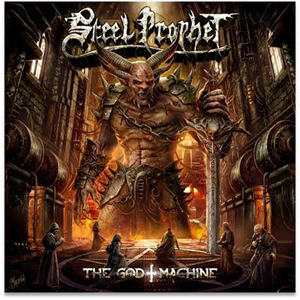 "Soulhunter" brings back the straight-in-your-face energy of the opener but lacks the melodic qualities of the previous tracks. The ballad-esque "Buried And Broken" sounds like it comes straight from WHITESNAKE's 1987 album or Slip Of The Tongue – and I mean that in the most positive way. It is quite audacious to come up with such a power ballad at the end of the second decade of the new millennium but STEEL PROPHET do it masterfully and with credibility. "Lucifer (The Devil Inside)" has a ring of Dio-era BLACK SABBATH to it and, with its relentless, hypnotic riffing and, once more, an anthemic vocal line in the chorus, turns out to be another winner. "Fight, Kill" is, unfortunately, quite monotonous and uninspired, so let's skip that one. Finally, STEEL PROPHET wrap up The God Machine with a good dash of KISS-style rock 'n' roll. "Life – Love – God Machine" is a fun track that once more showcases the quintet's stellar writing and performing skills.
All in all, STEEL PROPHET's The God Machine is a multi-dimensional, refreshing and highly energetic metal album combining a wide range of different styles to ten intense tracks that – with the possible exceptions of the two tracks mentioned above – never lose tension, are fresh and fun to listen to. The versatility of the writing and the masterful performance as well as the top-notch production make The God Machine one of the best releases of 2019 so far and is a must-have for any hard rock and heavy metal fan.
4.5 Out Of 5.0




Please log in to view RANTS

If you don't have a username, click here to create an account!





BURNING RAIN In Houston Photo Gallery

JUDAS PRIEST, URIAH HEEP In Los Angeles With Photos!

THY ART IS MURDER Human Target

HELL'S ADDICTION V1.0

CHEAP TRICK In Houston, TX With Photos!

LORDI Recordead Live - Sextourcism In Z7

GEOFF TATE'S OPERATION: MINDCRIME In New Bedford, MA

FLOTSAM AND JETSAM In Montreal, Canada

JUDAS PRIEST, URIAH HEEP In Portland, OR With Photos!

2019 SONIC TEMPLE Photo Gallery 2

2019 SONIC TEMPLE Photo Gallery 1

(HED)PE Stampede

STEVEN ADLER In Houston, TX Photo Gallery

SWEET OBLIVION Featuring GEOFF TATE Sweet Oblivion

SLAUGHTER, LYNCH MOB In Houston Photo Gallery

METALLICA At Slane Castle, Ireland

THE RODS Brotherhood Of Metal

JANET GARDNER Your Place In The Sun

BARONESS Gold & Grey

THE HOLLYWOOD VAMPIRES Rise

HATE Auric Gates Of Veles

SLAYER, LAMB OF GOD, AMON AMARTH, CANNIBAL CORPSE In Ottawa, Canada