KEELFEST 2019 Celebrates Three Decades Of Music In Non-Stop Show Over Three Hours Long


By Larry Petro, News Monkey
Friday, May 17, 2019 @ 11:37 AM


| | | |
| --- | --- | --- |
| | | May 10th In Columbus, OH |
A concert event 35 years in the making, the May 10th debut of KEELFEST in Columbus, Ohio left fans and friends with an unforgettable memory of a very special performance. Delivering over 32 songs without any breaks or set changes, fans from across the nation were treated to the KEEL classics like "Speed Demon" and "Tears Of Fire", brand new music from the new RON KEEL BAND album Fight Like A Band, and the first STEELER appearance since 1984 which featured iconic 80's anthems like "Cold Day In Hell" and "Backseat Driver".

Along the way, frontman Ron Keel also gave a nod to his former band IRONHORSE ("The Best Move") and his BLACK SABBATH experience, as well as his friendship with Ronnie James Dio ("Heaven & Hell"). One emotional moment was the introduction of Mark Edwards, who played drums on the 1983 Steeler album and joined the STEELER lineup for an on-stage reunion (Edwards has not played drums since being injured in a 1989 motorcycle accident). Edwards also joined the entire cast onstage for the finale "The Right To Rock".

"Since I was just a kid, all I wanted to do was put on a show," admits Keel. "I've never backed down from a challenge, and from the moment a couple years ago when this idea first took shape, I knew somehow we were gonna pull it off. It's a true testament to the talent and character of all the musicians involved and I will be forever grateful for the powerful relationships I have with the guys in KEEL, RON KEEL BAND and STEELER."

The show was promoted by Columbus-area concert promoters Tong Productions LLC and emceed by rocker/radio personality Kelly Bowman; opening act RAT BASTARD SYNDICATE kicked off the festivities, which culminated with a two-hour meet & greet where fans could get photos and autographs with all the players.

Those players were Marc Ferrari, Bryan Jay, Dwain Miller and Geno Arce (KEEL); Dave "DC" Cothern, Jeff "The Rev" Koller, Geno Arce, Dakota Scott Schmitt and Jason Haven (RON KEEL BAND); Rik Fox, Mitch Perry and Dwain Miller (STEELER).

RON KEEL BAND followed that up the next day with a full headline performance in nearby Plain City Ohio at the "Big George Memorial Poker Run" event. They will continue their summer tour schedule with shows nationwide in support of the new album, and KEEL's return to the Monsters of Rock Cruise in 2020; but Ron doesn't rule out future KEELFEST events. "I'm really proud of the quality of the show, and I'd be up for climbing that mountain again in another town, at some point in the near future."

KEELFEST SONG LIST:
"Calm Before The Storm" (Ron Keel and pianist Dakota Scott)
RON KEEL BAND:
"Road Ready"
"Fight Like A Band"
"Rock N Roll Guitar"
"Long Way Down"
"Homesick"
STEELER Introduction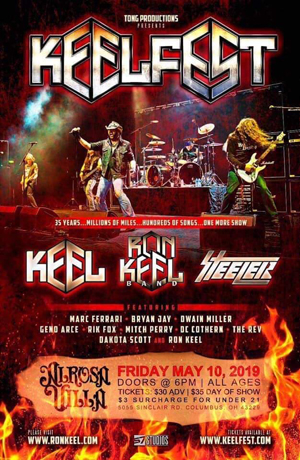 STEELER: RON KEEL BAND:
"Good Songs Bad Times"
"Hearts Gone Wild"
"The Best Move"
"Girls Like Me"
"Fire In The Rain"
KEEL:
"United Nations"
"Somebody's Waiting"
"Speed Demon"
"Push & Pull"
"Streets Of Rock N Roll"
"I Said The Wrong Thing To The Right Girl"
"Because The Night"
"Looking For A Good Time"
"Here Today Gone Tomorrow"
"Rock N Roll Outlaw"
"Tears Of Fire"
"You're The Victim (I'm The Crime)"
STEELER:
"Abduction" (Intro Audio)
"Cold Day In Hell"
"Backseat Driver"
"Down To The Wire"
"No Way Out"
"Heaven & Hell"
"Hot On Your Heels"
"Let's Spend The Night Together"
ENTIRE CAST: ENCORE – RON KEEL BAND:
The American Medley:

"American Pie"
"Born In The USA"
"American Girl"
"American Pie" (reprise)
"Suite Madame Blue"




Please log in to view RANTS

If you don't have a username, click here to create an account!