GLORYHAMMER Stream "Masters Of The Galaxy" Track


By Larry Petro, News Monkey
Friday, June 14, 2019 @ 12:41 AM


| | | |
| --- | --- | --- |
| | | New Album Legends From Beyond The Galactic Terrorvortex Hits The Charts Worldwide |
We are the Masters of the Galaxy!

Mighty warriors of the galaxy! Today, GLORYHAMMER release their fourth new video, "Masters of the Galaxy", from their third album, Legends from Beyond the Galactic Terrorvortex, which hit the charts worldwide upon release late last month! The legends around Angus McFife XIII just started their world tour in the US, which will lead them through the whole galaxy until February 2020.

The epic fight of crown prince Angus McFife against evil continues...

At the end of the second GLORYHAMMER album, Space 1992: Rise of the Chaos Wizards, Planet Earth had been destroyed by the Hootsman, with an explosion so powerful it ripped a hole in the very fabric of spacetime. And yet, Zargothrax was still not defeated, for he managed to use his last shreds of power to escape through the dimensional rift. Vowing to defeat the evil sorcerer, Angus McFife XIII followed him into the portal, with no idea where it might lead...

Watch the video for "Masters of the Galaxy" below.

The galaxy waits in fear for the return of Angus McFife XIII, who fought the greatest battle the galaxy has ever heard of, against the evil sorcerer Zargothrax. All hope of the Kingdom of Fife lies in the strong arms and the infinite wisdom of their young prince.

GLORYHAMMER's new album Legends from Beyond the Galactic Terrorvortex tells us the whole story of the most gigantic battle of all time.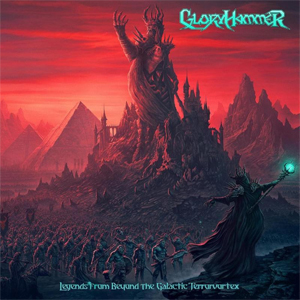 Legends from Beyond the Galactic Terrorvortex track listing:
"Into the Terrorvortex of Kor-Virliath"
"The Siege of Dunkeld (In Hoots We Trust)"
"Masters of the Galaxy"
"The Land of Unicorns"
"Power of the Laser Dragon Fire"
"Legendary Enchanted Jetpack"
"Gloryhammer"
"Hootsforce"
"Battle for Eternity"
"The Fires of Ancient Cosmic Destiny"

"I: Dundaxian Overture"
"II: The Battle of Cowdenbeath"
"III: Return of the Astral Demigod of Unst"
"IV: The Knife of Evil"
"V: Transmission"
GLORYHAMMER is currently out on a North American headline tour, featuring support from AETHER REALM!




Please log in to view RANTS

If you don't have a username, click here to create an account!