Photos By Andrew Depedro
Metal! Eric AK's parking skills! Even a pre-show interview!
It meant traveling outside of Ottawa once more to catch a killer show that wasn't hitting anywhere near us (though memories of last year's Arnprior show, particularly the several flights of stairs traversed while loading equipment is still fresh in many minds) but the trip was worth it once more and the niece doesn't really need three people to take care of her at any given time, right?
After having honed both my interview and transcription skills once more upon my arrival to Foufonnes Electriques in the heart of Montreal's entertainment district and a few choice beverages to celebrate the success of said interview, it was time to get some neck-wrecking on and burn off those golden calories in the pit.
For many fans on the Tour Of Chaos North American jaunt, this was a low-key tour that was one of great surprise – particularly for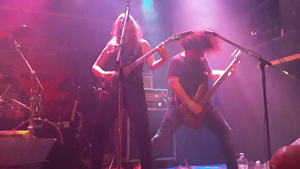 local prog/thrash metal upstarts DISSYMMETRY who didn't even know they'd be on this bill until about 2 weeks ago. Despite what their band moniker implies, their live performance was far from sounding like it was done by halves. Being a band that have barely been in existence for under a year, the quartet comprised of Ace Baldwin (vocals/rhythm guitar), Johnny Kayrouz (lead guitar), Frank Vigneault (bass) and Pouria Parsinejad (drums) have been otherwise well proactive with an EP released back in April and countless gigs opening up for several artists including Blaze Bayley. Their setlist pretty much comprised of their debut EP including a new track titled "Malfunctioning Machine" which hit each and every working cylinder in the prog rock theme. As sudden accidental tourists that night in the journey to rock stardom, DISSYMMETRY did a great job in keeping the circle whole.
https://www.facebook.com/dissymmetryband/
https://dissymmetry.bandcamp.com/releases
Flying the flag for metal would be the up-and-coming bearers of the secret of steel known as ASHES OF EDEN – with emphasis on "secret". The local quintet, despite their rather sparse recording activity since forming in 2000 – their only full-length album The Human: Conditioned being released in 2007 according to much research I'd done on their history – have been otherwise fairly active in the touring circuit, opening for various bands including RAZOR, KATAKLYSM, SACRED REICH, BLACK MOOR and BELPHEGOR. Which also makes for compiling a setlist rather easy when your band's only got so much material to play live. Luckily, their brand of high-level melodic thrash doesn't disappoint as they launch into opening number "Morbid Fascination" and the pit action starts. That said, they appeared to be becoming a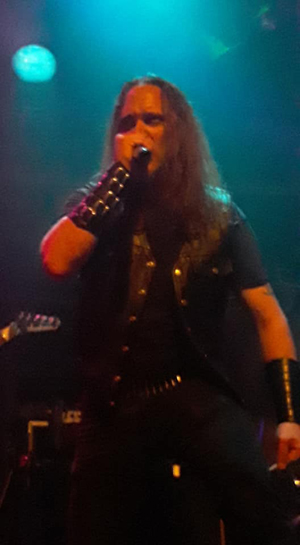 bit more proactive with new material – "Defiance", "Ashes Of Eden", "Path Of Crimson Sands" and "Ultimate Terror" – as the fiery vocals of frontman Mike Rochford oversee the powerful riffs of guitarists Armen Apekian and George Lagopodis. And the rhythm section should be familiar to many in Montreal's live metal scene: Bassist Dano Apekian has been touring off and on with death dealers EX-DEO (the side project of Mauricio Iacono of KATAKLYSM) while AOE have been on prolonged hiatus and drummer Dennis Pavia has also been lending his percussion skills to seminal Boston-based metalcore lifers DIECAST for their past couple of tours. Their influences from playing in those bands were noticeable in the rampaging assault of "Blind Shepherds" and the powerful neck-wrecking closing number "Wasteland". So while their track record of, well, only one full-length record is up for debate, there's otherwise no denying that ASHES OF EDEN can stoke a fiery performance when called upon to do so.
P.S.: Time to also get a new website domain as the current one listed on your FB page doesn't appear to be functional and requires a username and password to log in.
https://www.facebook.com/ashesofedenmontreal/
Finally, the stage was the place for headliners FLOTSAM AND JETSAM to grace with their presence as the dual guitar attack of Michael Gilbert and Steve Conley opened with "Prisoner Of Time" from their latest album End Of Chaos, which further beat the already-weary crowd further into submission for one last round of punishing pit madness. Frontman Eric AK may look every bit the well-traveled thrash lifer who's been fronting the Phoenix, Arizona-based band for nigh onto 30+ years but his powerful metal falsetto on classics such as "Hammerhead" and the blood-curdling bass-driven "I Live You Die" remains as mighty as ever. On newer numbers such as "Seventh Seal" and "Demolition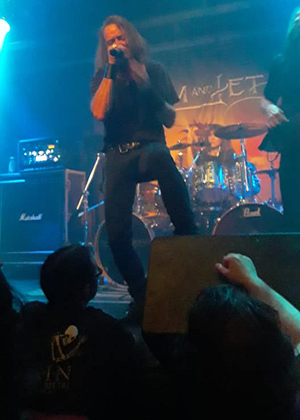 Man", Eric maintains the same energy and attitude from the band's early years without requiring his signature wail over the music. Even the lesser-known classics from the band's halcyon days with original bassist Jason Newsted amongst its ranks such as "Desecrator" and "She Took An Axe" were played to precision by Michael Spencer, who set the tone for much of the early F&J material including Newsted's signature opening bass riff for "I Live You Die" and the galloping fusion riff from "Hammerhead". Finally, the six-string showdown between the brutal power chord heaviness of Michael Gilbert and the virtuoso shredding of Steve Conley made for a perfect albeit brief intermission between songs, their performances showcasing both F&J's early thrash roots and their current no-nonsense power-influenced traditional metal sound.
This was the sound of a band adapting to their climate on their own terms without any extra baggage.
Hail to Flotzilla and then some as well to the following people who made this event possible:
The staff at Foufonnes Electriques;
KNAC.COM News Monkey Larry Petro and AFM Records' PR guy Dustin Hardman for setting up the interview with Eric AK and Michael Gilbert;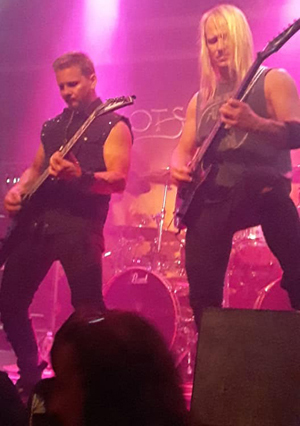 Eric AK and Michael Gilbert for taking the time out to chat with me before the show and for being overall awesome to chat with; and
All of the bands on the bill.
Interview hopefully following soon.
Setlist:
"Prisoner Of Time"
"Desecrator"
"Iron Maiden"
"Hammerhead"
"Demolition Man"
"Suffer The Masses"
"Control"
"Smoked Out"
"Monkey Wrench"
"I Live You Die"
"Seventh Seal"
"Dreams Of Death"
"Recover"
Michael Gilbert/Steve Conley guitar duel
"She Took An Axe"
"Life Is A Mess"
"No Place For Disgrace"
http://www.flotsam-and-jetsam.com/
https://www.facebook.com/flotsamandjetsam.official/