HATRIOT From Days Unto Darkness


By Peter Atkinson, Contributor
Friday, July 26, 2019 @ 8:44 AM


| | | |
| --- | --- | --- |
| | | |
HATRIOT
From Days Unto Darkness
Massacre Records




At its inception, the Bay Area thrash band HATRIOT seemed to serve duel purposes. It offered a chance for several-time ex-EXODUS frontman Steve "Zetro" Souza to stay in game shape, so to speak, in case a more established act came calling. It also offered an opportunity for his sons – bassist Cody and drummer Nick – to get their names out in a higher-profile situation than had they launched a band without their legendary father at the mic. And in the end, that strategy seems to have paid off on both ends.

Zetro, of course, famously returned yet again to EXODUS in 2014 for the Blood In, Blood Out album, and has helmed it ever since, providing a steady and familiar presence as guitarist/band leader Gary Holt has focused the bulk of his attention on SLAYER as it draws things to a close. And with two albums now under its belt – 2013's Heroes of Origin and 2014's Dawn of the New Centurion - HATRIOT has a foundation and history/legacy that Zetro's sons can build upon as Cory takes over on vocals for the third album from the revamped band, which features founding guitarist Kosta Varvatakis and recently recruited guitarist Kevin Paterson.

From Days Unto Darkness, however, finds the band still mixing the cement and sorting out a way forward without Papa Souza helping guide things along. It largely retains, and to a certain extent expands upon, the sound HATRIOT had already developed – and which, not surprisingly, was reminiscent of EXODUS' bracing, chugging thrash – but its new ideas aren't really all that fresh and the band still needs to work on honing its songs, as many of them belabor the point and go on for too long.

Right off the bat, though, you'll barely realize Zetro's gone, as Cory's shrieking voice and tonsil-bursting delivery are remarkably similar. The apple definitely did not fall far from the tree, vocal-wise at least, in that family. With Cory, though, there's not much in the way of nuance – at least at this stage. He's in full throat from the get-go, and the bug-eyed wail rarely ebbs. And when he gets into rapid-fire repeat mode, as on the chorus to "Frankenstein Must Be Destroyed" and elsewhere, it can be more than a little bit grating.

The only "relief," unfortunately, comes from one of the album's real sore points – the rote death metally guttural tradeoffs from either Varvatakis or Paterson, or both, which end up cheapening the entire effort, especially when they figure more prominently, as on "Carnival Of Execution", "World Flesh Devil" or "Ethereal Nightmare" That kind of approach can work fine for someone like THE BLACK DAHLIA MURDER, which brings more technical/melodic death metal savvy to the table and has an especially versatile and seasoned frontman in Trevor Strnad. But in the full-on thrash confines of a band like HATRIOT, with an already breathless attack from the upper register, it sounds clumsy and unnecessary. Better to try to get it right with one approach - or least let Cory hone his chops without also having to compete for space - than stumble with both.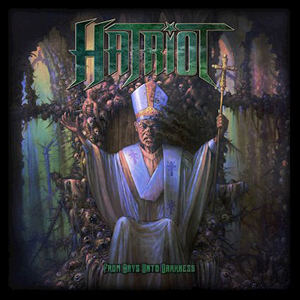 The songs can be hit or miss as well. The album gets off to a ferocious enough start with "One Less Hell" and its surging riffs, but its 7:31 run time is a couple minutes more than it needs to be, something I alluded to earlier. The same can be said about all five of the tracks – out of a total of nine - that top six minutes here. There are plenty of crisp, crunching riffs to be found among them, but as they pile up one on top of the other or parts keep getting tacked on the tunes become repetitious and lose their impact.
The first two HATRIOT albums showed a more disciplined approach, which almost certainly had something to do with Papa Souza's presence, given his wealth of experience not only with EXODUS, but TESTAMENT (actually its precursor LEGACY), TENET and DUBLIN DEATH PATROL. But left to its own devices here, the band lets youthful indulgence get the best of it and Darkness falters as a result.
Still, if HATRIOT wants to establish its own identity - and be known as something other than an extended spring training ground for Zetro as he waited for another turn at the big leagues – the band was going to have to take some lumps at some point. And I guess that time is now. Let's see if HATRIOT can learn from its mistakes and come back better for it next time.
2.0 Out Of 5.0




Please log in to view RANTS

If you don't have a username, click here to create an account!