German thrash titans DESTRUCTION are set to unleash their 17th studio album, Born to Perish, on August 9th, 2019 via Nuclear Blast Records.

Today, the band releases the second single entitled "Betrayal". The official video clip can be seen on KNAC.COM HERE.

Video directed by Achilleas Gatsopoulos for Hypnagogia Films | www.hypnagogia.com
Filmed in June 2019 in Berlin/Germany & Basel/Switzerland

Director Achilleas Gatsopoulos states:

"It was my honor to be entrusted by such a historic band to create a fresh visual aesthetic for their new album. It was important for me to strip things down and start with the basic raw and powerful visual elements that derive from their trademark logo: Sharp angular shapes, high contrast and a monochromatic color palette of red, black and white.

Inspired by Dario Argento's horror masterpiece SUSPIRIA as well as by the existential portraits of Francis Bacon and mythology, we create a dark tableaus of archetypal forms of betrayal: Two-faced/deceit, Back-stabbing, Infidelity, Garden of Eden, Wartime Snitch and we close with none other than the iconic Kiss of Judas.

It was an immense pleasure to work with the guys and I am really looking forward to next time. 'Til then, enjoy the audiovisual onslaught that is "BETRAYAL"."

Frontman Schmier adds:

"This is maybe my fave song from the new album cause of it´s classic thrash feel and the very catchy chorus. Randy is all guns blazing here and Mike & Damir have an awesome solo battle!

We all have our experience with BETRAYAL and wanted an emotional, atmospheric and different video!"

Get the new single here: http://nblast.de/DestructionBetrayal
Pre-order Born to Perish in various formats, here: http://nblast.de/DestructionBTP
Pre-save Born to Perish via Spotify: http://nblast.de/DESTRUCTIONbtpPreSave

The tracklisting of Born to Perish
"Born To Perish"
"Inspired By Death"
"Betrayal"
"Rotten"
"Filthy Wealth"
"Butchered For Life"
"Tyrants Of The Netherworld"
"We Breed Evil"
"Fatal Flight 17"
"Ratcatcher"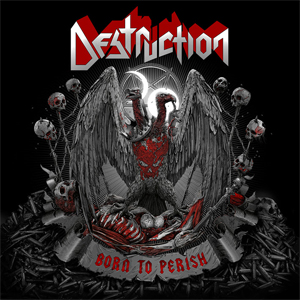 Bonus: The recordings for Born To Perish took place from January to March 2019 in the Little Creek Studio in Switzerland under the aegis of long time intimate VO Pulver.

The stunning cover artwork was created by acclaimed artist Gyula from Hungary, who has also created artwork for ANNIHILATOR, GRAVE DIGGER, STRATOVARIUS, TANKARD and many more.

The brand-new line-up featuring the Canadian drum animal Randy Black and Swiss shred-master Damir Eskic, together with veterans Schmier and Mike, is here to bring you musical destruction. This is a new chapter in the long, impressive history of the band.

Tour dates:
07.-10.08. - CZ - Jaromer - Brutal Assault
08.-10.08. - D - Schlotheim - Party.San Open Air
16.08. - BG - Varna - Rock Fest
31.08. - A - Breitenstein - Metal Escalation Festival
Killfest 2019 - Part II
w/ OVERKILL, FLOTSAM AND JETSAM
12.09. - P - Porto - Hard Club
13.09. - E - Madrid - La Riviera
14.09. - E - Barcelona - Salamandra
17.09. - D - Saarbrücken - Garage
18.09. - D - Nuremberg - Hirsch
19.09. - D - Oberhausen - Turbinenhalle
22.09. - D - Herford - X
23.09. - D - Wiesbaden - Schlachthof
24.09. - B - Antwerp - Trix
08./09.11. - D - Weissenhäusser Strand/Ostsee - Metal Hammer Paradise
07.12. - D - Balingen - Crazy X-Mas
More info coming soon.