Photographs By David Sinclair-Smith
This is the much anticipated first Australian tour for METAL CHURCH with their 12th studio album Damned If You Do released in December 2018 on the Rat Pak label. On Howe's return to METAL CHURCH in 2014 after a two decade absence, with both David Wayne and Ronny Munroe on vocals for METAL CHURCH studio albums during that time, Howe had a seamless, METAL CHURCH reunifying release in 2016 with the highly lauded XI. Now with the rapturous Damned If You Do they're finally here!
We're at The Crow Bar in Sydney. It's a 550 capacity venue and it's packed with an array of fans, including steadfast fans such as my companions and I, who've been getting a charge out of METAL CHURCH albums since 1984 when David Wayne headed their self titled, commanding debut album.
We witnessed this band, founded by Kurdt Vanderhoof, beget thrash metal at that seminal point in the 1980's West Coast metal scene. METAL CHURCH are still creating, still thriving and a must to extol in the flesh. In an interview on Illawarra, Australia VOX FM's Reigning Metal, Mike Howe cited that he appreciates this second chance with METAL CHURCH now that he's older and wiser and how much he digs working with Kurdt Vaderhoof in the band together as he'd only previously worked with Vanderhoof when he was a writing member of the band. Howe is exhilarated that the band now has complete control of the whole creative process, from the artwork to the writing. Promising that this heavily awaited Aussie tour is "gonna be explosive", Howe and the band certainly delivered.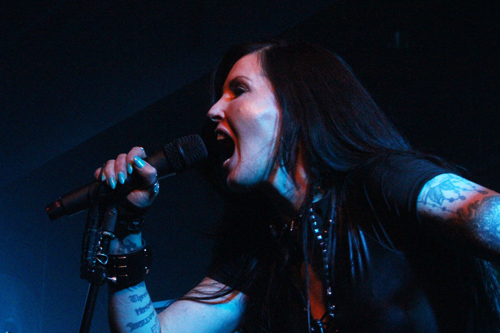 First on stage is a five piece Aussie metal band from Nowra NSW, TEMTRIS, headed by Genevieve Rodda. They've released five albums, the latest being Rapture (2018) through Battlegod Productions and have a steady roster of top gigs, amongst which, they're returning to The Crow Bar Sydney in December 2019 where they'll be supporting ex-MEGADETH lead guitar genius Marty Friedman and his Super Band as well as headlining gigs such as 'Smashfest' 2020 in New Zealand. I've been lucky enough to catch this deft band at a number of gigs, they're always happy to talk and are some of the best people you'll meet. TEMTRIS have an authentic, atmospheric sound with zero screeching vocals. Genevieve has the lucid vocal tones of classic metal. TEMTRIS ushered tonight's crowd expertly into a metal appreciation vibe.
Next up was HAZMAT, a four piece Aussie metal band from Sydney NSW headed by Jason "Jay" Callaby. They have two independently released albums, Hazmat (2011) and Atonement (2015) which is now being taken to a worldwide audience with the Metalblast label. I saw this band open for OVERKILL in Sydney Australia in March 2018, man they get some great gigs and well deserved too. They are a hard working, ardent metal group who have their own well honed sound. No angst or frustration, just some staunch riffs and gritty old school vocals that create a sound you can bask in. Everyone in the crowd was enthused and eager for the metal ride to continue.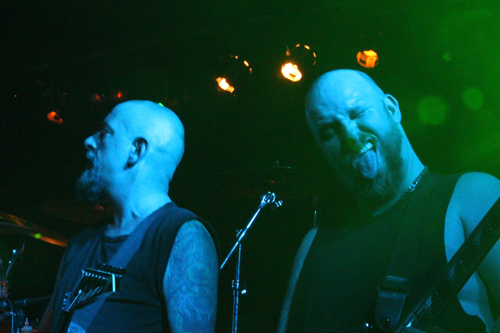 Enter METAL CHURCH. From the moment the set started, Howe was relishing his domain. Spreading his arms outward and smiling widely, doing the long board stance as if riding some gnarly waves during his vocal beckonings. They performed three tracks from the Damned If You Do album amidst a medley of tracks from their various releases.
Straight up, Howe gets immersed into "Damned If You Do", the title track of the new album. It's a revving anthem adept at pumping up the fervent crowd. Kurdt Vanderhoof and Rick Van Zandt are on guitar, and new drummer, Stet Howland formerly of W.A.S.P., is nimble and really impressive. Bassist Steve Unger did not make the shows in Australia so Bobby Ferkovich (who plays in Vanderhoof's PRESTO BALLET side project) stepped in to do the job.
They move onto the dynamic "Needle and Suture" track with expert machine gun guitars from their 2016 XI album. Then there's "Badlands", the quintessential reflective, climatic track and that melodic guitar from their 1989 Blessing in Disguise album followed by "Gods of Second Chance" from their 1993 Hanging in the Balance album. An easy head banger to Stet's rolling drums.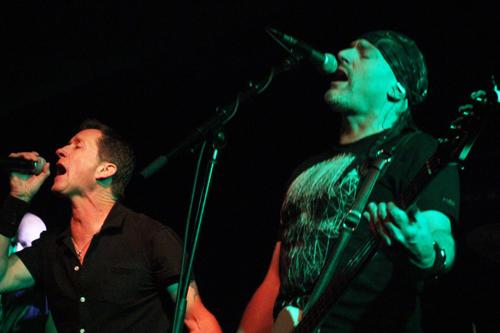 As the band begins playing "Start the Fire" from their 1986 The Dark album, Howe looks over his shoulder to Vanderhoof and remarks "Yeah those were some dark days". As I immerse myself in the energetic riffs of this exemplary classic, Howe crouches in front of me, hand on my shoulder and mic in my face. HAHA! This is my moment! As I belt out "Bring down the hammer! Start, start the fire! Burning on forever!" I'm getting a taste of what a rock god feels as he fronts a revering, pulsating audience. But as I turn to my smirking mate I realise that these offerings from our idols are the only opportunity for talentless enthusiasts like me. I'll take it though!
There was "Date with Poverty" from their 1991 The Human Factor album and the "Watch the Children Pray" ballad from The Dark. With "No Friend of Mine" from Hanging In The Balance we had the awesome extended Rick Van Zandt guitar solo which fixated the crowd with his dexterity. The message of "The Black Things" track from Damned If You Do followed, then "Beyond the Black" with its heavy riffage from their 1984 self titled debut album blared out.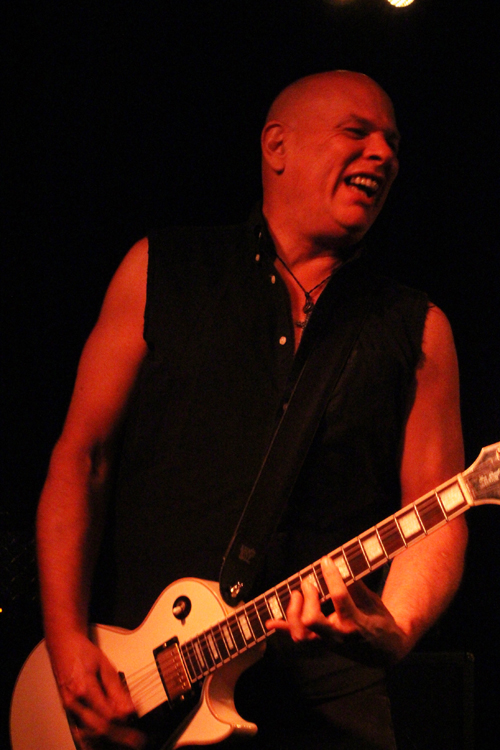 "By the Numbers" from Damned If You Do had the newer fans going mad, jumping around, head banging and generally celebrating. It's a really catchy song and easy to get into.
For the encore, Howe has given his all tonight and states "Usually when we play the last song we go off stage and the crowd chants "METAL CHURCH, METAL CHURCH!" but tonight we're not gonna do that, we're gonna just pretend that happened and we're gonna play these last two songs!"
"In Morning" from Metal Church and "Fake Healer" from Blessing in Disguise are perfect winding down songs with well rounded, archetypal instrument and vocal equilibrium to duly finish the show. Everyone in the crowd were in good spirits and had a rocking great night. This was a fantastic show that more than lived up to the professional excellence that we all admire of the metal stalwarts. I'm more of a fan than ever.

Check out some more photos from the show!
Photographs By David Sinclair