LOUDER THAN LIFE Fesitval Reveals Band Performance Times, Additional Details


By Larry Petro, News Monkey
Thursday, September 12, 2019 @ 6:06 AM


| | | |
| --- | --- | --- |
| | | For September 27, 28 & 29 At Highland Festival Grounds At KY Expo Center In Louisville |
The full schedule of music performances is now available for Louder Than Life. The World's Largest Rock 'N' Roll Whiskey Festival returns to Louisville on Friday, September 27, Saturday, September 28 and Sunday, September 29 at its new home at the Highland Festival Grounds at KY Expo Center.

Produced by premier independent festival producer Danny Wimmer Presents, Louder Than Life promises the most spectacular music lineup since the festival began in 2014, with performances from quintessential rock band GUNS N' ROSES, the return of chart-topping festival favorites SLIPKNOT and DISTURBED, a reunited STAIND (in their first public performance in 5 years), Godsmack, Rob Zombie, A Day To Remember, Ice Cube, Marilyn Manson, Breaking Benjamin, Chevelle, Halestorm, Dropkick Murphys, In This Moment, I Prevail and many more.

In addition to more than 50 music acts on three stages, Louder Than Life features award-winning bourbons, whiskey, spirits, craft beer, and the best food Louisville has to offer.

A limited number of Louder Than Life exclusive VIP packages, General Admission tickets, camping and hotel packages, as well as special event tickets are still available at www.LouderThanLifeFestival.com.

The music schedule for Louder Than Life is as follows (subject to change).

Friday, September 27

Barrel Stage
9:40 PM - Slipknot
7:40 PM - A Day To Remember
5:55 PM - I Prevail
4:20 PM - Motionless In White
3:00 PM - Graveyard
1:50 PM - Wilson
Oak Stage
8:35 PM - Staind
6:45 PM - Chevelle
5:05 PM - Beartooth
3:35 PM - Philip H. Anselmo & The Illegals
2:25 PM - New Years Day
1:15 PM - All Them Witches
Loudmouth Stage
6:40 PM - GWAR
5:35 PM - Frank Carter & The Rattlesnakes
4:35 PM - The Crystal Method
3:25 PM - Crown Lands
2:20 PM - Dead Posey
1:20 PM - Santa Cruz
Saturday, September 28

Barrel Stage
8:30 PM - Guns N' Roses
6:30 PM - Ice Cube
4:45 PM - Dropkick Murphys
3:10 PM - Suicidal Tendencies
2:00 PM - Anti-Flag
1:00 PM - Dirty Honey
12:00 PM - Amigo The Devil
Oak Stage
7:25 PM - Godsmack
5:35 PM - Halestorm
3:50 PM - Stone Temple Pilots
2:35 PM - Badflower
1:30 PM - Parlor Mob
12:30 PM - Like A Storm
Loudmouth Stage
6:45 PM - Melvins
5:40 PM - Andrew W.K.
4:40 PM - Knocked Loose
3:35 PM - Redd Kross
2:35 PM - Jelly Roll
1:35 PM - Junkbunny
12:35 PM - The Pink Slips
Sunday, September 29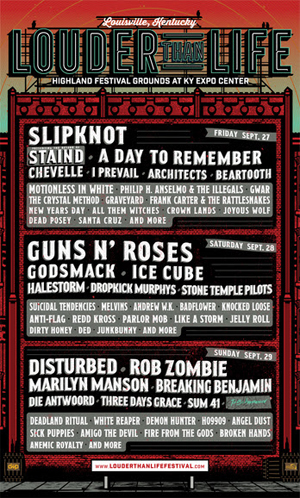 Barrel Stage
9:50 PM - Disturbed
7:50 PM - Marilyn Manson
6:00 PM - In This Moment
4:20 PM - Demon Hunter
3:00 PM - DED
1:50 PM - Sick Puppies
Oak Stage
8:45 PM - Rob Zombie
6:55 PM - Breaking Benjamin
5:05 PM - Three Days Grace
3:35 PM - Sum 41
2:25 PM - White Reaper
Loudmouth Stage
6:25 PM - Deadland Ritual
4:55 PM - Ho99o9
3:55 PM - Angel Du$t
2:35 PM - Fire From The Gods
1:30 PM - Anemic Royalty
Festival doors open at 12:30 PM on Friday, 11:30 AM on Saturday and 1:00 PM on Sunday. Attendees can stay up to date, plan their schedules and tune in for live updates by downloading the official Louder Than Life Mobile App presented by Republic Bank. The app is available for download on iOS and Android platforms.

The music continues after the festival has ended, with the official Louder Than Life Afterparty featuring DEAD POSEY on Sunday, September 29 at 10:30 PM at Fourth Street Live! in Louisville. Full details are available at: http://LouderThanLifeFestival.com/experiences.

In addition to performances from top music artists and various onsite attractions, attendees at Louder Than Life will enjoy a variety of onsite food and beverage offerings that celebrate menus and flavors inspired by Kentucky. Selections from local and regional restaurants were curated by Southern Hospitality Concessions LLC, DWP's affiliate concessionaire.

The festival's centerpiece, The Kroger Big Bourbon Bar presented by Courier Journal, will feature more than two dozen hand-selected bourbons from top distilleries, and a unique opportunity to enjoy bourbons and exclusive one-time specialty cocktails from 1792, Angel's Envy, Barrell Bourbon, Coopers' Craft, Elijah Craig, Four Roses, Jefferson's, Jeptha Creed Four Grain Bourbon, Kentucky Peerless, Michter's, Rebel Yell, Old Forester, Stonehammer, and Wild Turkey.

The Kroger Big Bourbon Bar presented by Courier Journal will also feature DJ sets from Nashville Is The Reason on Friday (1:30 PM, 4:00 PM, 6:00 PM), Saturday (12:30 PM, 3:00 PM, 5:30 PM) and Sunday (2:00 PM, 4:30 PM, 6:00 PM). Nashville Is The Reason (http://nashvilleisthereason.com) is a group of music industry friends who bring together fans of punk, emo, post hardcore and indie music.

Fred Minnick's Mini Bar--hosted by Louder Than Life bourbon curator, bourbon author/expert, and Amazon Prime host (Bourbon Up) Fred Minnick--will showcase craft selections from Louisville's world-renowned distilleries. Acclaimed Louisville whiskey bar The Silver Dollar will operate The Hunter's Club, where attendees can find vintage bourbons dating as far back as the 1930s, as well as contemporary collectibles. New for 2019, the Beyond Bourbon Bar will be the largest non-bourbon bar at Louder Than Life, offering a selection of fine whiskeys.

Festival producer Danny Wimmer Presents is proud to offer a collaboration with METALLICA's Blackened Whiskey and Enter Night Pilsner. Blackened, a super-premium American whiskey blend, crafted by the late Master Distiller Dave Pickerell and finished in the earth shattering music of METALLICA, and Enter Night Pilsner, a collaboration with the rock stars of craft brewing, Stone Brewing Company, will come together under one roof to offer guests a one-of-kind musical festival experience. The massive Boilermaker pop-up will feature a Blackened & Enter Night Boilermaker, as well as craft cocktails and ice-cold Enter Night Pilsner. This exciting collaboration marks the latest in a long line of amplified guest experiences only available through Danny Wimmer Presents music festivals.

As part of Danny Wimmer Presents' innovative partnership and Kroger's commitment to Zero Hunger | Zero Waste, 25 cents from every Louder Than Life ticket sold will be donated directly to Dare to Care Food Bank (www.daretocare.org). Dare to Care Food Bank works to ensure that no one in our community lacks enough food to live an active, healthy lifestyle, and Kroger's Zero Hunger | Zero Waste initiative is their bold plan to end hunger in our communities and eliminate waste in their company by 2025.

Louder Than Life partners include 291 Colorado Whiskey, 1792, Against The Grain, Angel's Envy, Balcones Distilling, Barrell Bourbon, Blackcraft Cult, Blade and Bow, Bud Light, Buffalo Trace, Bulleit, Catoctin Creek, Cooper and Thief, Coopers' Craft, Elijah Craig, Evan Williams, Four Roses Bourbon, Fxck Cancer, Jack Daniel's, Jefferson's, Jeptha Creed Distilling, Jim Beam, Kentucky Distillers Association, Kentucky Peerless, Kentucky Tourism, Kroger, Larceny, Louisville Tourism, Maker's Mark, Metro by T-Mobile, Michter's, Monster Energy, Rebel Yell, Republic Bank, Robert Mondavi Private Select, Old Forester, Southern Comfort, Stonehammer, Take Me Home, The Music Experience, Tito's Handmade Vodka, Uncle Nearest Whiskey, Visionworks, Wild Turkey, Woodford Reserve and Zyn.

The Highland Festival Grounds at KY Expo Center are located at 937 Phillips Lane in Louisville, Kentucky.




Please log in to view RANTS

If you don't have a username, click here to create an account!