HELLYEAH Welcome Home


By Andrew Depedro, Ottawa Corespondent
Tuesday, September 24, 2019 @ 6:40 AM


| | | |
| --- | --- | --- |
| | | |
HELLYEAH
Welcome Home
Eleven Seven Music




The runaway success of metal supergroup HELLYEAH since their inception in 2006 can not only be traced back to its known lineup of founder/drummer Vinnie Paul (PANTERA), singer Chad Gray (MUDVAYNE), guitarist Tom Maxwell (NOTHINGFACE) and bassist Kyle Sanders (BLOODSIMPLE) – and eventually with second guitarist Christian Brady in 2014 – but also in their display of brotherhood and bonding. It's how the band have been able to stay together long enough to release five studio albums to date including 2016's UNDEN!ABLE and their current album Welcome Home – the latter proving to be the band's last with Vinnie Paul, whose untimely death last year during the album's recording had thrown their future into a sudden loop, though with the inclusion of STONE SOUR drummer Ray Mayorga, the band have seemed to bounce back in the face of adversity. HELLYEAH were indeed Vinnie Paul's brainchild, with the inclusion of its team bringing together the tight and rapid thrash sound of early PANTERA and Gray, Maxwell and Sanders' own chunky-sounding groove from their own respected (and heavily PANTERA-inspired) bands to create their familiar sound. And while one would be wary to make broad comparisons to AC/DC's post-Bon Scott comeback album Back In Black in parts, Welcome Home definitely retains HELLYEAH's common sound and swagger as it salutes its core member while avoiding any maudlin and sorrowful moments.

The thrash opener "333" is the perfect *ahem* number to begin the album, with Gray's growling vocals and quick lyrical succession dominating the track. The title itself is even a play on the infamous satanic number 666, with 333 being half evil though lyrically it does reflect how metal fans are typecast as societal outsiders while extending a welcome to all of HELLYEAH's fans; it's probably HELLYEAH's most heaviest and poignant-sounding song. Proudly boasting "we're the root of half evil reppin' 333!" the song even ends at 3 minutes and 33 seconds.

Other notable tracks featuring Gray's fast vocal style include "Black Flag Army", "Oh My God", "I'm The One" and the title track. Slower groove-laden tracks such as the admittedly well-titled "At Wick's End" and the bouncy metaphor-laden "Perfect" make for some quick-timed lyrics and showcase Maxwell and Brady's diverse playing in parts, particularly Maxwell's steel guitar intro on "Perfect".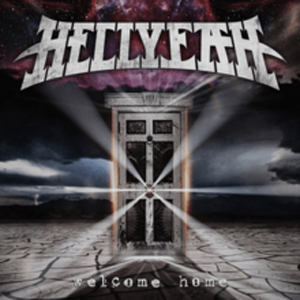 Speaking of which, Welcome Home isn't without its brief moment of filler and repetition, with the otherwise driving stomper "Boy" hindered by some overdone attempts at hardcore rapping and the frequently chanted "I'm the boy in the box" lyric. When you find yourself wondering if the song is more of an homage to Canadian pop icon Corey Hart given how often his famous similarly-titled 1985 album is namedropped, it's safe to assume that the song is somewhat out of place. Even the second set of rapping vocals in a lower key sounds like Mr. Sunglasses At Night himself guesting on the vocals. Luckily, the album is redeemed with the lush-sounding, country-styled "Skyy And Water" as Gray's outlaw crooner vocals are brought to the spotlight and shape the song nicely. Closing the album is a brief instrumental titled "Irreplaceable" that is really a 53-second sound bite of Vinnie Paul in his celebratory element, among friends and uttering the line "a good time is irreplaceable". It's the credo that Big Vin himself has lived by over time.
For all of its criticisms that HELLYEAH have amassed as a band thus far in their career, they've otherwise come off as a unified band of proverbial brothers, honoring one of their fallen comrades with Welcome Home. With honor almost in short supply everywhere these days, HELLYEAH's own brand of earnest loyalty is much needed on the doorway to survival.
4.5 Out Of 5.0
https://hellyeahband.com/
https://www.facebook.com/hellyeahband/




Please log in to view RANTS

If you don't have a username, click here to create an account!