GHOST In Portland, OR With Photos!


By Krishta Abruzzini, Pacific Northwest Writer
Tuesday, September 24, 2019 @ 8:04 AM


| | | |
| --- | --- | --- |
| | | 'The Ultimate Tour Named Death' Hits The City Of Roses At Moda Center September 16th |
All Photos By Krishta Abruzzini
As a fan and follower of GHOST for many years, I've always looked forward to their shows. Headlining in mostly mid-sized venues, sans the festival shows, GHOST's latest tour has them playing in larger arenas across the country. In Portland, OR, The Moda Center was partitioned off to create a quarter of the stadium, which they title 'Theater of the Clouds'. Sounds a bit kinder titling the theater configuration that, rather than the obvious reason being that the band couldn't sell an entire stadium as a headliner.
GHOST has always been a cinematic rock experience. While hailing from Sweden, with a look that screams black metal and human sacrifices, they are far from that. They are melodic. Dare I say somewhat pop music, which is such a paradox of their persona. Happy tunes to worship Satan anyone?
The GHOST storyline is somewhat tongue-in-cheek, and die hard fans will be very serious in explaining the timeline in which new characters are added, and those that have died and been embalmed. Papa Emeritus I, II, and III, are all now laid to rest, while Cardinal Copia has taken over the helm of front man. An obvious choice, as he is a new leader with "Youth, stamina, and sexual charisma".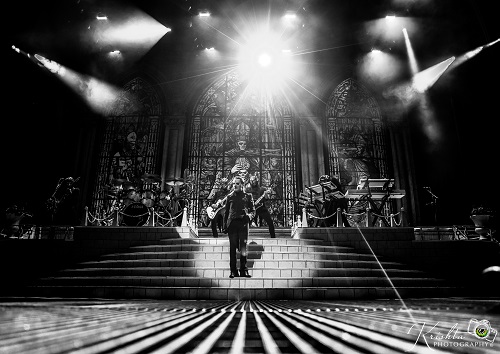 I met the (original) lineup of the band several years ago and a couple of times following. Prior to the controversy within the original lineup over royalties, the anonymity of the band was as guarded as Fort Knox. All changed with a lawsuit naming the band members.
In the art of what I call lurking, a nameless ghoul asked if my friends and I wanted to come to the green room to drink with them (Swedes can drink, by the way). The only request was that there were to be no pictures taken. Oddly enough with this band, the fans are so supportive, there was not much as far as giving away who was behind the masks. My suspicions that the evil Pope was Swedish frontman Tobias Forge was confirmed. Pre-GHOST, Forge had a couple of bands in Sweden called SUBVERSION and MAGNA CARTA CARTEL. For fans of GHOST, these two bands are worth checking out.
Fast forward onto the good and bad of this Ultimate Tour Named Death.
Things I loved:
The stage design and production was stunning. It looked like a large cathedral, with stained glass backdrops, a large cascading staircase, checkerboard flooring, spotlight, pyro, and 'Mummy Dust' confetti bombs. I can only imagine that given Forge's theatrical artistic mind, this must have been so much fun for him to design. Visually, one of the most immersive shows I've ever attended.
The music. GHOST does not disappoint when it comes to the songs and musicianship. Forge and company are hands down some of the most talented musicians I've ever seen. I think my favorite song of the night, was "Mummy Dust", with a confetti machine spewing out thousands of gold particles into the audience. It was hilariously just cool.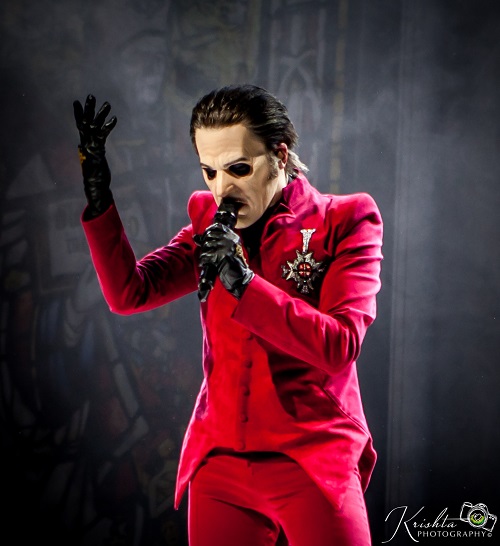 Things I didn't love:
Cardinal Copia. I'm so sorry. The mysticism is somewhat lost with this new character. I feel like it's partly a decision out of the cumbersome Pope costume that this new character has been formed. I tried to keep an open mind, and being that Copia has, per the band, sexual charisma, which is funny, it took away from the GHOST I've known and loved. With this character, I felt as though it was 'Ghost on Broadway'. I saw this character dance, dramatically crawl across the stage and even flash a couple of jazz hands. It's confusing at best. The previous Pope's brought such a dark, mystical element, with the inverse of melodic music, that this version made it all too produced and forced.
For the song "Dance Macabre", Copia asks the audience if they wanted their taint tickled and to shake their butts. He then goes onto to sing the lyrics, "Just wanna be. Wanna bewitch you in the moonlight. Just wanna be. I wanna bewitch you all night." I think he left out the most important body part, and that was the balls. I get the humor in it, but it takes away from what was so intriguing about the band overall. I think it will be very cool to see if Cardinal Copia gets his stripes and becomes a pope along the GHOST saga. Maybe he'll have an even more evil presence than the prior Popes?
I also absolutely hated the Nameless Ghouls high-fiving each other, rolling their sleeves up and the choreographed guitar moves ala KISS. At this point, it feels like the band should just unmask if they're going to choreograph the show as this. Some of it is funny, but it mostly takes away from what everyone has loved about this band. The mysticism was lost. It's kind of like a tribute band wearing bad wigs, but trying to be serious. Confusing.
All in all, it was a fantastic night and I can't say I wasn't entertained. We all like a scary movie. Unfortunately with this tour, GHOST turned their Jason flick into Young Frankenstein. It wouldn't have surprised me to see Cardinal Copia break out in a dance routine to "Puttin' on the Ritz".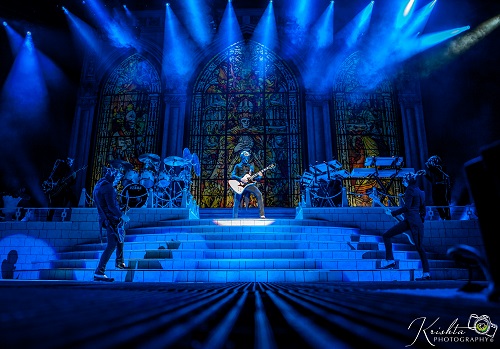 Setlist:
"Ashes"
"Rats"
"Absolution"
"Faith"
"Mary on a Cross"
"Devil Church"
"Cirice"
"Miasma"
"Ghuleh"/"Zombie Queen"
"Helvetesfönster"
"Spirit"
"From the Pinnacle to the Pit"
"Ritual"
"Satan Prayer"
"Year Zero"
"Spöksonat"
"He Is"
"Mummy Dust"
"Kiss the Go-Goat"
"Dance Macabre"
Encore: Check out some more photos from the show!
All Photos By Krishta Abruzzini




Please log in to view RANTS

If you don't have a username, click here to create an account!