BAD WOLVES Release Powerful New Track, "Sober"


By Larry Petro, News Monkey
Thursday, September 26, 2019 @ 11:15 AM


| | | |
| --- | --- | --- |
| | | Band To Tour With FFDP, THREE DAYS GRACE And FIRE FROM THE GODS This Fall |
Breakout rock band BAD WOLVES reveal new track, "Sober", from their forthcoming sophomore album, N.A.T.I.O.N, out on Friday, October 25th, via Eleven Seven Music. Pre-order the album and receive an immediate download of tracks "Sober", "Killing Me Slowly" and "I'll Be There". WATCH/SHARE "Sober" audio/video below.

The release of their third song, "Sober", defines the direction of, not just the band as a whole, but vocalist Tommy Vext himself. The song's powerful, driving percussions set the stage for Vext's story of a ruinous relationship, steeped in addiction and self-desecration, that finds recovery possible for those who can stay the course. "The song is very personal to me about my recovery," says Vext. "The message is very powerful to not give up on ourselves or the people who are trying - who are really, really trying to make and better themselves." BAD WOLVES came to Vext as an opportunity to try his craft again after his stint in DIVINE HERESY was brought down by his own demons and addictions, a childhood family life to the extent that most nightmares never reach, and an adult existence that took him even deeper into that hell.

Yet, it was a call from another addict, a kid looking for help, that brought Vext off the suicidal edge, literally, and into a life of continued sobriety and service. Vext declared in an August 2018 interview for Psychology Today, titled Tommy Vext and the Deafening Sound of Self-Termination: "Because when we are in that state of self-termination it's so deafening–the only way to break out of it is to have contact with people who literally have it worse and are still hopeful. And that's the most powerful thing about altruism. It's the foundation of my recovery and it's the fabric of everything I do. I think we're all here for a reason, and we're all here for a purpose. Some of us have to find our purpose, and sometimes it's thrust upon us. . . Such is life."

During the third annual Rock to Recovery Benefit Concert last year, BAD WOLVES vocalist Tommy Vext was awarded the "Rock to Recovery Service Award," for his outstanding influence and dedication in helping others fight their own battles dealing with drug addiction and alcoholism. Vext has been sober for over 10 years now. His blunt honesty about his battle and commitment to staying sober has continued to inspire many both in the music industry and beyond.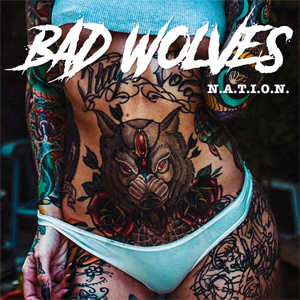 BAD WOLVES have proven to be the unprecedented global breakthrough rock act of 2018 and aim to continue that momentum with N.A.T.I.O.N. The stunning 12-track follow-up to their debut album, Disobey, is a bit of a departure – staying in the same realm musically, but breaking beyond.
N.A.T.I.O.N. TRACKLIST:
"I'll Be There"
"No Messiah"
"Learn To Walk Again"
"Killing Me Slowly"
"Better Off This Way"
"Foe Or Friend"
"Sober"
"Back In The Days"
"The Consumerist"
"Heaven So Heartless"
"Crying Game"




Please log in to view RANTS

If you don't have a username, click here to create an account!