Russian Metal act ARIA have checked in with the following announceent:

"We are happy to announce that our new live album Guest From The Shadow Kingdom will be released on September 27th! The video was recorded in the big Moscow show this April! The performance was filmed by our old friend director Yuriy Sokolov with whom we dida lot of great shows in the past!"

Check out the live video clip for "Curse Of The Seas" on KNAC.COM HERE.

A single three-level stage - with high-resolution LED screens for a height of 9 meters - was erected on the arena of the VTB Ice Stadium. The background of the stage was decorated with a 600 square meter large screen.

Guest From The Shadow Kingdom will be released on Friday 27 September 2019, via M2BA. The digital audio version of the concert will be available in all music services - Apple Music, Yandex Music, Boom, Google Play and others. At the band's online store - ARIA SHOP - it will also be possible to order it in a DVD + 2CD version.

Pre-order the digital audio version of Guest From The Shadow Kingdom on iTunes: https://music.apple.com/ru/album/1479578456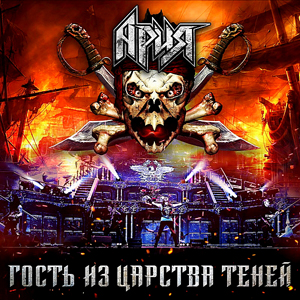 The full set list from the show is:
"Race For Glory"
"Kill The Dragon"
"Hero Of Asphalt"
"Era Of Lucifer"
"The Curse Of The Seas"
"Colosseum"
"Baptism By Fire"
"Varyag"
"Point Of No Return"
"Let It Be"
"The Calm"
"Executioner"
"Antichrist"
"Deception"
"The Sky Will Find You"
"Night Shorter Than Day"
"Torero"
"Street Of Roses"