LACUNA COIL, ALL THAT REMAINS In Houston, TX With Photos!


By Krystiee Lee, Editor
Monday, September 30, 2019 @ 7:56 AM


All Photos By Krystiee Lee Photography
On the sunny Tuesday afternoon of September 24th, 2019, White Oak Music Hall hosted a one of a kind show for all Houston-area metal fans with LACUNA COIL and ALL THAT REMAINS.
Luckily, I was able to not only have the opportunity to photograph the two bands but also the 3 opening bands before their incredible and influential sets.
First brought on the stage was UNCURED and I literally got there just in time as they started their set. I was immediately drawn to this band, not only because of their powerful sound, but they seemed like they were extremely passionate about their music, which definitely helps when it comes to capturing photos! Straight from NJ, this 4 piece metal band founded by two brothers Rex and Zak Cox brought a great beginning set with its combination of fierce riffs, technical musicianship, and pleasing interludes.
Next up on the stage we had also another band right out of Asbury Park, NJ. TOOTHGRINDER, the metalcore/ post-hardcore group, brought the crowd together and set the mood for the evening with their high energy level and overall extremely forceful performance.
Following the two excellent opening bands we were embraced with even MORE of an energetic, electrical-screaming band from Richmond, Virginia, BAD OMENS. I was not expecting this group to leave a mark on me but they sure as hell did. The sound, the vocals, and obvious energy they brought along with them... I was stunned and impressed. To me, they reminded me A LOT of BRING ME THE HORIZON, which is another one of my all-time favorites and after doing more research on them I realized I wasn't the only one who thought that the same thing. It was for sure a BMTH feel but also its own twist and sound that left me amazed and excited to go home and check them out some more.
Finally we got the powerful Italian 'gothic metal' band most of the fans in the crowd were there to see, LACUNA COIL. During the entire duration of their set, it was almost completely impossible to be anywhere in the venue without feeling completely overwhelmed with the power of the overall sound of the band. Cristina and Andrea controlled the crowd, leaving everyone I saw screaming the lyrics at the top of their lungs. It was incredible. If you are not familiar with LACUNA COIL and have the urge to discover new music, I definitely recommend checking them out, especially if you are looking for a future show that will leave you speechless with the roof blown off. Each song showcased Cristina Scabbia's amazing vocals and passionate performance and only proves that Scabbia is not only one of the best female singers in metal-modern times, but also visually was a showstopper.
Setlist:
"Blood, Tears, Dust"
"Trip the Darkness"
"Our Truth"
"Spellbound"
"Layers of Time"
"Downfall"
"Zombies"
"My Demons"
"The House of Shame"
"Heaven's a Lie"
"Reckless"
"Nothing Stands in Our Way"
Last and final band onstage was ALL THAT REMAINS, all the way from Springfield, Massachusetts. The modern-metal band ended the night with a performance to remember for their loyal fans. Honestly, these guys were great during the set and you couldn't even tell of all the past changes they've had and of course the unfortunate passing of guitarist Oli Herbert. Vocally, the band combines singing, screaming, and eager growls and Phil Labonte's lyrics focus on topics such as relationships, personal struggles, society, and all around hope. They came to Houston ready to ROCK, and they definitely did just that with the help of each outstanding band that played before them.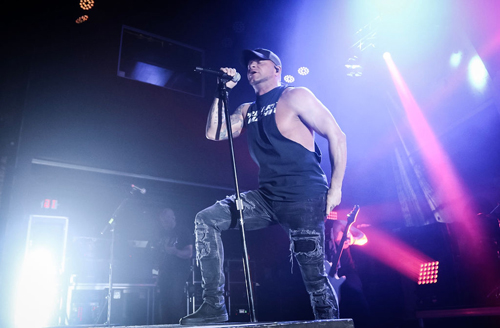 Setlist:
"This Calling"
"Chiron"
"This Probably Won't End Well"
"Hold On"
"The Last Time"
"Fuck Love"
"Blood I Spill"
"Everything's Wrong"
"Wasteland"
"Not Alone"
"Six"
"The Air That I Breathe"
"What If I Was Nothing?"
"Two Weeks"
Check out some more photos from the show!
All Photos By Krystiee Lee Photography




Please log in to view RANTS

If you don't have a username, click here to create an account!