FOZZY, SONS OF TEXAS And JARED JAMES NICHOLS In Houston, TX With Photos!


By Larry Petro, News Monkey
Tuesday, October 1, 2019 @ 12:34 AM


| | | |
| --- | --- | --- |
| | | Unleashed In The West Tour Hits Warehouse Live On 9/26 |
All Photos By Larry Petro/Petrofyed Photography
When the band first formed twenty years ago under the moniker of cover band FOZZY OSBOURNE, few people probably took the band seriously, most of all wrestler Chris Jericho, who sat in with the band a few times but never had any ideas of making it a permanent gig until the following year. A couple of cover releases later finally found the band recording original music which would become 2005's All That Remains album. Still, many found the idea of a pro wrestler turning rock star to be a joke. Surely it was as fake as the wrestling sport itself, right? Throw in a band name that evokes images of a furry, loveable muppet and it was doomed to fail. Or was it? Now, five studio albums later and it's Jericho and his bandmates, guitarist Rich Ward, drummer Frank Fontsere and bassist Randy Drake, along with touring guitarist Billy Grey who are laughing last and loudest as the band has crawled its way up the hard rock/heavy metal ladder to a position where now they can't be ignored and should be taken seriously.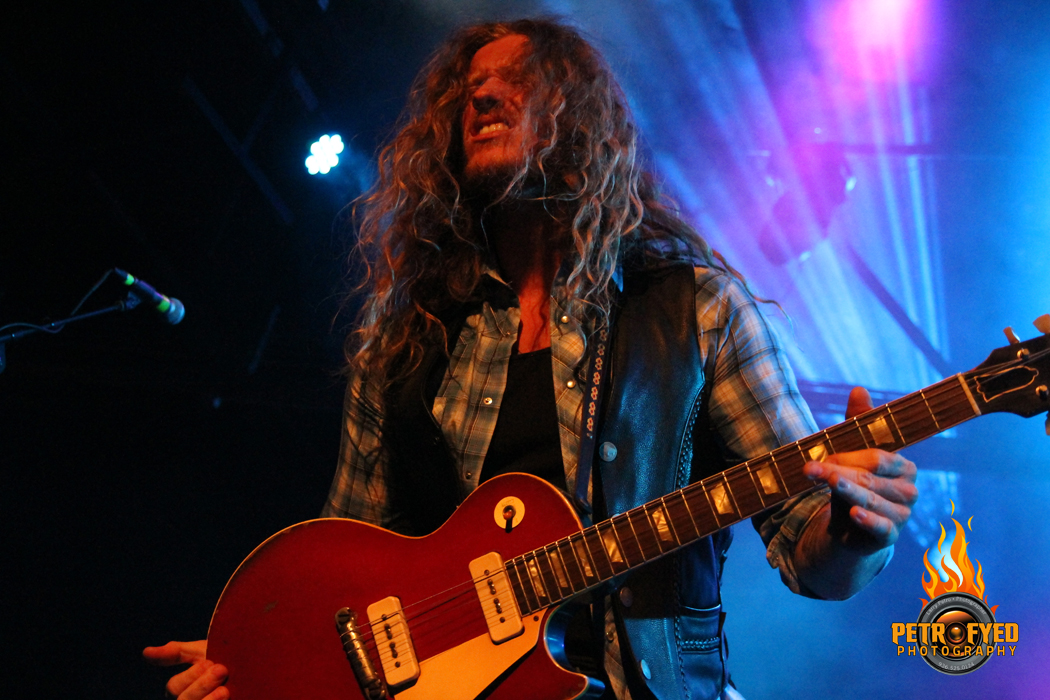 Out in support of its latest effort, Judas (2017), the band rolled into Houston on its 'Unleashed In The West' tour, a jaunt that included a slot opening for IRON MAIDEN in Los Angeles and also included support from guitarist Jared James Nichols. For those of us in Texas, we were treated to an extra band in the form of Texas Rio Grande Valley natives SONS OF TEXAS at Warehouse Live on September 26th. When picking up my credentials at the box office I was given a wristband that had 'Can Shoot Whole Show' written across it. Ok I thought, I'm clear to shoot all 3 bands, only to find out just before the show started that not only was I the only photographer for the event, the writing meant that I could literally shoot the whole show from inside the photo barricade, definitely a first for me.
Blues-rock guitarist Jared James Nichols got things started on the evening with a nice set of original material, starting with the track "Last Chance" from his 2017 album Black Magic. Having not seen him prior I wasn't sure what to expect though I had read other reviews of his past shows. I was definitely impressed. With a musical style similar to that of Ted Nugent (without all the political bullshit), he made the most of his limited time onstage and as his show went on the crowd got more and more into it. By the time he closed with a cover of the MOUNTAIN classic "Mississippi Queen" he had won them over.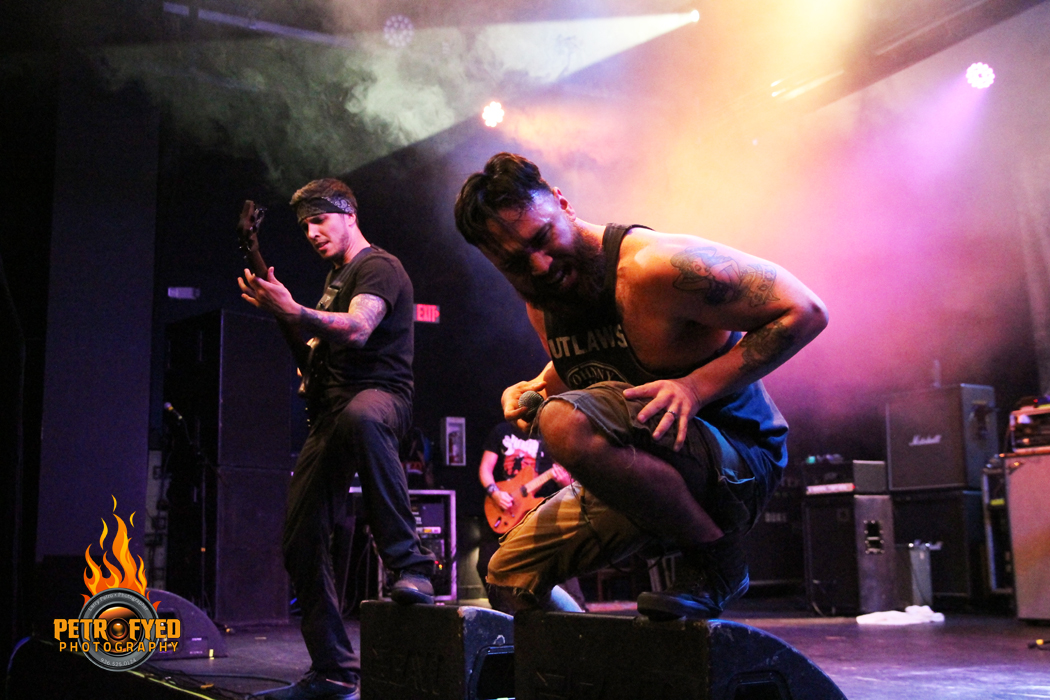 Next up was Texas' own SONS OF TEXAS, definitely an up-and-coming heavy act that made a splash just a few short years ago with their debut album, Baptized In The Rio Grande, which was followed up by 2017's Forged By Fortitude. Being from the Lone Star State you would expect them to have a contingent of followers at their show and they were out in force as the band took the stage. Though not completely familiar with the band's material, I did make note of a few songs that they performed such as "The Vestryman", "Blameshift", "Down In The Trenches", "Feed The Need" and of course "Baptized In The Rio Grande". Vocalist Mark Morales, along with his partners in crime, guitarists Jes DeHoyos and Jon Olivarez, bassist Nick Villarreal and drummer Mike Villarreal, played with an extreme intensity and vigor that bled over to the audience who were quite familiar with their music. I was told by several fans that these guys would blow FOZZY off the stage and indeed they gave it their absolute best shot.
Having just witnessed and shot the spectacle that was IRON MAIDEN's "Legacy Of The Beast Tour" just four days prior, a certain amount of letdown was to be expected. There was no such thing as FOZZY, perhaps energized and challenged by SONS OF TEXAS' blazing set, proceeded to make a statement that would leave no doubt who was the headliner on this night, launching into their set with "Judas". To say the band had energy would be a huge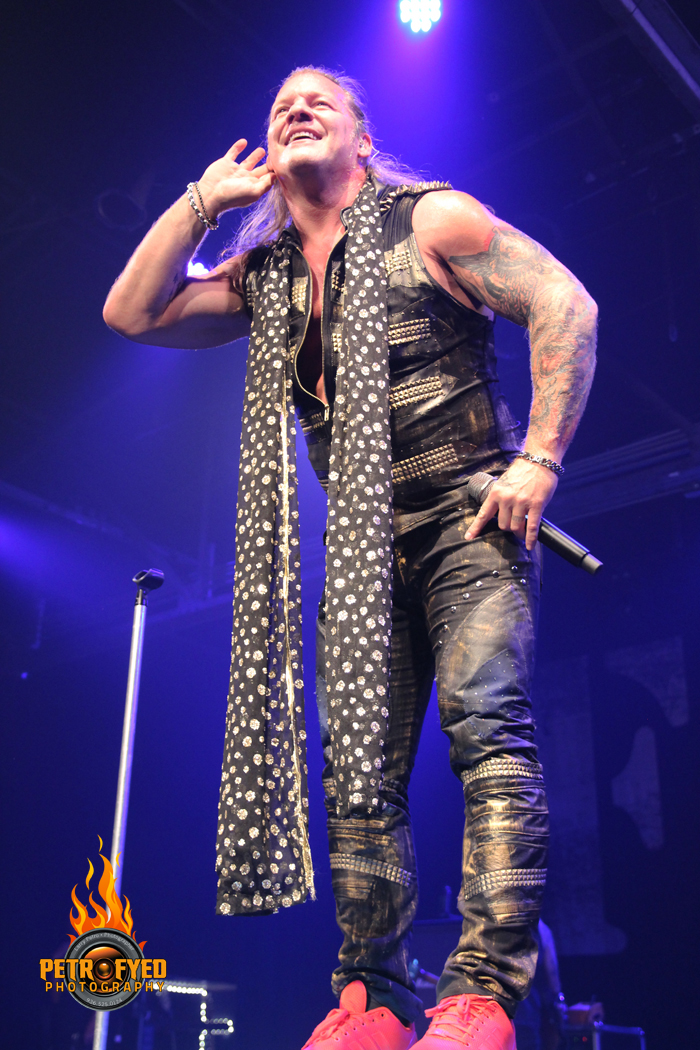 understatement, espeically guitarist Rich Ward, who at times made it difficult to get good shots of him because of his constant movement. Frontman Chris Jericho of course brought the wrestling-style showmanship out in full force throughout as did the rest of the band. Whether they were playing tracks from the new release like "Drinking With Jesus", "Painless", "Wolves At Bay" or the jumpy "Burn Me Out", some of the previous material like "Sin And Bones" and "Do You Wanna Start A War" or even brand new song "Nowhere To Run", the entire band was having an undeniably good time, which is what a rock show is supposed to be. The entire band interacted with each other throughout and the crowd, which had been at near fever pitch during SONS OF TEXAS, was pushed over the top by FOZZY's performance.
As a photographer there is no better feeling than having a musician note your presence in the pit and acknowledging it with a point, horns up or an intentional pose for you and I have to say that FOZZY was by far my best and most fun experience!
Check out some more photos from the show!
All Photos By Larry Petro/Petrofyed Photography




Please log in to view RANTS

If you don't have a username, click here to create an account!