ALTER BRIDGE Walk The Sky


By Shelly Harris, Chicago Contributor
Thursday, October 17, 2019 @ 9:32 AM


| | | |
| --- | --- | --- |
| | | |
ALTER BRIDGE
Walk The Sky
Napalm Records




In a proverbial nutshell, the sixth and latest ALTER BRIDGE studio album, Walk the Sky (due out October 18, 2019), is the powerful and distilled essence of the trademark sound that the band has continued to refine throughout its 15-year existence.

Dramatic and dynamic, and with a profound emotional and lyrical depth that is present on almost every one of the 14 tightly crafted songs, band members Myles Kennedy, Brian Marshall, Scott Phillips, and Mark Tremonti have birthed a collection of intense and ambient tunes that are both steak for the ears and food for the soul.

Although there does not immediately appear to be a clear thematic connection between the songs on Walk the Sky (sans having the lyric sheets or liner notes in advance), the aural feeling and ordering of the songs transcends lingual translation anyway. However, with multiple listenings, it seems obvious that the band's direction with the album is set with the ethereal opening instrumental, "One Life", which becomes the touchstone for the other songs that emanate from it. Indeed, all of the songs in some way pertain to having lived an authentic and principled life, up until the last mortal moments on this world, as evoked in the equally compelling book end of the album, "Dying Light": "In the dying light, we can begin to live again, when we wake up to eternal life ... "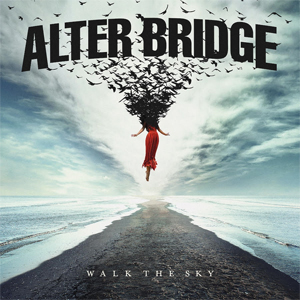 In between, however, are the crucial chapters of that life-struggle, love and loss, and human frailty, as exhibited in such cuts as "In the Deep", "The Bitter End," "Forever Falling", "Godspeed" and "Tear Us Apart" (the latter two possibly the sure-bets for widespread radio play). Perhaps the opening lyrics of the hair-raising "Clear Horizon" say it best : "If I die tonight, would the question still remain: Did I live for what was right, or did I live this life in vain?" In fact, all of the chapters of the album seem to address that very question.
Beyond that, nearly all of the tunes are imbued and distilled with the brutal bass, blistering solos, middle-eastern inspired exoticism, and the bone-crushing power of the instruments. Then, soaring above it all, is the fantastic range of Kennedy's potent, majestic vocals that are oft-characterized by an exquisite melodicism and multi-layered harmonics that serve to juxtapose the raw intensity of the Alter Bridge sound with moments of an almost angelic sentimentality and beauty.
In short, the breathtakingly divine Walk The Sky will leave you with goosebumps and an emotional and aural satisfaction - and exhaustion - that feels like a rare form of vicarious atonement and ascension.
5.0 Out Of 5.0




Please log in to view RANTS

If you don't have a username, click here to create an account!