All Photos By Diego Gonzales Pictures
It was a gloomy day in December when we were visited by a couple of the heaviest and not to mention loudest bands around today. One who is the latest uprising that seem to come out of nowhere along with the largely revered group that shakes the ground under which they walk on. Weíre talking about Texasí POWER TRIP and Bay Areaís own HIGH ON FIRE who brought Fury to The Regent in Downtown Los Angeles.
Also from Texas was the group CREEPING DEATH who added tour support and started out the night with plenty of energy to get things going for an already large crowd that wanted to get in and away from the slow chill of the winter night. The guitarist (stage right) was definitely feeling with his random jumps and swings into the air between breakdowns, showing his enthusiasm for the eventual sold out crowd that piled in. They have some great groove to their style which blends with their thrash sound and got the crowd moving early in the night in. In support of their recent release WRETCHED ILLUSIONS that came out earlier this year, Iíve seen it on some peopleís Best of 2019, so this is a band youíll want to keep an ear out for.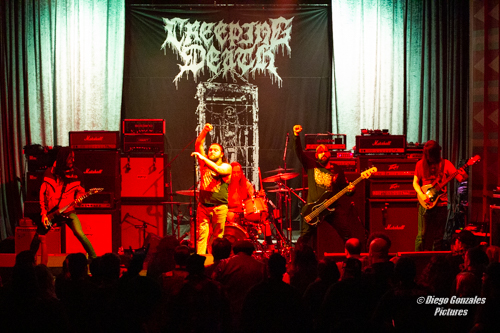 Following CREEPING DEATH was DEVIL MASTER that was going for some sort of shock-rock look. They took the time to set-up some sort of cotton strands made to look like webbing attached to the singers mic-stand just before the 2 guitarists put on their capes to further their act before starting. With makeup over their eyes, having more makeup on than their female bassist as well as a keyboardist (whom I didnít get much from, sound and visual-wise) in their lineup, I was quick to judge but of course had to give them a chance. I donít know what peopleís familiarity is with them but took about halfway into their set before any sort of reaction was garnered. A combination of their sound was Death-Rock meets Post-Grunge with an attempt of Black Metal. To each their own but I think they could do better without the excessive costumes or with a different crowd and lineup.
Now, I canít think of any other modern band that hasnít been around very long, with only a couple of full-length releases under their belt and that has amassed a huge following in that short amount of time. POWER TRIP is that band that has blown up the nation-wide underground scene with its energetic live show and killer crossover Thrash style that gets circle pits going right from note one. Riley Gale is that front man character that engages the crowd, hovers around the stage and approaches the mic with intensity. Blazing guitars and a band with actual guitar solos and Chris Ulsh on a simple 3-piece drum set brought this all to a crazy and chaotic level. The action going on in the pit was only matched by what POWER TRIP was giving on stage, and it was extreme. These guys are so fun to watch and the crowd is very entertaining with some of the craziest pits Iíve seen around lately. Make sure you make an attempt to catch these guys if you havenít heard of them. Theyíll be making waves for a long time.
Todayís modern elites who rule Metal are very few and far between. There arenít many faces, or voices as it were that represent the angst of the modern Metal fan. A lot of commercial figures in Rock and Metal are enough for the mainstream crowd to eat up. There are those of us that deserve better and a band whose presence can almost be frightening. HIGH ON FIRE is that band with the lead man whose voice has become so iconic in that like a combination of Lemmy and Ozzy after a semi-trailer full of Jack Daniels and Marlboros, inseminating a female HellSpawn that gave birth to future presidential candidate, frontman Matt Pike. Bottomline, his vocals along with the fuzz-rumble combination of bass and drums brings the heavy to any concert.
Not many are aware of Pikeís earliest endeavor, the recently re-activated sludge kings SLEEP. Now this other side of the coin and a practical doppelganger of what SLEEP is, HIGH ON FIRE is jet fueled fun in vain of MOTORHEAD taken to the next level. With Bassistís Jeff Matz whose low end makes this even more evil, the 2 have been bringing the thunder for 14 years. Despite the huge vacancy now left by Des Kensel who decided to step away from HIGH ON FIRE after the entirety of HOFís existence since 1999. It certainly is a huge blow to the group but stepping in these big shoes is a close friend of the group in that of Chris Maggio formerly of TRAP THEM and COLISEUM. I donít blame the guy for having to take a step back and collect some energy after a couple of songs, spacing things out throughout the night. What Kensel was doing on the drums was a highly important aspect of HOFís sound. Maggio definitely had his work cut out for him. Along with the added help on their live sound with Matzí new company simply known as MATZ AUDIO (youíll hear more about that in my interview with Jeff), it definitely gave that extra drop in your sack make that sound at The Regent sound that much more thick. The shirtless Pike is a dominating presence on stage wailing away on his Les Paul style guitar. From "Rumors of War" to "SpeedWolf" to "Fertile Green" and "Snakes For The Divine", their setlist was filled to the brim with hit after hit.
Although I was a little bummed I didnít get to hear "Hung, Drawn and Quartered" - the song that originally got me into the band - they still brought their all to a sold out crowd in Los Angeles.
HIGH ON FIRE setlist:
"Blood From Zion"
"Spewn From The Earth"
"Steps of the Ziggurat/House of Enlil"
"Rumors of War" / "DII"
"Speedwolf"
"Fertile Green"
"Devilution"
"Carcosa"
"Baghdad"
"Freebooter"
"Fury Whip"
"Snakes For The Divine"
"Electric Messiah"
POWER TRIP setlist:
"Manifest Decimation"
"Firing Squad"
"Hornet's Nest"
"Nightmare Logic"
"Waiting Around To Die"
"Soul Sacrifice"
"Executioner's Tax (Swing of The Axe)"
"Crucifixation"
"Conditioned To Death"
"If Not Us Then Who"
"The Hammer of Doubt"
Check out some more photos from the show!
All Photos By Diego Gonzales Pictures