MARK MORTON
Rise
Rise Records/BMG




Mark Morton from Richmond, Virginia's finest band LAMB OF GOD again came out with another epic EP named Ether. This acoustic 5 song record is honestly just another reason why I love Mark Morton. His creativity and spark definitely shows in everything he does as a musician. The EP comes from a few acoustic sets that he performed last summer and previously stated it was "Inspired by the acoustic sets I had the opportunity to perform last spring and summer in support of Anaesthetic, I began writing some new songs to reflect that more mellow vibe. I'm stoked with the results and I can't wait for everyone to hear what we've been putting together."

Ether includes 3 original songs, two covers, and features appearances by Lzzy Hale (HALESTORM), Howard Jones (KILLSWITCH ENGAGE, LIGHT THE TORCH), John Carbone (MOON TOOTH) and Mark Morales (SONS OF TEXAS). Automatically, I just knew this was going to be a badass EP and sure enough, I was blown away once again by Mark Morton.

First song, "All I Had To Lose" with Mark Morales, which starts the record off slow and calm but if you pay attention, the lyrics are extremely powerful and overall deeper than you expected. This makes you even more excited for what is yet to come with this EP.

"The Fight" with John Carbone is catchy right of the bat. Immediately I was sucked into this song with how somber and chill it was until it reached the end of the song where some more fiery guitar work comes in and shakes things up a bit and gave me even more of a reason to be sucked in. Intriguing yet influential.

Next up is the cover of THE BLACK CROWES' "She Talks To Angels" with the lovely and iconic Lizzy Hale. I've always been a fan of Lizzy, I'm sure it's hard not to be a fan with her spunky and fun personality and wildly intense voice. She's pretty much a complete badass and if you don't agree.. I feel kind of bad for you, since you are totally missing out! Anyways, This song has always been a favorite of mine, and with the two of them together, and out of their "norm" it made me love it even more. It would actually be awesome to see them both perform this song together live. Loved it!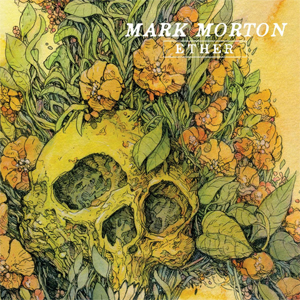 "Love My Enemy" with Howard Jones is just pure greatness, I mean seriously... not only is it nice to hear Howard but the both of them make this song pleasing and more on the "rockier" side than the rest of the songs. Definitely my favorite out of the five and in all honesty, they completely nailed it with this song.
Last but not least, the cover of the one and only "Black" by PEARL JAM with again, the dominant voice of Mark Morales. "Black" has always been my all-time favorite PJ song, so going into this I was pretty skeptical but man, once again I was blown away. Clearly it doesn't completely match up to the song we all love and are used to but this acoustic version is also extremely astounding and ends the record giving you an oddly refreshed feeling.
Obviously this EP is not what you are probably used to when it comes to Mark Morton, but if you give it the chance and you are truly a fan of his work, overall, you won't be disappointed with Ether.
4.5 Out Of 5.0