SERIOUS BLACK Suite 226


By Andrew Depedro, Ottawa Corespondent
Monday, January 13, 2020 @ 12:44 AM


| | | |
| --- | --- | --- |
| | | |
SERIOUS BLACK
Suite 226
AFM Records




Since their inception 5 years ago, rising supergroup SERIOUS BLACK have been a serious consistent force in the European power metal scene, putting out an album for almost each year of their existence starting with 2015's debut As Daylight Breaks. Credit the strong work aesthetic of founders Roland Grapow (guitar) and Mario Lochert (bass) who, from their time playing in their best-known bands such as HELLOWEEN and VISIONS OF ATLANTIS respectively, brought forth their decades of expertise and fine musical chops. Along with the bizarrely-named frontman Urban Breed (best known for his work with TAD MOROSE and PYRAMAZE), the band has amassed a squad of some of the finest metal warriors ever to take up the oath of the secret of steel over the course of a few lineup changes and three studio albums. The latest talent to grace the SERIOUS BLACK lineup on the band's fourth offering Suite 226 include Dominik Sebastien, best known for his stellar guitar work with Austrian melodic power ensemble EDENBRIDGE, and Ramy Ali, whose proficient drumwork with EVIDENCE ONE, FFEEDOM CALL and his other project IRON MASK have made the Jordanian-born drummer a rising star in the power metal community. And so far, while the new SB lineup have taken a slightly longer time to adjust to their new surroundings – which the band members themselves literally built – throughout the recording of Suite 226, the album reflects the comfortable and confident progression of the young band.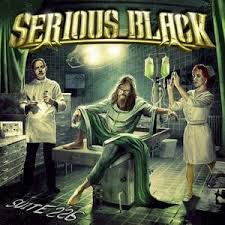 For both long-time SB fans as well as newcomers, the interesting part about Suite 226 in particular is that it's the sequel of a conceptual idea that first began with 2017's Magic, which featured the tale of the fictional and reclusive sorcerer Mr. Nightmist. Suite 226 continues the narrative from the perspective of a mentally confused man locked up in a padded cell known as 226 whose descent into an imaginary dreamworld defining him as a mighty king who lives in his feudal castle, surrounded by courtesans, good food and wine and commanding an invincible army only serves to prolong his manic condition. Emotions of anxiety, disjointed reality, despair and paranoia are all present and accounted for throughout the album, beginning with the manic opener "Let It Go", in which Breed is virtually channeling Dave Mustaine's Vic Rattlehead persona in parts while the rest of the band serve as the efficiently played background chaos. And as the follow-up numbers such as "When The Stars Are Right" and "Solitude Etude" suggest that the unknown man in cell 226 may be starting to understand his current reality, and possibly anticipating his release depending on how well he adjusts to his treatment, it's on the 5-minute opus "The Fate Of Humanity" that reinforces his belief that his imaginary kingdom is under siege and that only he can save it. By the storming number "Heaven Shall Burn", the man has waged war on his captors with the rallying battle cry that "heaven shall burn tonight" as his descent down the proverbial rabbit hole continues in the form of the frantic-sounding number "We Still Stand Tall". The closing numbers "Come Home" and the 8-minute long driving title track showcases the man ready to embrace his certainty. Breed showcases his skill in channeling from despair to fear to rage to humble acceptance throughout the story – and repeating all four stages in the climactic closer to round out the album. Combine this with the efforts of the fiery talents of Sebastien's precise playing along with Mario and Ramy's heavy and melodic rhythmic cacophony, and Suite 226's soundtrack is more than just a room with a view with the perfect moments of escape. Seriously.
5.0 Out Of 5.0
https://www.facebook.com/seriousblackofficial/
http://www.serious-black.com




Please log in to view RANTS

If you don't have a username, click here to create an account!





AUGUST BURNS RED Guardians

BLAZE BAYLEY Live In Czech

BONFIRE Fistful of Fire

REVOLUTION SAINTS Rise

TESTAMENT Titans Of Creation

MISS CRAZY Make America Crazy Again

LYCANTHRO Four Horsemen Of The Apocalypse

IN THIS MOMENT Mother

BODY COUNT Carnivore

STALLION Slaves Of Time

GEOFF TATE In Nashville, TN With Photos!

DEF LEPPARD The Early Years 79-81 Box Set

INTRONAUT Fluid Existential Inversions

TODAY IS THE DAY No Good To Anyone

DARK FORTRESS Spectres From The Old World

DEMONS & WIZARDS III

SYLOSIS Cycle Of Suffering

GEOFF TATE In New Bedford, MA

WISHING WELL Do Or Die

UFO, DAMON JOHNSON In New Bedford, MA

BURNING WITCHES Dance With The Devil

SKILLET In Portland, OR Photo Gallery

KORN In Portland, OR Photo Gallery

OPETH, GRAVEYARD In Houston, TX With Photos!

TESLA In Houston, TX Photo Gallery

JORN Heavy Rock Radio II - Executing The Classics

STRYPER, LILIAC, BLACK HEART SAINTS In Houston, TX With Photos!

DON JAMIESON Denim And Laughter

OZZY OSBOURNE Ordinary Man

DEADRISEN DeadRisen