Genghis Tron
Cloak of Love


By Chris Hawkins, Contributor
Wednesday, February 16, 2005 @ 11:33 PM


| | | |
| --- | --- | --- |
| | | (Crucial Blast Records) |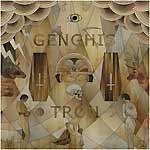 Just as extreme underground music seemed to be getting all too predictable, I tore open a package containing the debut of Genghis Tron. First, let it be known that this band formed not too long agoÖ early 2004, in fact. Unbelievable! While, there are only five tracks contained within, Cloak of Love will certainly prove to be a precursor to a bright future.

Perhaps one of the albumís key advantages is its unclassifiable content. Not everyone will have the ability to openly embrace it, but inevitably respect is both demanded and commanded. Maybe the easiest way to verbally set the tone for the ingenuity presented is to paint a picture of electronic mayhem both guitar and synth-driven interweaving against the solid rhythmic foundation ever-present throughout. Itís as if the album is a musical representation of the pain felt by those suffering from bipolar disorder. While not as abstract as Fantomas or even earlier Dillinger efforts, Genghis Tron projects some of the same vibe as the aforementioned as well as that of Ministry, KMFDM, and even Depeche Mode.

Do not prejudge this band, though, for as this is not pure synth-pop, it isnít noisecore either. It could be said that it isnít even a blending of the two and rather just a reflection in and of itself of creativity incorporating many different elements to form its own entity. I was reminded of Dodheimsgardís 666 International in some ways, and even some later Ulver material as Cloak of Love builds upon an often deceptive melody coupled with drum and bass to take a left turn into blast beats, screaming, and black industrial sounding guitars.

If more bands could write and focus on expressionism as such in whatever they do, the scene would certainly be more prone to naturally separate the wheat from the chaff. Everyone thank Genghis Tron for coming along to help get the ball rolling, and be sure to pick this debut up when itís released this month.

* * * 1/2




Please log in to view RANTS

If you don't have a username, click here to create an account!






MALEVOLENT CREATION The 13th Beast

SILVERTUNG (But, At What Cost??!)

KILLER BEE Remember The Times

OVERKILL The Wings of War

SWALLOW THE SUN When A Shadow Is Forced Into The Light

LAST IN LINE II

HERMAN FRANK Fight The Fear

DARKEST HOUR, UNEARTH, TRIPLE MURDER In Ottawa, Canada

AMON AMARTH The Pursuit Of Vikings - 25 Years In The Eye Of The Storm DVD

TAME FURY A New Reason

TREMONTI, SEVENDUST In Saint Petersburg, FL W/ Photos!

WINGER In New Bedford, MA With Photos!

EVERGREY The Atlantic

ANGEL BLACK Killing Demons

METALLICA In Cleveland, OH With Photos!

JETBOY Born To Fly

QUIET RIOT One Night In Milan

AVANTASIA Moonglow

KING DIAMOND Songs For The Dead Live

STEEL PANTHER In Portland, OR With Photos!

AMARANTHE Helix

SOILWORK Verkligheten

THE THREE TREMORS The Three Tremors

IRON MAIDEN Album By Album Book

ALTITUDES & ATTITUDE Get It Out

FLOTSAM AND JETSAM The End Of Chaos

WARRIOR SOUL In Ottawa, Canada

BILLYBIO, THY WILL BE DONE In Ottawa, Canada

ALCATRAZZ Parole Denied: Tokyo 2017

VOIVOD The Wake