THE ACACIA STRAIN It Comes In Waves


By Peter Atkinson, Contributor
Tuesday, January 21, 2020 @ 1:34 PM


| | | |
| --- | --- | --- |
| | | |
THE ACACIA STRAIN
It Comes In Waves
Closed Casket Activities




Surprise! Massachusetts behemoths THE ACACIA STRAIN dropped an unannounced new album on the day after Christmas – on a different label than the usual Rise Records, and with a musical approach that strays beyond the bounds of the band's typical deathcore bombast by adding elements of grandiosity, drama and, dare I say, melody. Oh yeah, it's also a concept album! But if that all seems like it might have the makings of a recipe for disaster – or at the very least some dubious experiment - well surprise once again, because It Comes In Waves is the band's most compelling work yet.

Belligerent, brutish and often unsettling, THE ACACIA STRAIN has a long history of stool-loosening riffs and breakdowns, heaving rhythms, crushing heaviness and frontman Vincent Bennett's sociopathic lyrics and menacing, unflinching bellow – for example, "I want the world to have my rape baby so when it's born I can strangle it to death," from "Baby Buster" on 2008's Continent. It Comes In Waves certainly offers some of those same ingredients, but serves them up in a more dynamic, even cinematic fashion that is easier to digest and is downright captivating.

The 31-minute long album's Stephen King/H.P. Lovecraft-inspired theme - and more about that in a bit - is spelled out over seven segments, "Our", "Only", "Sin", "Was", "Giving", "Them", "Names", harking back to the experimental second disc on 2014's Coma Witch that consisted of the 27:33 track "The Observer" and encompassed doom/sludge brood, ambient moodiness and disquieting sound effects and samples. But where "The Observer" had a more linear construction and played itself out over a series of movements, the segments here stand out in more individual terms – hence the naming convention - all tied together by common musical and lyrical threads that weave in and out.

It Comes In Waves shifts between the bracing hardcore of the opener "Our" and the thrash metally "Sin" that gradually gives way to the monk-like chants of its bridge to the expansive, cascading PARADISE LOST meets LAMB OF GOD meets CROWBAR-like death/doom of "Only" and "Was" that manage to sound both ominous and elegant. "Giving" and "Them" deliver a more typical deathcore jolt with their shuddering guitars, immense bottom end and occasionally guttural/squeally vocals before the album closes with the monumental "Names".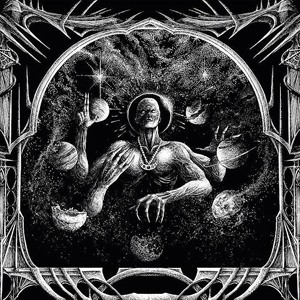 The nearly nine-minute finale offers a taste of just about everything that came before it here – from the very brutal to the chillingly serene - and wraps things up in deservedly grand fashion, closing out with a reprise of the titular chorus line, "It comes, It comes in waves," that punctuates several of the other tracks. But there are no happy endings here, as prior to that, Bennett glumly notes, "Everyone will feel the same pain, Sorry will never be enough."
The album's theme is something of a take on Stephen King's The Mist - with dialogue from the film version sampled throughout – and the Gamesters of Triskelion episode of the original Star Trek series. As Bennett explained to Decibel magazine, It Comes In Waves revolves around "inter-dimensional beings that have a personality and have kind of just been manipulating humanity since the beginning. They've been around forever. We haven't, and they saw us as an opportunity to have a little fun. It's about this idea of gods actually being not only real but also physical beings that are just having their way with us at our expense, just so they can have something to do." Those dicks!
Regardless, it's an eerie and eloquent yarn that provides a welcome bit of escapism – grim though it may be - from this typically dead serious, indeed often threatening band. Add to it the depth and breadth of the soundtrack – and the band's effective, inspired delivery – and It Comes In Waves is a triumph, an experiment well worth the effort. And if it's a surprise that still doesn't seem to your liking, fear not, THE ACACIA STRAIN is hinting at getting back to its usual business with yet another album in the coming year. And this does not seem like a band to make idle threats.
4.5 Out Of 5.0




Please log in to view RANTS

If you don't have a username, click here to create an account!