MAGNUM The Serpent Rings


By Larry Petro, News Monkey
Tuesday, January 21, 2020 @ 1:43 PM


| | | |
| --- | --- | --- |
| | | |
MAGNUM
The Serpent Rings
Steamhammer/SPV Records




They've amassed a healthy career spanning close to 50 years and 21 studio albums including this latest sonic platter, they've had QUEEN drummer Roger Taylor produce a few of those same albums and they've shared the stage with legendary bands, starting first with JUDAS PRIEST on their 1977 Sin After Sin UK tour (without a record deal at the time), and METALLICA, ZZ TOP and BON JOVI at the UK's Monsters Of Rock in 1985 to name a few prestigious gigs at the time. They even shared a record label with Ozzy Osbourne at one point – Jet Records, owned by Ozzy's future father-in-law Don Arden – which landed them a bit of overseas exposure when they were brought on as support for a handful of US dates on his Diary Of A Madman tour in the summer of 1982.

So how is it that despite the enviable portfolio comprised of lots of tour experience and some decent NWOBHM-style chops on their first four albums, are legendary British metallers MAGNUM either mistaken for Tom Selleck's famous Hawaii-based helicopter-flying private investigative character or a brand of ice cream sandwich mostly outside of Europe? Excluding the occasional lineup changes throughout their career, leaving frontman Bob Catley and guitarist Tony Clarkin as the band's sole original members (and even they briefly went on hiatus between 1995 and 2001), MAGNUM's powerful brand of earnest and catchy melodic hard rock was infallible in connecting with audiences, but not so fortunate in landing a reliable record label to promote it. Maybe Jet Records would've been the band's best chance at breaking them stateside when they were touring with Ozzy in '82 if it hadn't been bought out by CBS (and likely Ozzy not dating the label founder's daughter either), but MAGNUM's commercial success with Polydor – now EMI – Records managed to land them a larger European market, albeit at the cost of streamlining their sound to become more mainstream. The unfamiliar musical change burned out MAGNUM and particularly Tony Clarkin after 1994's Rock Art, and he announced his decision to quit the band a year later. But MAGNUM's 6-year hiatus wouldn't stop their former label continuing to make bank off of their hard labor through a series of unauthorized greatest hits compilations until Clarkin found out and was easily persuaded to come out of retirement – on the condition that MAGNUM would sign with a label that allowed for complete artistic freedom. That label would be Germany's Steamhammer/SPV Records, home to many of the European power metal scene's top names. 10 albums and nearly 20 years later into their partnership so far, MAGNUM have kept busy navigating their course to stardom on their own terms ever since – including rediscovering their bombastic hard rock sound that their fans have been familiar with.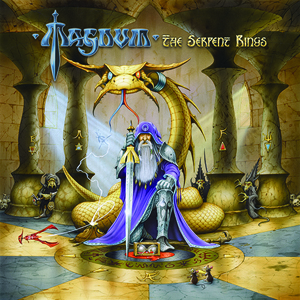 MAGNUM's latest offering The Serpent Rings is indeed rich in bombast, with many musical layers and elements harnessing the band's familiar sound, precision and groove. It's exceptionally panoramic in sound and spirit, giving the impression of a vast team of hundreds behind its production, though the work is all from the combined efforts of all five members – Catley, Clarkin, keyboardist Rick Benton and drummer Lee Morris, plus their latest addition, bassist Dennis Ward (PINK CREAM 69, PLACE VENDOME, UNISONIC), replacing longtime member Al Barrow. The core of MAGNUM's sound remains strong and evident starting with the opening number "Where Are You Eden?" and continues throughout, with other tracks such as "The Archway Of Tears" and the album's title track being particularly notable in their detailed lyrical imagery and encompassing symphonic wall of sound. The latter track was originally derived from a previous science fiction concept that Tony Clarkin had written a few years before "continuing to evolve over time and even features a slightly bizarre side today", describing the song overall as "an eerie and somewhat creepy fairy tale."
Elsewhere on the album, MAGNUM's lyrics are known for their quick rapier wit in the driving number "You Can't Run Faster Than Bullets" and direct in more socially conscious and critical-sounding tracks such as "Man" (about how human behavior has become so based on profit at the expense of nature and the ecosystem itself with the haunting chorus "Man will take the treasure/Innocence is lost/Thinking he's so clever/Lines have been crossed") and the catchy SUPERTRAMP-sounding vibe of "Madman Or Messiah" (about blind partisanship and acceptance of self-proclaimed saviors and leaders).
So while MAGNUM's name may still be occasionally relegated to frozen treat brand name status to much of the untrained ears and eyes outside of the Old Continent, The Serpent Rings is nevertheless the quintessential MAGNUM album that's guaranteed to satisfy with all flavors. And 50 years and 21 albums into their career, isn't it time for MAGNUM to get their just desserts on a truly global scale?
5.0 Out Of 5.0
http://www.magnumonline.co.uk/
https://www.facebook.com/magnumbandpage/
And for MAGNUM's European fanbase looking for something to keep 'em cool, the band are taking The Serpent Rings for a slither across the continent in March 2020, initially with a number of headlining shows, to be continued by a firstrate package together with GOTTHARD from Switzerland. This extremely successful collaboration first passed the litmus test a few years ago, and Clarkin, Catley & Co. are very enthusiastic: "Along with some classic numbers, we will also present four or five songs from The Serpent Rings," the band promises, providing even more reasons for their fans to mark the dates in their calendars.
Tour Dates 2020: Headliner Tour
19.03. UK-Glasgow - Garage
20.03. UK-Belfast - Limelight 1
21.03. IRL-Dublin - Voodoo Lounge
22.03. UK-Cardiff - Tramshed
24.03. UK-Sheffield - Leadmill
25.03. UK-Hull - Welly
26.03. UK-Manchester - Academy 2
28.03. UK-Holmfirth - Picturedrome
29.03. UK-Cambridge - Junction
30.03. UK-Birmingham - Town Hall
31.03. UK-Norwich - Waterfront
02.04. UK-Exeter - Lemon Grove
03.04. UK-Southampton - Engine Rooms
04.04. UK-London - Islington Assembly
05.04. NL-Uden - De Pul
06.04. DE-Kiel - Max Music Hall
08.04. NO-Oslo - Vulkan Arena
09.04. SE-Huskvarna - Folkets Park
10.04. SE-Stockholm - Fryshuset Klubben
11.04. SE-Karlstad - Nöjesfabriken
13.04. SE-Gothenburg - Pustervik
14.04. SE-Malmö – Babel
On tour with GOTTHARD
16.04. DE-Frankfurt - Batschkapp
17.04. DE-Regensburg - Airport Obertraubling
18.04. DE-Balingen - Volksbankmesse
20.04. DE-Munich - Tonhalle
21.04. DE-Fürth - Stadthalle
22.04. DE-Hamburg - Grosse Freiheit 36
24.04. DE-Hannover - Capitol
25.04. DE-Bremen - Pier 2
26.04. DE-Berlin - Tempodrom
28.04. DE-Singen - Stadthalle
29.04. DE-Cologne - E-Werk
30.04. DE-Saarbrücken – Garage
Headliner Tour
01.05. CZ-Prague - Nová Chmelnice
02.05. DE-Schwalmstadt - Kulturhalle
05.05. DE-Stuttgart - Im Wizemann
07.05. CH-Pratteln - Z7
08.05. IT-Milan - Legend
09.05. IT-Bologna - Alchemica
11.05. ES-Barcelona - Razzmatazz 2
12.05 ES-Madrid - But
13.05. ES-Bilbao - Santana 27
16.05. UK-Nottingham - Rock City




Please log in to view RANTS

If you don't have a username, click here to create an account!