REVIEW BY: Michael Magic @ www.r2cents.org
R2cents has survived another tour of duty at the NAMM. We were on location for our sponsor Dean Markley. Covering all the major happenings and cool parties. It was a Planetarium Stars everywhere you look. Dio, Yngwie, T.M.Stevens, Chris Jerrico, Fozzy, Mike Inez, Jerry Cantrell, Goldfinger, Ministry, Michael Anthony, George Lynch, Dick Dale, Nuno Bettencourt, Rick Springfield, Pat Travers… just to name some of the Dean Markley guests.
We were on location at the Galaxy Theater for the private Dean Markley party. The party was a music lovers dream. The show opened with Jon Anderson of Yes singing "Long Distance Runaround." Jon Anderson's voice is a sweet blend of nostalgia and talent that can bring tears of joy, with a harmonious peaceful existence. His influence on the crowd was seen on all the smiling faces. Jon waved to the crowd and promised to sing some songs later in the set.
Next on the bill we were exposed to the Sonik Element -- basically Earth, Wind & Fire. They played a few Earth, Wind & Fire tunes. The horn section was popping their tunes. The guitar player sang the songs as best as he could. Great band but they were desperately missing their original singers. I was digging their version of Hendrix Band of Gypsies' "Who Knows." They showed the Galaxy what Hendrix, funk and horns can do.
Dick and Jimmy Dale were up next. They were loud and an electrified dynamic duo. Surf music has a torch to pass and Dick is mentoring his son into surf city.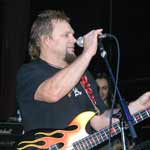 Up next -- the shredding Neil Zaza. Who is Neil Zaza you ask? Neil is a solid shredding monster of a guitar player. His sonic pick attack has a guitar screaming in agony and ecstasy. 'Nuff said.
The longest set of the night belonged to Nuno Bettencourt's band, Population 1. Population 1 was a solid rock outfit fronted by guitar player and singer Nuno.
After their set came the Musical Master or Disaster Pieces. Population 1 was joined by my favorite Vaudevillian singer -- none other than Perry Farrell of Jane's Addiction and Porno for Pyros. Nuno hit the opening riff for "Stop." Perry Farrell, like some half crazed wind up toy, launched himself into the air and did his trademark Perry shimmy. The moment was electric a fun thing to capture on film. Perry introduced Lucifer in leather pants (Warren DiMartini of Ratt. Perry asked him to join in on the next musical offering, "Sympathy for the Devil," the Rolling Stones classic. They tore the Galaxy apart. After the set, Perry was backstage with his wife and actress Kelly Hu from The Scorpion King.
Up next, Nuno and Gary Cherone launched into the Aerosmith classic, "Toys in the Attic." It was pretty cool -- they looked the part and did very well with the riffs and songs. Nuno and Warren DiMartini traded off riffs and leads like a teenage rock contest. Nuno sang "Jailbreak." Gary sang "Way Cool Jr." from Ratt. It was a rocking good time.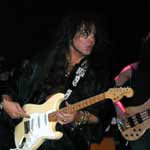 Jon Anderson returned to the stage with acoustic guitar. He mesmerized the crowd with every note. He segued into the melody, busting out "Seen All Good People" harmony with Nuno. It was fun to witness. Jon and Nuno rocked that song, and lo and behold, same chords as "Give Peace a Chance." He lead the Galaxy audience in a impromptu singing of John Lennon's "Give Peace a Chance."
Nuno and band had a funk bomb dropped on their asses from TM Stevens. TM was joined by Neil Zaza and Will Calhoun from Living Color. They pounded out "Sex Machine," James Brown's anthem to the finer things in life. The aforementioned group of musicians were led into a Extreme reunion of sorts -- Nuno and Gary together again doing" Get the Funk Out." It did not disappoint the dancing crowd.
(F.Y.I) Before the set, backstage pounding out the changes in Yngwie's songs was none other than Rudy Sarzo (DIO.) He filled in on the bass duties for Yngwie. I was anticipating the fury from within the backstage area in the Galaxy Theater.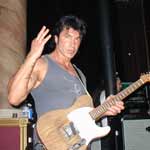 The man who single handedly changed the face of modern guitar… From Eddie to Bach Rock was in the house: one man, one named Yngwie. The Swedish Viking unleashed the Fockin Fury!! His band took over and rocked on Hendrix's "Voodoo Chile," Deep Purple's "Smoke on the Water" and Yngwie's "Black Star" from Rising Force… followed by the best of rising force and beyond. Yngwie instrumentals shook the fillings in my teeth. Yngwie is a shredder and a hell of a cool dude. I talked him up a little bit backstage and he was a gentlemen. This was a teeth rattling, bass pounding, Yngwie guitar flinging ,Yngwie hip gyrating good time.
Up next: Nuno, Snake from Skid Row and George Lynch. Traded licks with the keys and jammed Jeff Beck's "Led Boots."
Next up were Michael Anthony (Van Halen), Nuno ,George, Michael and the drummer from Project1, who hit stride in the VH classic "Doctor." Nuno was playing like he cut his chops playing VH in a cover band. Enter Gary Cherone They launched into"Mean Streets,"followed by "Do You Wanna Play." Michael Anthony took a short break. The Nuno/Cherone gang launched into "Walk this Way." They rocked it up.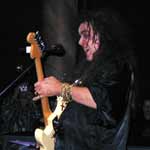 The Grand Finale rocked -- they kicked out the Led. Michael Anthony, Neil Zaza, GaryC., George Lynch, Population 1 drummer faked playing "Freebird" then burst into the mighty Zeppelin's "Rock and Roll." The last song of the evening was Zeppelin's "Communication Breakdown."
This years NAMM was off the hook The NAMM Jam will always remain a sweet memory -- right up there with my personal favorite all time shows. We will be busy editing all this music for your viewing pleasure. Check the web site for the video in the weeks to come. The footage will also be included in our presentation to Dean Markley. We are their official video team and have a doosey of a reel for our sponsor. Until next time, this is Michael Magic signing off from Anaheim returning to San Jose with memories and video to die for.
In Rock We Trust
\m/ \m/

(Photos courtest of Michael Magic)