FRAMING HANLEY Envy


By Krystiee Lee, Editor
Wednesday, February 19, 2020 @ 6:26 AM


| | | |
| --- | --- | --- |
| | | |
FRAMING HANLEY
Envy
Thermal Entertainment




2002-formed band FRAMING HANLEY from Nashville, TN has finally come out with their newest album in 6 years, Envy, which will be released February 21st. FH is Kenneth Nixon (vocals), Ryan Belcher (guitars), Jonathan Stoye (bass), Shad Teems (drums) and Nic Brooks (guitars).

Being a fan since my crazy-emo high school days, when I heard the news and was asked to review it I was absolutely STOKED and honestly I already knew I was going to love it, there was no denying it. Between the soul-sucking vocals, the grim rhythms and how each song just comes along perfectly together I was extremely pleased and excited to hear that they picked up exactly where they left off when the band sadly broke up in 2015. (Not going to lie, I might remember shedding a few tears back in the day because of it) LOL like I said, I was a typical emo rainbowed-hair crazy kid.

On a serious note, I will say this album is absolutely astounding from start to finish. I was amazed the whole time I listened to it, not one song was even remotely boring or lame. I didn't have to force myself to listen to a whole song, I literally enjoyed every second of every track.

FRAMING HANLEY, being a band that you used to be able to call "post hardcore" or whatever you call it, has actually changed a bit with the flow and overall vibe of their newer music. I would possibly describe them now as more of a "progressive rock/alternative rock" kind of band with all the new sounds and flows with each tune and chorus, which in my opinion is honestly kind of badass these days. They changed it up a bit, and they did a damn good job at doing so.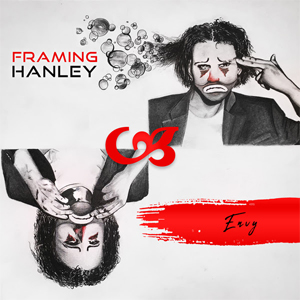 Starting off with "Say You Ever", which is just immediately there to catch your attention, and gliding into more gulping guitars with "Bubbles", "Misery", and "Joke's On Us" you can already tell you will have to avoid all distractions for a while until this album is done and pulled through your mind. "Forgiveness Is An Art", "Puzzle Pieces", and "Maeve" will take you on weirdly kind of emotional but thrilling ride which will leave you 100% craving for more with the powerful vocals, screaming guitars, and rhythms but just wait... it gets better. Next up are my three favorites which is funny being they are literally in order which blew my mind even more like the old little fan girl I once was. "Carousel", "The Way Down" and my #1 favorite, "Throwing Knives". Each song was absolutely intense in all ways possible. Not only was each song deep and passionate and right in your face at times but they were also strong in a way that makes you want to listen to it over again and soak up each word. Last, we have "Counterfeit" and "Baggage Claim" and both songs I will describe as a typical pop-rock and ready to jam out in your car on the highway type of groove… which I already know the radio stations are going to eat them up.
To sum it up, I must admit, Envy is a massive accomplishment for FRAMING HANLEY. You can clearly tell they put a lot of thought, emotion and overall hard work into this album and it's definitely another one for the books of all-around great albums from them. It will leave you intrigued yet concentrated until the last second of the last song. I absolutely loved it.
5.0 Out Of 5.0
No lie




Please log in to view RANTS

If you don't have a username, click here to create an account!